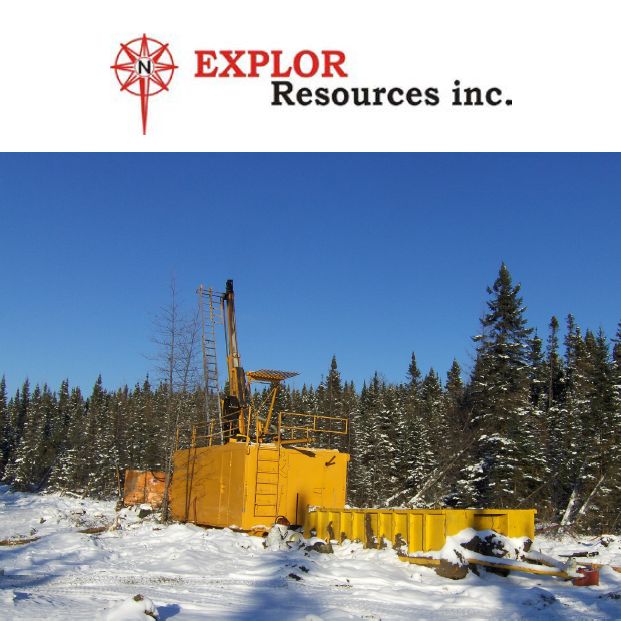 Our Gold Resource.. Back Where It Belongs
Rouyn-Noranda, May 16, 2017 AEST (ABN Newswire) - That's the best News Release I've seen in a very long time! Here's why. I remember how excited Explor Resources Inc.'s (

CVE:EXS
) (

OTCMKTS:EXSFF
) CEO Dupont was back in December, 2014, when the TPW Earn-In Agreement with Teck was signed. By that time, Teck had taken a long, hard look at some ten, or eleven, GOLD based advanced GOLD exploration projects in, and around the Timmins/ Porcupine GOLD Camp. The Teck team, collectively, had agreed their most promising prospect was the Explor Timmins Porcupine West GOLD Deposit. The Exploration group at Teck, at the time, were all seasoned veterans, most with 25 to 30 years of field experience, and they too were as excited as Dupont, to advance the TPW GOLD resource.
However, around that same time, Teck's stock had dropped to sub $4.00 levels, down from highs reaching US$60. Under tremendous pressure from major shareholders, & prevailing depressed coking coal, zinc, & copper prices, operating costs had to be minimized, to ensure their survival in the months following the signing of the Earn-In with EXS/EXSFF/E1H1. Mainstream media reported major cutbacks at, at least two of their major mining operations, but said little about their Head Office cuts in Vancouver. Their vanguard Exploration team was decimated, with virtually all of their most Senior, and most seasoned veterans put to pasture. They, in turn, were replaced by a group of significantly less experienced personnel, short on field experience, but representing massive savings in salaries & benefits to Teck's bottom line.
As investors, we rely on our directors to make great decisions to advance the projects, and ensure a nice return on our investment. Dupont & his team spent 14 years understanding & developing the TPW GOLD deposit, doing extensive geophysics, followed by 116 drill holes to varying depths. The team found GOLD in all but three of those 116 cores. The exploration was done meticulously, and systematically, yielding a 2000meter strike length, open at both the east & west ends, and open at depth. The floor for the GOLD market had dropped considerably by the fall of 2014, & financing of the TPW moving forward difficult. The Teck deal brought a new hope, & enthusiasm that all the time and effort spent, would come to fruition, with their commitment of manpower & cash.
The coincident changes at Teck, and a renewed focus on their core operations, changed all that hope & optimism almost immediately. In spite of the fact that every inch of all 116 cores had been carefully logged, split, & analyzed by credible, and well known area labs, Teck's first, and very expensive move was to apply 'Terra Spec' analysis to every core sample in the Company's core shack. The fundamental premise of the Agreement was that, as 'Operators', they would do everything in their power to advance the deposit. How does reanalyzing every core advance anything? In the fall of 2015, Teck finally moved a 'crew' to the site, and started drilling. At the time, I heard the geos appointed by Teck H.O. declined all offers of help from Dupont, and his seasoned TPW crew. They were Teck, so what could these old guys, with a 97% success rate offer them? By the time the dust cleared, they found GOLD traces in two of the Step Out drillings done, and the rest yielded nothing!
Dupont was deeply disappointed with the results of the Teck drill program. Adding to that was the general disregard for Dupont's responsibility to EXS/EXSFF/E1H1 shareholders to report developments by constantly delaying information to the Company's leadership right from the get go. During the 2016 PDAC Teck reception, I heard Dupont spoke with the most senior exploration executive in the room, to return the property, or at least allow the Explor team to be the Operators. Apparently, he promised to 'look into it', but, in the end, nothing changed. As we moved through yet another drilling season, the Teck geologists, decided to perform Down Hole IP on every hole ever drilled at the GOLD Deposit, and perform a fly over EM, rather than working with the Explor team, spending that money on drilling the deposit. Two and a half years have gone by, and nothing done by Teck has ever advanced the resource in any way, shape, or form, just further reinforced the known geophysics of the GOLD Deposit.
Finally, they have decided to give the TPW back to us, where it belongs. Dupont is acting swiftly, and will do Step Out holes where they should be done. He will most certainly 'Advance the Deposit', of that I have no doubt. The 3,000 meter campaign would represent 4-5 drill holes which should, in turn, enhance the 43-101 report. I'm hopeful that we will continue to enjoy a 97% success rate moving forward!
To view the release, please visit:
http://explorresources.com/news-and-media/news-en
NOTE: This forum commentary was published from a third party source. It has not been verified by the company.
About Explor Resources Inc.

Explor Resources Inc. (CVE:EXS) (OTCMKTS:EXSFF) (FRA:E1H1) is a Canadian-based natural resources company with mineral holdings in Ontario, Quebec, Saskatchewan and New Brunswick. Explor is currently focused on exploration in the Abitibi Greenstone Belt. The belt is found in both provinces of Ontario and Quebec with approximately 33% in Ontario and 67% in Quebec. The Belt has produced in excess of 180,000,000 ounces of gold and 450,000,000 tonnes of cu-zn ore over the last 100 years. The Corporation was continued under the laws of Alberta in 1986 and has had its main office in Quebec since 2006.
Explor Resources Inc.
Chris Dupont, Managing Director
T: +1-819-797-4630
F: +1-819-797-1870
E: info@explorresources.com
WWW: www.explorresources.com

Related CompaniesExplor Resources Inc.