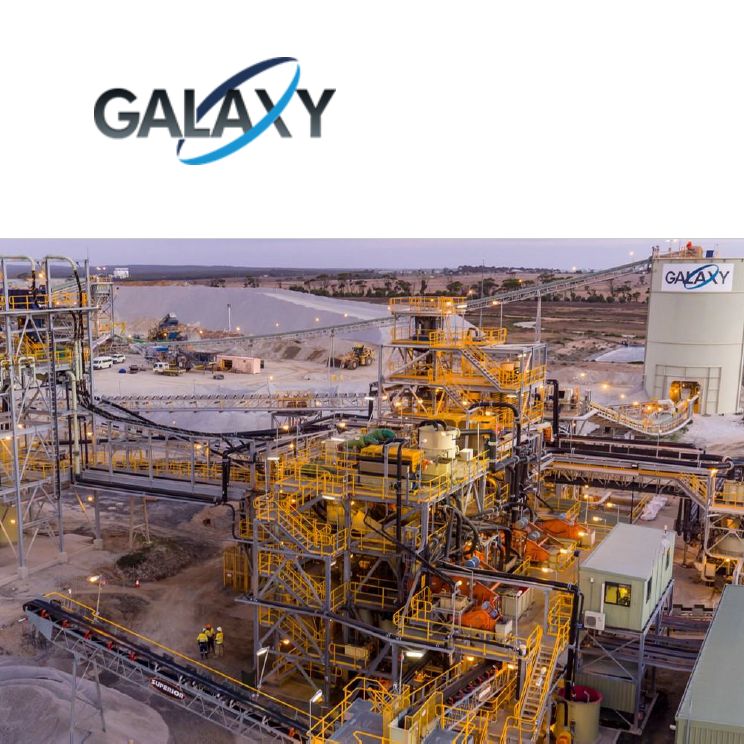 Annual General Meeting Presentation
Perth, May 18, 2017 AEST (ABN Newswire) - Galaxy Resources Limited (

ASX:GXY
) (

OTCMKTS:GALXF
) is pleased to provide the Company's latest Annual General Meeting Presentation.
Galaxy Operations Update
Mt Cattlin - Production Ramp Up Continues
Restart complete, three shipments completed to customers, project grade improving and moving into 2017 contract volumes and pricing
- Restart production and plant expansion
o Upgrade and expansion of processing facility
o Commissioning of expanded Mt Cattlin facility
o Recommencement of spodumene production in 4Q 2016
- First delivery and 2017 contracting
o 120kt of lithium concentrate sold at US$830/t (FOB, 5.5% Li2O, pricing of US$905/t at 6.0% Li2O) for delivery in 2017
o First shipment in January 2017 from Esperance Port
- Operational ramp-up, optimisation studies and exploration
o Second shipment completed on 1 March 2017
o Plant throughput nameplate of 210tph achieved
o Third shipment complete - fulfilling 2016 offtake obligations
o Production ramp-up to meet targeted run-rate of 160ktpa
o Optimisation studies to improve recoveries above the initial 50% targets
o Extensive brownfield and greenfield exploration drilling campaign
o Refurbishment of the mine's fixed crushing circuit to re-start in 3Q 2017
Sal de Vida - Development Work Advancing
DFS update confirmed compelling economics, strong in-country team in place, development activities well underway
Primary site works
- Sal de Vida Corporate
o Confirmation of Development Team for the Sal de Vida Project
o Renewal of Environmental Permit from Catamarca
- Site Works and Drilling
o Relocation of existing camp facilities to facilitate earthworks
o First 150m deep drill hole for planned production wells to supply brine to the new evaporation ponds
o Earthworks for second drill pad and existing access road improvement
o Second 150m deep drill hole for planned production well
o Construction of initial evaporation ponds
Project studies and demo plant
- Project Studies
o DFS update completed, confirmed compelling economics
o 3,000Ha topographic studies to facilitate the construction of an initial evaporation pond, and full scale commercial ponds
o Hydraulic studies around primary drill hole locations to better understand localised brine flow rates
- Demo Plant Program
o Relocation/upgrade of existing pilot plant equipment in May 2017
o Resumption of pilot scale testing
James Bay - Development & Exploration Program
Drilling program, relevant environmental studies and DFS process underway, borrowing experience and learnings from Mt Cattlin
Drilling program and environmental studies
- James Bay Corporate
o Capital raising competed to fund development program
o James Bay development team established
- Diamond Drill Program
o Drill program that aims to nearly triple the aggregate 14,000m of depth drilled at the project thus far
o In-fill drilling to substantially upgrade mineral resources and define ore reserve
o Step-out holes to explore pegmatite extensions down-dip
o Drilling of 3-4 pegmatites, previously mapped, but never drilled
o Map out pegmatites on the east side of the Matagami-Radisson Highway for drilling later in the year, following the snow melt
Definitive Feasibility Study
- Environmental Studies
o Environmental and Social Impact Assessment (ESIA) - Phase 1
- Definitive Feasibility Study Works
o Bulk sampling of existing stockpiles
o Pilot-plant scale metallurgical test work
o Formal revision to the resources/reserves of the project from new data collected
Outlook & Growth
Production at Mt Cattlin continues to ramp-up, with subsequent margin improvement; and development activities at the other projects are accelerating
- MACRO Robust lithium demand
o Continued strong growth in demand for lithium, led by increase in NEV sales
o Lagged response from supply-side, increased pricing levels are being sustained
- MT CATTLIN Production & ramp-up
o Focus on production ramp-up to meet 2017 production guidance
o Continued processing optimisation to improvement operating margins
- SAL DE VIDA Offtake and project financing
o Ongoing discussions with offtakers, strategic partners and project financiers
o Site works commencing, including commencement of demo plant program
- JAMES BAY Project development
o Comprehensive diamond drill program to upgrade existing Resource to Reserves
o Completion of DFS program, drawing on Mt Cattlin experience for study acceleration
To view the full presentation, please visit:
http://abnnewswire.net/lnk/8L9KN0SI
About Galaxy Resources Limited

Galaxy Resources Limited (ASX:GXY) (OTCMKTS:GALXF) is an international S&P / ASX 200 Index company with lithium production facilities, hard rock mines and brine assets in Australia, Canada and Argentina. It wholly owns and operates the Mt Cattlin mine in Ravensthorpe Western Australia, which is currently producing spodumene and tantalum concentrate, and the James Bay lithium pegmatite project in Quebec, Canada.
Galaxy is advancing plans to develop the Sal de Vida lithium and potash brine project in Argentina situated in the lithium triangle (where Chile, Argentina and Bolivia meet), which is currently the source of 60% of global lithium production. Sal de Vida has excellent potential as a low cost brine-based lithium carbonate production facility.
Lithium compounds are used in the manufacture of ceramics, glass, and consumer electronics and are an essential cathode material for long life lithium-ion batteries used in hybrid and electric vehicles, as well as mass energy storage systems. Galaxy is bullish about the global lithium demand outlook and is aiming to become a major producer of lithium products.
Corporate
Nick Rowley
Director - Corporate Development
T: +61-8-9215-1700
E: nick.rowley@galaxylithium.com

Media Enquiries
John Gardner
Citadel-MAGNUS
T: +61-8-6160-4901
E: jgardner@citadelmagnus.com
Related CompaniesGalaxy Resources Limited