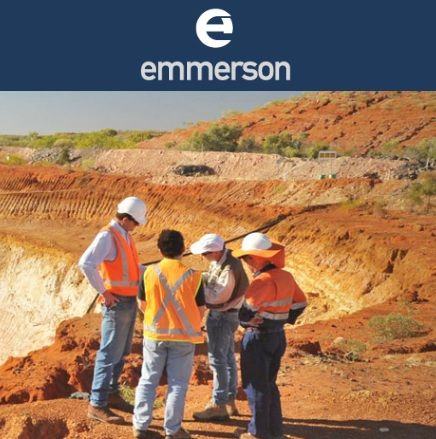 First drill hole at Kadungle (NSW) intersects mineralisation
Perth, May 31, 2017 AEST (ABN Newswire) - Emmerson Resources Limited ("Emmerson") (

ASX:ERM
) (

OTCMKTS:EMMRF
) is pleased to announce that our first drill hole at Kadungle in NSW (see Figure 1 in the link below) has intersected visible sulphides within an extensive zone of alteration. This drill hole supports the previous historical drilling where high-level epithermal veins were intersected with best assays of 12m at 7.73 g/t (KDD002) and 3m at 7.14 g/t Au (KRC019) (see Figures 2 and 3 in the link below). Similarly, deeper disseminated and veined copper-gold produced intersections of 37m at 0.23% copper including 6m at 1.1% copper (KDD013) and 154m at 0.12% copper and 0.37g/t gold (KRC019) (ASX. 04 October 2016).
- Drill hole KDD015 intersects multiple zones of alteration and mineralisation as follows:
o Shallow, intermittent epithermal quartz veining (from the surface to 33m down the hole), within vuggy silica-pyrite alteration.
o 97m of breccia with up to 5% sulphides including visible chalcopyrite, sphalerite and galena (from 14.9m to 112m down the hole).
o Intermittent quartz-chalcopyrite-pyrite and hematite veins and breccia with disseminated chalcopyrite (112 to 150m).
o Chlorite-quartz-epidote alteration increasing in intensity to 190m with occasional quartz-chalcopyrite-hematite veins.
- New surface outcrops of epithermal quartz-hematite veins confirms potential for shallow gold-silver mineralisation.
- Assays expected within three weeks and further drilling is being planned.
This recent drill hole not only extends the known mineralisation but points to the potential for both high level (shallow) epithermal gold-silver and deeper porphyry copper-gold mineralisation. The alteration of upper level quartz-pyrite-hematite grading to deeper chlorite-epidote-quartz is consistent with this interpretation (see Figure 3 in the link below). Moreover, the intersection of mineralised hydrothermal breccia which cuts volcanic breccia/diatreme (see Figure 2 in the link below) - both containing disseminated chalcopyrite (assays pending) is very positive (see Figure 4 in the link below). In terms of scale, the discovery of further hematite epithermal quartz veins, some 2.5 kms north at the Trig prospect provides some indication that this is a large mineralised system (see Figures 1 and 5 in the link below). Assay results will be available in approximately three weeks, with work already underway to better define the geology and alteration assemblages.
Emmerson's Managing Director, Mr Rob Bills commented: "This drilling is a very positive start to our NSW field season where Emmerson currently has five new projects generated from proprietary predictive 2 and 3D targeting models - developed in conjunction with our strategic alliance partner Kenex Limited. The Kadungle project sits to the east of our large Fifield Exploration Lease, while to the west is the Rimfire Pacific Mining NL, Sopressa discovery (7.9Moz Ag and 125Koz Au). Thus we believe that these tenements are highly prospective for both gold and copper, as are our other four projects at Wellington (EL 8463), Parkes (EL 8466), Temora/Sebastopol (EL 8465 & ELA 5481) and Kioloa (ELA 5417). Note Kenex can earn up to a 10% interest in these tenements (excluding Kadungle) upon achieving certain predetermined milestones. Emmerson can earn up to 80% of the Kadungle project under an option and JV with Aurelia Metals through spending $0.5m over a five year period."
The technical and commercial strategy for our NSW projects follows a similar model to our successful Tennant Creek Project in the NT (Evolution Mining are earning a 65% interest by spending $15m). Where the expertise and technology, instrumental to success at Tennant Creek is leveraged into new underexplored opportunities, but with a focus on high, near term value from epithermal gold-silver within large porphyry copper-gold systems. It is envisaged that ERM will seek suitable JV partners on some of these NSW projects.
About Emmerson Resources
Emmerson is a leading gold and copper gold explorer with projects in the Northern Territory and New South Wales and is led by a board and management group of experienced Australian mining executives including former MIM and WMC mining executive Andrew McIlwain (non-executive chairman), and former senior BHP Billiton and WMC executive Rob Bills ( Managing Director and CEO).
The Northern Territory projects are centred around the Tennant Creek Mineral Field (TCMF), which is one of Australia's highest grade gold and copper fields producing >5.5 Mozs of gold and >470,000 tonnes of copper from a variety of deposits including Gecko, Orlando, Warrego, White Devil, Chariot and Golden Forty, all of which are within Emmerson Resources (

ASX:ERM
) exploration and joint venture portfolio. Emmerson's track record of discovery includes copper and gold mineralisation at Goanna, Monitor, Mauretania and more recently, the discovery of very high-grade gold at Edna Beryl - the first discoveries in the TCMF for over a decade.
Emmerson holds 2,500 km2 of ground in the TCMF, owns the only gold mill in the region and is in the process of monetising a pipeline of small high-grade exploration targets via a Tribute Agreement with a specialised small mines company. The first of these small mines will be at Edna Beryl, with production to commence in 2017.
Exploration in the TCMF is funded via a Farm-in agreement with Evolution Mining Limited (EVN), where EVN is sole funding exploration expenditure of $15 million by 31 December 2017 to earn a 65% interest (Stage 1 Farm-in). EVN then has a further option to sole fund a further $10 million over two years to earn an additional 10% (Stage 2 Farm-in). Emmerson is the operator and manager during the Stage 1 Farm-in.
Emmerson has recently commenced exploration on new gold-copper projects in NSW, identified (with our strategic alliance partner Kenex Limited) from the application of "big multiple independent datasets" - aimed at increasing the probability of discovery through enhanced predictive capability (particularly important in covered terrains). The highly prospective Macquarie Arc hosts >80Mozs gold and >13Mt copper but with these resources heavily weighted to areas of outcrop or limited cover. Emmerson's five exploration projects cover some 1,500 km2 of Macquarie Arc rocks and contain many attributes of the known deposits but remain under explored due to historical impediments, including overlying cover (plus farm lands) and a lack of exploration focus. Kadungle is an option (and potential JV) with Aurelia Metals covering 43km2 adjacent to Emmerson's Fifield project.
About Kennex
Kenex is a Wellington and West Australian based company which was established in 2002 to provide GIS and exploration services and advice for the exploration and mining industries in Australia and New Zealand. Over the last 10 years, Kenex has broadened their international experience through involvement with projects and clients in the Middle East, Africa, Scandinavia, Asia-Pacific and Latin America. Kenex is a group of highly motivated research professionals who have more than 85 years of combined experience and knowledge in exploration and mining, locally (New Zealand/Australia) and abroad, including the Solomon Islands, Africa, Papua New Guinea, Asia and Latin America. Kenex also has growing expertise in the marine minerals sector.
Kenex specialises in predictive modelling for minerals (2D and 3D) where it is at the forefront of providing these services to businesses to generate targets with the greatest geological potential in relation to the mineral system being evaluated. This delivers to our client's outcomes which can be used for a variety of purposes including regional evaluation of a mineral belt, identification of opportunities for acquisition, the tools for effective exploration work programme planning and in the case of predictive 3D modelling, drill hole targeting.
About Aurelia (

ASX:AMI
)
Aurelia Metals became a gold producer in 2014 and its flagship asset is the high-grade Hera gold-lead-zinc-silver mine in central NSW.
In FY 2016, the Hera mine produced 46,882 ounces of gold and 25,406 tonnes of lead-zinc concentrates from the processing of 308,118 tonnes of ore.
The Company is pursuing significant further improvements in the Hera operation including improved metal recoveries, increased throughput and operating cost reductions. Aurelia is also pursuing a near mine exploration programme, with a strong view on the capacity for Hera to evolve into a large scale, high-grade 'Cobar style' deposit.
To view tables and figures, please visit:
http://abnnewswire.net/lnk/SUSQT4X1
About Emmerson Resources Limited

Emmerson Resources Limited (ASX:ERM) (FRA:42E) is an ASX listed gold resource company that recently (July, 2014) secured a landmark Joint Venture agreement with Evolution Mining (ASX:EVN).
Has an aggressive exploration program and dominant position in the world class Tennant Creek Mineral Field.
Is applying new exploration concepts and technologies to unlock the next generation of gold and copper deposits.
Owns the only carbon-in-pulp gold plant in the region.
Has an experienced Board and Management team.
Emmerson Resources Limited
T: +61-8-9380-6885
WWW: www.emmersonresources.com.au

Related CompaniesEmmerson Resources Limited





Aurelia Metals Ltd