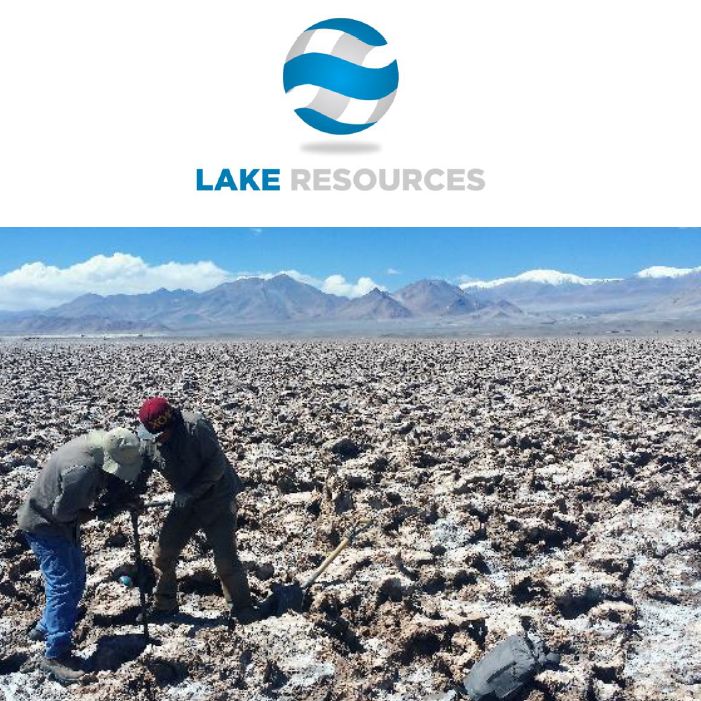 Investor Presentation
Brisbane, May 31, 2017 AEST (ABN Newswire) - Lake Resources NL (

ASX:LKE
) is pleased to provide the Company's latest Investor Presentation titled "Size, Location, Unlocked Value - Lithium at a Higher Level".
Size, Location
- Large Tenement Package
o One of the Largest Lease holding in a listed company - 170,000 Ha
- Prime Location
o Amongst the Majors Production & Development projects next to Lake Projects
- Brine & Hard rock
o 3 brine projects well located
o 1 large pegmatite project
- Unlocked Deep Value
o Low relative market cap
o large projects
o Many catalysts to unlock value
- Large Corporate Deals Nearby
o Major corporate deals completed on adjoining projects up to US$286M
o Projects in desired locations
- Drilling / Newsflow
o Drilling about to start
o Recent permitting success
o Potential for Offtake partners
Kachi - New Discovery ...
- New Discovery Potential
o Large Basin about to be drilled
o Positive Lithium Surface Results
o Newly Recognised Area
o South of FMC's production
- Large Undrilled Lithium Brine
o Untested. Undrilled. Scale.
o Next to Albemarle's Antofalla
o Consolidated Leaseholding
- Drilling to Unlock Value
o Maiden Drill program
o Results usually much higher from drillholes
o Diamond drill & water wells for pump testing
- Offtake Partner Potential
o Initial Resource & Scoping Study likely to attract Offtake Partners
Large Belt of Pegmatites
- New 150km Long Belt Pegmatites + Lithium
o Newly recognised long belt
o Only one other company in area
o Adjacent drill results >2% LiO2
o Outcropping spodumene
- Target - Thick Swarms
o Initial exploration targeting where pegmatites merge to provide thick dyke swarms
- Large area 70,000Ha
o Option over area for 19M LKE shares to be decided soon
o Mining leases & exploration leases
o Easy access year round; low altitude
Unlocking Deep Value
Catalyst rich2H2017
- Drilling
Drilling Commencement
o Drilling on Kachi about to start
o Results to display upside in potential new discovery
- Approvals
Permitting Approvals to Access Olaroz-Cauchari
o Recent permitting success should lead to approvals for access
- Offtake
Offtake Partner Potential & Resource/Scoping Study
o Discussions can advance with potential Offtake Partners once drill results available - leading to resource & scoping study
To view the full presentation, please visit:
http://abnnewswire.net/lnk/2950Z32H
About Lake Resources NL

Lake Resources NL (ASX:LKE) is undertaking an aggressive exploration programme to explore and develop prime lithium projects in Argentina, owned 100%, among some of the largest players in the lithium sector. Lake holds one of the largest lithium tenement packages in Argentina (~170,000Ha) secured prior to a significant 'rush' by major companies with three key lithium brine projects located in the Lithium Triangle which produces half of the world's lithium. Lake also holds one large package of lithium pegmatite properties which were an unappreciated source of lithium in Argentina until recently.
The three key brine projects, Olaroz/Cauchari, Paso and Kachi, have similar settings to major world class brine projects being developed in the highly prospective Jujuy and Catamarca Provinces. One project is located next to Orocobre's Olaroz lithium production and SQM/Lithium Americas Cauchari project. The Kachi project covers 50,000 Ha over a salt lake south of FMC's lithium operation and near Albemarle's Antofalla project.
Drilling at Kachi has shown conductive brines in thick porous sands with results anticipated over the coming months. Surface sampling has revealed positive lithium results which will be expanded through the drilling program and geophysics. Exploration and permitting over Kachi and the other projects will provide several catalysts for the company's growth as these areas are assessed for major discoveries.
Significant corporate transactions continue in adjacent leases with development of SQM/Lithium Americas Olaroz/Cauchari project with an equity/debt investment over $300 million and Advantage Lithium's equity transaction in some of Orocobre's leases. LSC Lithium has also raised over $60 million on a large lease package in similar areas as Lake's properties. Nearby projects of Lithium X were subject to a takeover offer of C$265 million in December 2017.

Steve Promnitz
Managing Director
Lake Resources N.L.
T: +61-2-9188-7864
E: steve@lakeresources.com.au

IR (Henry)
T: +61-2-9188-7864
M: +61-431-271-538
Related CompaniesLake Resources NL



View in Other Languages (1541)