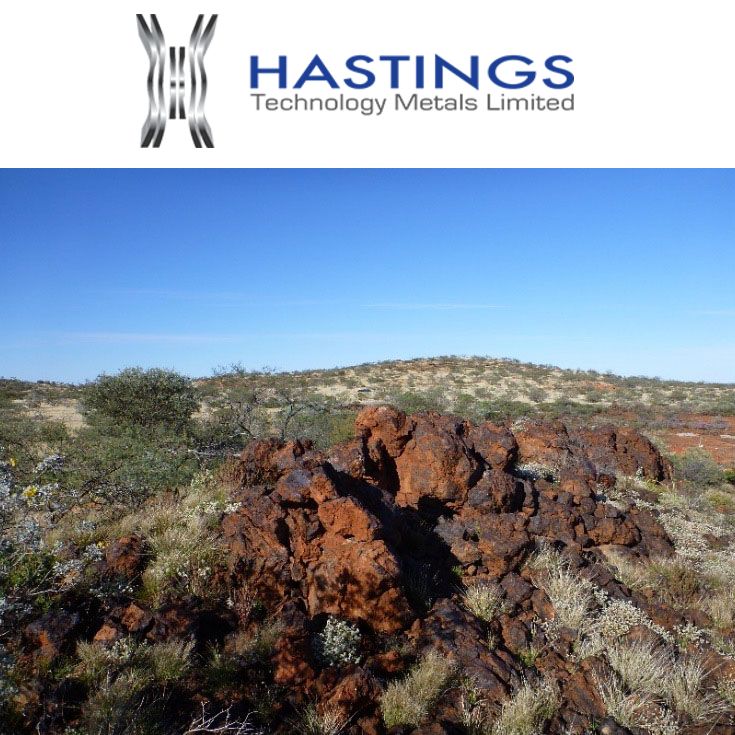 Significant Expansion of Bald Hill Resources and Pit at Yangibana
Sydney, June 7, 2017 AEST (ABN Newswire) - Hastings Technology Metals Limited (

ASX:HAS
) is pleased to announce that the first assay results from the Company's 2017 drilling programme at Yangibana have been received. These results are from holes drilled into the western, deeper extension to the current Measured and Indicated Resources and show potential for a significant expansion of the resources and optimised pit at the Bald Hill deposit.
HIGHLIGHTS
- First assay results received from 2017 drilling at Bald Hill
- All holes tested western, deeper extension to the known deposit
- Best intersections are:-
22m at 1.67%TREO including 0.61% Nd2O3+Pr6O11
9m at 1.05%TREO including 0.33% Nd2O3+Pr6O11
8m at 1.84%TREO including 0.61% Nd2O3+Pr6O11, and
6m at 1.90%TREO including 0.74% Nd2O3+Pr6O11
INTRODUCTION
The current JORC Resources at Bald Hill and Bald Hill Southeast are shown in Table 1 (see the link below).
DRILLING RESULTS
Table 2 (see the link below) provides a summary of the best intersections in results received to date.
Collar locations of drilling completed to date at Bald Hill are shown in Figure 1 (see the link below). Drillhole parameters are provided in Appendix 1 (see the link below), and assay details are provided in Appendix 2 (see the link below).
Results from holes BHRC272-275 inclusive are expected to be sufficient to support a further extension to the west of the central portion of the proposed pit.
Holes BHRC281-283 and 285 (as circled in Figure 1 in the link below) were drilled around the intersection achieved last year in BHRC258 that returned 6m (82-88m) at 1.47%TREO including 0.51% Nd2O3+Pr6O11 within a broader intersection of 13m (82-95m) at 0.90%TREO including 0.31% Nd2O3+Pr6O11. Results from these four holes are highly encouraging with significant widths and grades of the target neodymium and praseodymium oxides. It is likely that the next pit optimisation, to be completed in the near future as part of the Company's ongoing Definitive Feasibility Study, will extend the pit over this area.
TERMINOLOGY USED IN THIS REPORT
TREO is the sum of the oxides of the light rare earth elements lanthanum (La), cerium (Ce), praseodymium (Pr), neodymium (Nd), and samarium (Sm) and the heavy rare earth elements europium (Eu), gadolinium (Gd), terbium (Tb), dysprosium (Dy), holmium (Ho), erbium (Er), thulium (Tm), ytterbium (Yb), lutetium (Lu), and yttrium (Y).
To view tables and figures, please visit:
http://abnnewswire.net/lnk/C3QN63Z6
About Hastings Technology Metals Ltd

Hastings Technology Metals Ltd (ASX:HAS) (FRA:5AM) is currently developing a rare earths mine and processing plant at Yangibana in the Gascoyne Region of Western Australia. The processing plant is anticipated to commence production of MREC in late 2019. Hastings has completed both beneficiation and hydrometallurgy pilot plants, in the process producing MREC samples which are high in neodymium and praseodymium content. These are critical materials for the production of permanent magnets and other technology applications. The MREC will be capable of being further separated and refined to produce a number of individual rare earth oxides outside of Australia. Hastings estimates an annual production quantity of 15,000 tonnes of MREC which it will sell to offtake partners globally.

Andy Border
General Manager Exploration
T: +61-2-8268-8689

Charles Tan
Chief Operations Officer
T: +61-457-853-839
Related CompaniesHastings Technology Metals Ltd