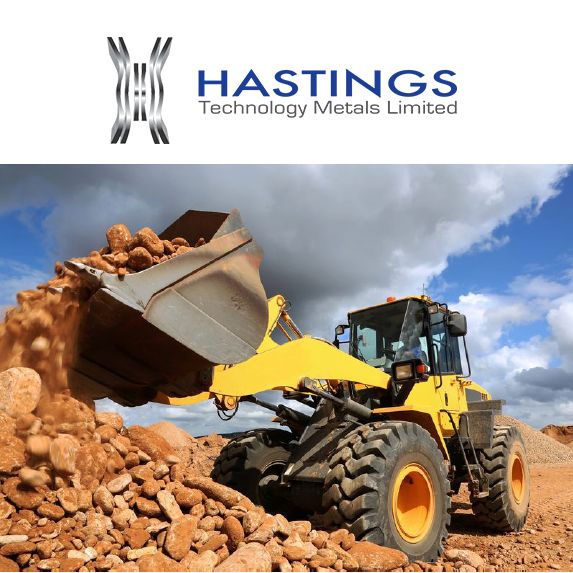 Updated Investor Presentation
Sydney, June 19, 2017 AEST (ABN Newswire) - Hastings Technology Metals Ltd (

ASX:HAS
) is pleased to provide the Company's latest Investor Presentation titled "Future Producer of Neodymium and Praseodymium to the Permanent Magnet Industry".
Key Facts
- Hastings' Yangibana Project in Western Australia - to produce Mixed Rare Earth Carbonate (MREC) rich in Neodymium (Nd) and Praseodymium (Pr)
- Nd and Pr are critical elements in manufacture or Permanent Magnets - used in advanced and green technologies such as wind turbines, electric vehicle (EV), CFC-free refrigeration, robotics, medical, etc.
- Completed pilot plant test-work in beneficiation and hydrometallurgy. Validates Yangibana's simple and cost effective production process
- Definitive Feasibility Study (DFS) to be published by Oct 2017
- Lead Agency Project Status granted by W.A. state government to assist in permit process & final approvals
- Experienced Management Team with rare earths mining and production experience and capability
- Commercial off-take discussions underway with European and Chinese buyers
- Mine Construction in Q2 2018 and Production by 2H 2019, subject to final permitting
- AUD 30m equity raised since 2014 and debt free
- CAPEX of AUD300m required to fund mine and plant construction.
- Estimated NPV ~ AUD 420m and 2.6 years EBITDA payback from commencement date
Yangibana Advantage
High Nd & Pr content means high economic basket value
- Pilot confirmed ore upgrade from ~ 1.2% in-ground to 23% TREO in Beneficiated Concentrate - 18x times upgrade
- Exceptional high recovery & upgrades in:
o Nd & Pr
o Middle & Heavy RE
- Value for each unit of Yangibana RE concentrate is 67% to 270% > many major light RE producers in the world
- Economic Value Factor of 1.91 almost 0% double of China Producer #1
- Yangibana high basket price of USD24.25 (current) due to increase in Nd & Pr prices
Yangibana Beneficiation Flowsheet
Successful completion of pilot plant test work
Continuous Pilot Plant Test - Successfully validated simple and effective flowsheet
Confirmed 70% TREO recovery rates and a concentrate upgrade to 23% TREO ~ 18 times from ore.
- Achieved lower consumption of reagents thereby lower OPEX costs.
- Recent post-pilot Process Optimisation achieved up to 85% TREO recovery
- Engineering design work for full scale processing plant underway
- Flotation concentrate with high % Nd and Pr sent to next stage of processing i.e. hydrometallurgy
Yangibana Hydrometallurgy Flowsheet
Successful completion of pilot plant test work
Hydrometallurgy Pilot plant undertaken for three phases:
- Acid bake
- Water leaching & impurity removal
- Carbonate product precipitation
All three phases exceeded lab results and conform or exceed industry standards.
Produced 50 kg high purity MREC sample for customers containing 40.8% Nd & Pr as % of TREO
To view the full presentation, please visit:
http://abnnewswire.net/lnk/27TS48O1
About Hastings Technology Metals Ltd

Hastings Technology Metals Ltd (ASX:HAS) (FRA:5AM) is currently developing a rare earths mine and processing plant at Yangibana in the Gascoyne Region of Western Australia. The processing plant is anticipated to commence production of MREC in late 2019. Hastings has completed both beneficiation and hydrometallurgy pilot plants, in the process producing MREC samples which are high in neodymium and praseodymium content. These are critical materials for the production of permanent magnets and other technology applications. The MREC will be capable of being further separated and refined to produce a number of individual rare earth oxides outside of Australia. Hastings estimates an annual production quantity of 15,000 tonnes of MREC which it will sell to offtake partners globally.

Charles Tan
Chief Operating Officer
M: +61-457-853-839

Aris Stamoulis
Director Corporate Finance
M: +61-455-105-607
Related CompaniesHastings Technology Metals Ltd