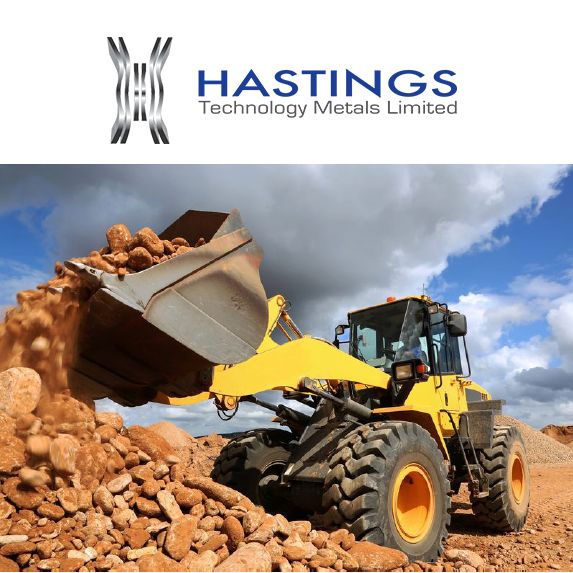 Updated Investor Presentation
Sydney, June 19, 2017 AEST (ABN Newswire) - Hastings Technology Metals Ltd (

ASX:HAS
) is pleased to provide the Company's latest Investor Presentation titled "Future Producer of Neodymium and Praseodymium to the Permanent Magnet Industry".
Key Facts
- Hastings' Yangibana Project in Western Australia - to produce Mixed Rare Earth Carbonate (MREC) rich in Neodymium (Nd) and Praseodymium (Pr)
- Nd and Pr are critical elements in manufacture or Permanent Magnets - used in advanced and green technologies such as wind turbines, electric vehicle (EV), CFC-free refrigeration, robotics, medical, etc.
- Completed pilot plant test-work in beneficiation and hydrometallurgy. Validates Yangibana's simple and cost effective production process
- Definitive Feasibility Study (DFS) to be published by Oct 2017
- Lead Agency Project Status granted by W.A. state government to assist in permit process & final approvals
- Experienced Management Team with rare earths mining and production experience and capability
- Commercial off-take discussions underway with European and Chinese buyers
- Mine Construction in Q2 2018 and Production by 2H 2019, subject to final permitting
- AUD 30m equity raised since 2014 and debt free
- CAPEX of AUD300m required to fund mine and plant construction.
- Estimated NPV ~ AUD 420m and 2.6 years EBITDA payback from commencement date
Yangibana Advantage
High Nd & Pr content means high economic basket value
- Pilot confirmed ore upgrade from ~ 1.2% in-ground to 23% TREO in Beneficiated Concentrate - 18x times upgrade
- Exceptional high recovery & upgrades in:
o Nd & Pr
o Middle & Heavy RE
- Value for each unit of Yangibana RE concentrate is 67% to 270% > many major light RE producers in the world
- Economic Value Factor of 1.91 almost 0% double of China Producer #1
- Yangibana high basket price of USD24.25 (current) due to increase in Nd & Pr prices
Yangibana Beneficiation Flowsheet
Successful completion of pilot plant test work
Continuous Pilot Plant Test - Successfully validated simple and effective flowsheet
Confirmed 70% TREO recovery rates and a concentrate upgrade to 23% TREO ~ 18 times from ore.
- Achieved lower consumption of reagents thereby lower OPEX costs.
- Recent post-pilot Process Optimisation achieved up to 85% TREO recovery
- Engineering design work for full scale processing plant underway
- Flotation concentrate with high % Nd and Pr sent to next stage of processing i.e. hydrometallurgy
Yangibana Hydrometallurgy Flowsheet
Successful completion of pilot plant test work
Hydrometallurgy Pilot plant undertaken for three phases:
- Acid bake
- Water leaching & impurity removal
- Carbonate product precipitation
All three phases exceeded lab results and conform or exceed industry standards.
Produced 50 kg high purity MREC sample for customers containing 40.8% Nd & Pr as % of TREO
To view the full presentation, please visit:
http://abnnewswire.net/lnk/27TS48O1
About Hastings Technology Metals Ltd

Hastings Technology Metals Ltd (ASX:HAS) (FRA:5AM) is a leading Australian rare earths company, with two rare earths projects hosting JORC-compliant resources in Western Australia.
- The Yangibana Project hosts JORC Resources totalling 20.56 million tonnes at 1.18% TREO (comprising Measured Resources of 3.79 million tonnes at 1.18% TREO, Indicated Resources of 8.24 million tonnes at 1.27% TREO and Inferred Resources of 8.53 million tonnes at 1.11% TREO), including 0.40% Nd2O3+Pr6O11.
- The Brockman deposit contains JORC Indicated and Inferred Resources totalling 41.4 million tonnes (comprising 32.3mt Indicated Resources and 9.1mt Inferred Resources) at 0.21% TREO, including 0.18% HREO, plus 0.36% Nb2O5 and 0.90% ZrO2.
- Rare earths are critical to a wide variety of current and new technologies, including smart phones, electric vehicles, wind turbines and energy efficient light bulbs.
- The Company aims to capitalise on the strong demand for rare earths permanent magnets created by expanding new technologies.

Charles Tan
Chief Operating Officer
M: +61-457-853-839

Aris Stamoulis
Director Corporate Finance
M: +61-455-105-607
Related CompaniesHastings Technology Metals Ltd