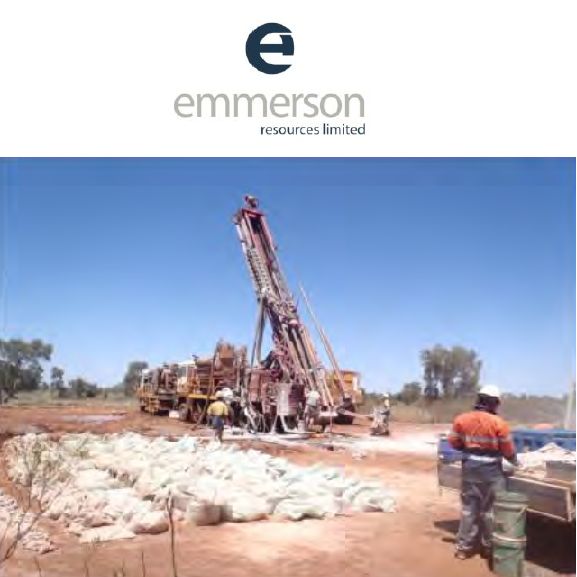 Drilling Underway on New Edna Beryl Targets
Perth, June 20, 2017 AEST (ABN Newswire) - Emmerson Resources Limited ("Emmerson") (

ASX:ERM
) (

OTCMKTS:EMMRF
) is pleased to announce the commencement of a reverse circulation and diamond drill program at its 100% owned Tennant Creek project in the Northern Territory (see fig 1 in the link below). These drill targets were generated from the application of an ultra-high resolution ground gravity survey completed earlier this year. This survey was trialled over the known high grade gold, Edna Beryl mineralisation that is hosted in a series of subparallel hematite ironstones. Following the success in delineating these ironstones and highlighting possible extensions to the west, the survey was extended to encompass additional structural targets (see fig 2 in the link below). This revealed a new target, some 400m north of Edna Beryl and between the Macedon and Carraman prospects - both will be drilled in this campaign (green dots, see figure 2 in the link below).
- 6,700m drill program underway at the Edna Beryl project
- Ultra-high-resolution ground gravity surveys have revealed:
o Likely extensions to the ironstones that host the high grade bonanza gold mineralisation at Edna Beryl
o Untested Edna Beryl "look alike" targets immediately to the north
o Potential to discover a new generation of hematite hosted gold deposits
- High grade gold and bismuth results along strike from newly defined gravity targets that includes:
o 2m at 81.5g/t gold incl. 1m at 161g/t gold (from 260m) at Thrace
o 7g/t gold and 2.3% bismuth rock chips at Carraman
Based on the success of last year's drilling within the immediate Edna Beryl mineralisation (ASX- 30 January 2017), further drill holes are planned to test the continuity of the ironstones and chlorite alteration some 350m below the surface (see figures 2&3 in the link below).
2017 Exploration Program
- First campaign of 6,700m of drilling confined to the Edna Beryl project area - aimed at near mine and new regional greenfields targets.
- If drilling is successful in verifying additional hematite ironstones (the host to the high grade gold), further high resolution gravity surveys will be deployed over a range of similar structural/geological targets.
- Exploration is now well underway in NSW with detailed high-resolution magnetic surveys completed over the EL's 8463 (Wellington), 8465 (Temora), 8464 (Fifield) and the Kadungle area (JV with Aurelia Metals). The first drill hole at Kadungle (by Emmerson) has intersected mineralisation (ASX- 30 May 2017), with assay results pending.
About Tennant Creek and Emmerson Resources
Emmerson is a leading gold and copper gold explorer with projects in the Northern Territory and New South Wales and is led by a board and management group of experienced Australian mining executives including former MIM and WMC mining executive Andrew McIlwain (non-executive chairman), and former senior BHP Billiton and WMC executive Rob Bills (Managing Director and CEO).
The Northern Territory projects are centred around the Tennant Creek Mineral Field (TCMF), which is one of Australia's highest grade gold and copper fields producing >5.5 Mozs of gold and >470,000 tonnes of copper from a variety of deposits including Gecko, Orlando, Warrego, White Devil, Chariot and Golden Forty, all of which are within Emmerson Resources (

ASX:ERM
) exploration and joint venture portfolio. Emmerson's track record of discovery includes copper and gold mineralisation at Goanna, Monitor, Mauretania and more recently, the discovery of very high-grade gold at Edna Beryl - the first discoveries in the TCMF for over a decade.
Emmerson holds 2,500 km2 of ground in the TCMF, owns the only gold mill in the region and is in the process of monetising a pipeline of small high-grade exploration targets via a Tribute Agreement with a specialised small mines company. The first of these small mines will be at Edna Beryl, with production to commence in 2017.
Exploration in the TCMF is funded via a Farm-in agreement with Evolution Mining Limited (EVN), where EVN is sole funding exploration expenditure of $15 million by 31 December 2017 to earn a 65% interest (Stage 1 Farm-in). EVN then has a further option to sole fund a further $10 million over two years to earn an additional 10% (Stage 2 Farm-in). Emmerson is the operator and manager during the Stage 1 Farm-in.
Emmerson has recently commenced exploration on new gold-copper projects in NSW, identified (with our strategic alliance partner Kenex Limited) from the application of "big multiple independent datasets" - aimed at increasing the probability of discovery through enhanced predictive capability (particularly important in covered terrains). The highly prospective Macquarie Arc hosts >80Mozs gold and >13Mt copper but with these resources heavily weighted to areas of outcrop or limited cover. Emmerson's five exploration projects cover some 1,500 km2 of Macquarie Arc rocks and contain many attributes of the known deposits but remain under explored due to historical impediments, including overlying cover (plus farm lands) and a lack of exploration focus. Kadungle is an option (and potential JV) with Aurelia Metals covering 43km2 adjacent to Emmerson's Fifield project.
About Evolution Mining
Evolution Mining is a leading, growth-focussed Australian gold miner. Evolution operates six wholly-owned mines - Cowal in New South Wales; Mt Carlton, Mt Rawdon, and Cracow, in Queensland; and Mungari and Edna May in Western Australia. In addition, Evolution holds an economic interest in the Ernest Henry copper-gold mine that will deliver 100% of future gold and 30% of future copper and silver produced from an agreed life of mine area.
Outside of the life of mine area Evolution will have a 49% interest in future copper, gold and silver production. In FY16 Evolution produced 803,476 ounces of gold at an AISC of A$1,014 per ounce generating an operating cash flow of A$628.4 million.
As a result of the acquisition of an economic interest in Ernest Henry in November 2016, Evolution revised its FY17 Group gold production guidance to 800,000 - 860,000 ounces at an AISC of A$900 - A$960 per ounce.
To view tables and figures, please visit:
http://abnnewswire.net/lnk/P9346U0G
About Emmerson Resources Limited

Emmerson Resources Limited (ASX:ERM) (FRA:42E) is an ASX listed gold resource company that recently (July, 2014) secured a landmark Joint Venture agreement with Evolution Mining (ASX:EVN).
Has an aggressive exploration program and dominant position in the world class Tennant Creek Mineral Field.
Is applying new exploration concepts and technologies to unlock the next generation of gold and copper deposits.
Owns the only carbon-in-pulp gold plant in the region.
Has an experienced Board and Management team.
Investor Enquiries:
Mr Rob Bills
Managing Director & Chief Executive Officer
Tel: +61-8-9381-7838
www.emmersonresources.com.au
Related CompaniesEmmerson Resources Limited