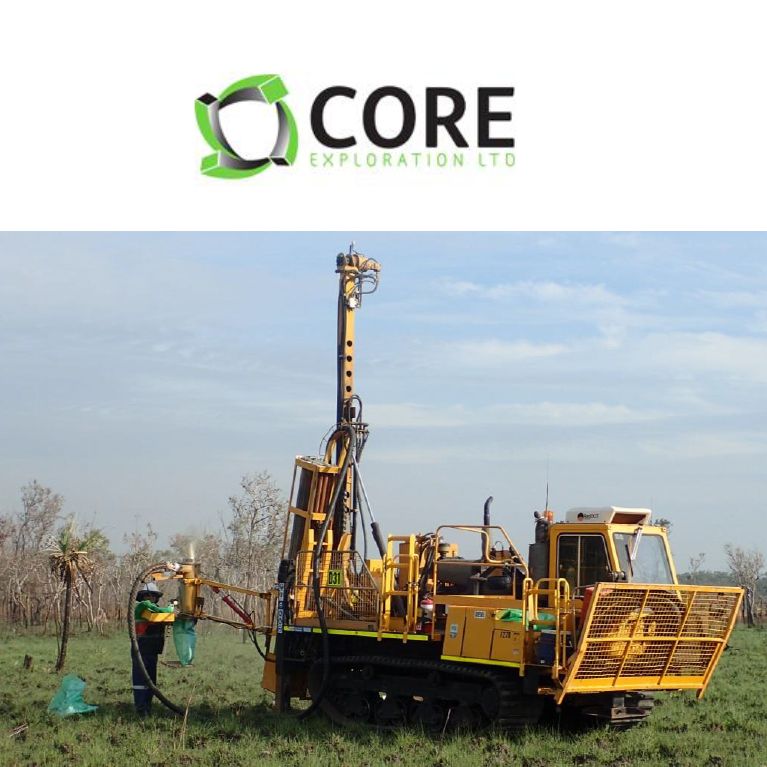 RC Drilling at Large-scale Zola Pegmatite Commences
Adelaide, June 21, 2017 AEST (ABN Newswire) - Core Exploration Ltd (

ASX:CXO
) ("Core" or the "Company") is pleased to announce that RC drilling of the large-scale Zola Pegmatite Swarm has commenced today within the Company's 100% owned Finniss Lithium Project near Darwin in the NT ("Finniss").
HIGHLIGHTS
- Core has today commenced an initial 10 hole RC drilling program on its large-scale pegmatite target at Zola
- Evidence of pegmatites at Zola have been identified over an area 1,500m long and up to hundreds of metres wide
- Initial Zola RC drilling program to be completed during July with initial assay results expected 4 weeks after drilling is completed
- Drilling at Zola is the first RC drill program of the 2017 field season on Core's Finniss Lithium Project
- Initial RC drilling of the large-scale Ringwood Prospect expected to commence in July
- Multiple exploration drill programs will be conducted at Finniss in 2017, aiming to build a large resource base to support a long-life lithium operation
- The Company is well funded and will continue to aggressively explore and advance its high grade lithium discoveries
Core's work undertaken to date suggests that the Zola Pegmatite Swarm covers a large area of more than 1,500m long and hundreds of metres wide potentially representing a significant volume of pegmatite defined by weathered/oxidised pegmatites and elevated lithium in near surface geochemical samples (see Figure 1 in the link below).
In addition, previous trench sampling in the 1980's also supports an unusually large pegmatite system at Zola (see Figure 1 in the link below).
The initial RC program at Zola will consist of at least 10 RC holes and is planned to test the potential for significant lithium mineralisation below the broad areas of pegmatite material identified at surface. A number of different pegmatite geometric scenarios are planned to be tested with RC drilling at Zola.
Core's first phase of RC drilling at Zola is expected to be completed in July and assays results are expected 4 weeks after completion of drilling.
If drill results prove encouraging, there are a number of additional drill pads prepared to immediately expand the RC drill program at Zola.
Current 2017 drilling and exploration work at Finniss Lithium Project
Core's 2017 lithium exploration programs are aiming to substantially grow the resource base for the Finniss Lithium Project.
Core currently has a number of exploration teams and drill rigs active at the Finniss Lithium Project in 2017. Current drill and exploration programs include:
- Air-core (AC) drilling of shallow holes through soil and laterite to test a number of lithium pegmatite targets defined by Core's geochemical surveys, geological mapping and magnetic interpretation. The focus to date of shallow AC drilling has been exploration targets in the north of the Finniss Lithium Project in the Grants region, which are more easily accessible at the start of the field season (see Figure 2 in the link below).
- Drilling of groundwater monitoring bores in and around the Grants Lithium Resource for environmental and mining engineering purposes, to support mine planning and early development approvals of the Grants Lithium Deposit as a potential DSO Spodumene Mining Project (see Figure 3 in the link below).
- Over 2,500 soil samples have been collected by Core at Finniss since the start of the 2017 field season. Lithium assays from soils will be used to discover and target additional lithium rich pegmatite targets at Finniss for potential drilling during the 2017 field season.
Core's 2016 RC drill programs were highly successful in discovering multiple pegmatites mineralised with high grade lithium (spodumene) within the Finniss Lithium Project, which has resulted in the definition of one of the highest-grade, undeveloped Lithium Resources in Australia at Grants.
Next Steps
Core is focussing on 3 main regions in the large 400km2 tenement area of the Finniss Lithium Project.
Grants Lithium Resource and Surrounding Area
In the area around Grants, where the Company has recently established one of the highest grade undeveloped lithium Resources in Australia, Core has already identified new lithium pegmatite drill targets resulting from the drilling of recently completed shallow air core and soil surveys.
Core is also focussed on the early development of Grants as a potential high grade DSO spodumene project. Early development is supported by Grants benefiting from arguably the best logistics chain to China of any Australian Lithium Project.
Core is continuing discussions with potential project development and spodumene offtake partners to drive Grants and the Finniss Lithium Project toward early mine development.
Zola Pegmatite Swarm
Core's first phase of RC drilling at Zola is expected to be completed in July and assays results expected 4-5 weeks after completion of drilling.
Further infill and extension drilling is planned at Zola subject to results of the first phase of drilling.
Ringwood Pegmatite Swarm
Core will also be drill testing the Ringwood Pegmatite Swarm, a series of highly-weathered pegmatite and quartz outcrop and float zones that combined, extend at least 4 km long and 2 km wide.
Shallow air core drilling at Ringwood is expected to commence later this month before the RC drill rig moves from Zola to Ringwood during July.
Zola and Ringwood both comprise a series of large-scale pegmatite targets that spatially are an order of magnitude larger than Grants.
Commenting on the commencement of RC drilling at Zola, Core's Managing Director, Stephen Biggins, said:
"With 400km2 of new tenements granted, all drilling approvals in place for the 2017 field season and drilling well underway, Core's 2017 lithium exploration program will be aiming to substantially grow the resource base for the Finniss Lithium Project.
We are particularly excited to have commenced drilling at Zola. Similarly, the large Ringwood prospect, which we will be drilling as soon as ground conditions permit, also has the potential to contain a very significant volume of spodumene pegmatite.
We look forward to keeping our shareholders updated as the 2017 field season progresses."
To view figures, please visit:
http://abnnewswire.net/lnk/IHVP04H8
About Core Exploration Ltd

Core Exploration Ltd (ASX:CXO) is an emerging lithium producer focused on development of its Finniss Project near Darwin in the Northern Territory. Core owns 100% of Finniss, a major developing project that lies close to existing infrastructure such as the Darwin Port, grid power, gas and rail infrastructure.
The Finniss Project covers a 500km2 tenement holding and 25 historic pegmatite mines. The project area is about 80km from Darwin Port. Exploration work has generated a near term development timeline, with feasibility studies to be completed over the course of 2018 ahead of receipt of approvals in early 2019 and planned first production during 2019.
An aggressive exploration program is under way, which has confirmed the high quality prospectivity across much of the Finniss Project area. Core's stated ambition is to upgrade Finniss' resource base to fast-track commercialisation options.
Stephen Biggins
Managing Director
Core Exploration Ltd
T: +61-8-7324-2987
E: info@coreexploration.com.au
Related CompaniesCore Exploration Ltd