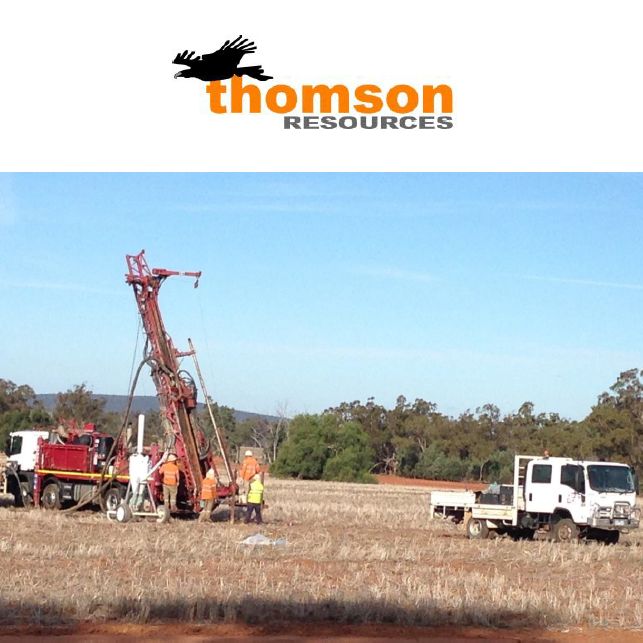 Further Outstanding Drill Results for Bygoo Tin
Sydney, June 28, 2017 AEST (ABN Newswire) - Thomson Resources (

ASX:TMZ
) is pleased to announce drilling results from its fourth round of drilling at the Bygoo tin project near the old Ardlethan tin mine, NSW. Seven holes were drilled to test the newly discovered tin-bearing greisen at Bygoo South. In addition, two holes tested the original discovery at Bygoo North prospect located 400m to the north.
- Exceptional intercepts up to 29m at 1.0% Sn at Bygoo North
- New discovery at Bygoo South with 20m at 0.9% Sn
- Further drilling planned for July-August
The drilling took place in December 2016 and results have been delayed due to funding and regulatory issues relating to the Bygoo farm-in agreement signed with Canadian investors (see ASX announcements of 17 March 2017 and 21 November 2016). The Canadian company, Rheingold Exploration Corp. (

CVE:RGE
) recently completed their due diligence, significant funding has now been received and drilling is planned to recommence in the next few weeks.
High grade tin intersections of similar tenor to those previously recorded were obtained at both North and South prospects (see Figures 1, 2 in the link below). The standout intersections are -
Bygoo North
- 29m at 1.0% Sn from 58m depth (BNRC33)
Bygoo South
- 14m at 0.7% Sn from 36m depth (BNRC28), including 4m at 1.4% Sn from 46m
- 4m at 0.7% Sn from 53m depth (BNRC29)
- 20m at 0.9% Sn from 42m depth (BNRC31)
Bygoo North
Two holes were drilled at the main prospect of Bygoo North before rain forced the cessation of the program. BNRC33 was drilled to test up dip and shallower than the 11m at 2.1% intersected in BNRC20 (see Figure 3 in the link below). The continuity was confirmed with 9m at 1.6% Sn from 58m intersected in the predicted shallower position. The hole continued in topaz greisen and intersected another mineralised zone lower down with 8m at 1.4% Sn from 79m. This intercept appears to be a new zone and the proposed follow up drilling will test this position.
BNRC32 was drilled on the Main Zone on a section where the lode was interpreted to kink (see Thomson's December 2016 quarterly report). Instead the drilling suggests that the Main Zone divides and overlaps (see Figures 1 and 4 in the link below), with two significant greisens intersected in both the new hole and the previous one on this section (BNRC13). Both intercepts in BNRC32 were modest: 4m at 0.3% Sn, 0.4% Cu from 93m and 3m at 0.6% Sn from 127m.
Bygoo South
The Bygoo South prospect is at the site of a historic underground mine ("Smiths"), 400m south of the Bygoo North area, which operated between 1932 and 1946 for a reported production of just over 10,000 tonnes of ore at 0.8% Sn (Department of Mines Mine Record No. 20). Thomson's preliminary drilling earlier in 2016 achieved an 8m intersection grading 1.3% Sn from 57m hole depth (BNRC021), down-dip from the workings.
The most recent program investigated the workings from three sides (see Figure 2 in the link below). BNRC24 and BNRC 27 both intercepted old workings, with tin mined out, that extended further than expected.
Drilling from the southeast side of the old workings had immediate success in BNRC 28. A quartz-topaz greisen was intersected immediately below highly weathered rhyolite, suggesting that the greisen is in the roof contact zone of the Ardlethan Granite. The overall drill intercept was 14m at 0.7% Sn from 36m depth, including 4m at 1.4% Sn from 46m. This greisen was intersected much shallower and much further south than expected, so the hole was continued to the target zone where it intersected 3m at 0.5% Sn at a downhole depth of 76m.
The next hole, BNRC29, was positioned 30m east and again intersected a quartz topaz greisen in the roof zone of the granite, a little deeper than in the previous hole with 4m at 0.7% Sn. A deeper greisen with tourmaline yielded only modest tin mineralisation. BNRC30 was too far south and too steep to hit the target.
BNRC31 was drilled to test whether the topaz greisen in BNRC28 was connected to that in BNRC21 or the new one in BNRC29. A major mineralised zone was intersected in topaz greisen from 42m downhole depth with 20m at 0.9% Sn. The most likely connection is between the greisens in BNRC28, 29 and 31, but more drilling is needed to confirm this interpretation. If this is the case then this mineralisation is a new discovery that was most likely not accessed by the historic workings to the northeast.
Planned drilling will seek to extend and confirm the zones intersected.
To view tables and figures, please visit:
http://abnnewswire.net/lnk/W193052E
About Thomson Resources Ltd

Thomson Resources Ltd (ASX:TMZ) is an NSW active mineral explorer. Thomson has several tin projects (including an advanced project near Ardlethan), as well as gold, copper and zinc targets in a range of settings. Thomson has a good record of discovery, with multiple new Intrusion-Related Gold (gold with copper, lead, zinc, molybdenum, tungsten) systems discovered in the Thomson Fold Belt in the NW of the state.

Thomson Resources Ltd
T: +61-2-9906-6225
E: info@thomsonresources.com.au
WWW: www.thomsonresources.com.au

Related CompaniesThomson Resources Ltd



Rheingold Exploration Corp.