PFS confirms the technical and financial viability of the arcadia lithium project to become a significant producer of spodumene, petalite and tantalite concentrates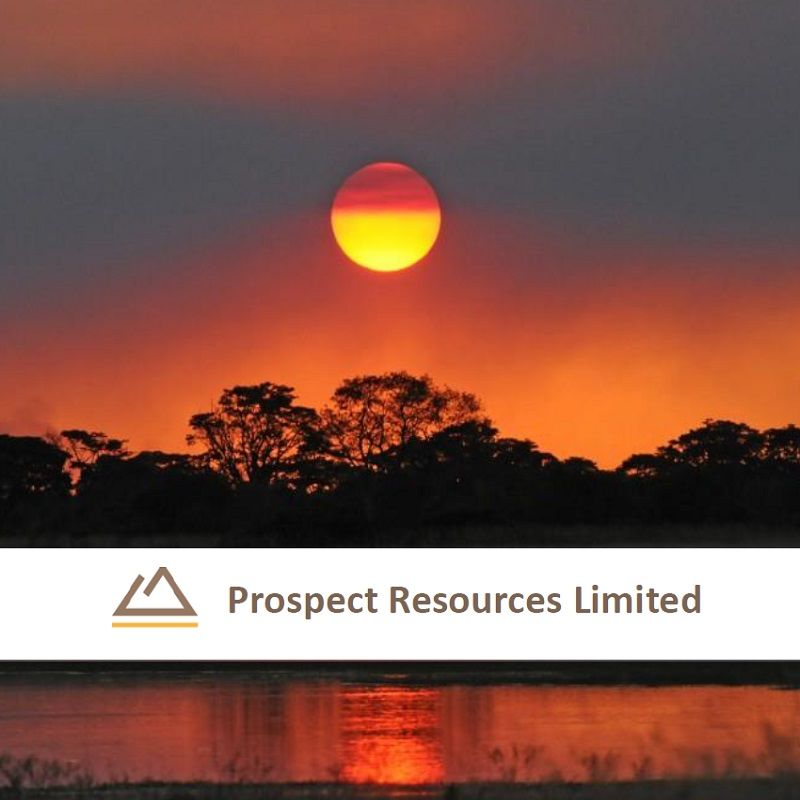 Pre-Feasibility Study - Arcadia Lithium Project
Perth, July 3, 2017 AEST (ABN Newswire) - Prospect Resources Ltd (

ASX:PSC
) (the "Company") is pleased to announce that its Pre- Feasibility Study ("PFS") over the Arcadia Lithium Project in Zimbabwe has been completed. The results of the PFS confirm and validate the Company's objective of developing Arcadia to become a significant producer of high quality spodumene, petalite and tantalite concentrates in the near term.
PFS HIGHLIGHTS:
- Maiden JORC Probable Ore Reserves declared of 15.8 Mt @ 1.34 % Li2O and 125 ppm Ta2O5 forms the basis for a standalone 1.2 Mtpa mining and processing operation over a 15 year Life of Mine (LoM)
- The Arcadia development schedule envisages a 9 month lead time to production with plant commissioning in Q3 2018
- This PFS examines an extended LoM which includes Inferred Mineral Resources (scheduled late in the LoM plan) within planned pits, containing a pit inventory of 23 Mt @ 1.34 % Li2O and 124 ppm Ta2O5, inclusive of Probable Reserves and Inferred Resources. The Company has a reasonable basis to believe it supports an extended LoM of 20 Years at an average strip ratio of 2.79 : 1
- An additional PFS is underway with engineering consultants Hatch, due end of Q3 2017, for a lithium carbonate & hydroxide plant fed by the entire Li2O mineral concentrate production of the Arcadia Mine to become the only vertically integrated producer outside the Asia Pacific
FINANCIAL HIGHLIGHTS OF PFS MINE PLAN:
- NPV (10 % Discount Rate, pre Tax) of USD139 Million, IRR of 39 % and payback of 2 years
- LoM Revenue USD2 Billion at a Cash Operating Cost (see Note 2 below) of USD320 per tonne concentrate
- Capital Expenditure of USD52.5 Million
ARCADIA LITHIUM PFS STUDY INTRODUCTION
This PFS supports the declaration of a Maiden Probable Ore Reserve estimate of 15.8 Mt grading at 1.34 % Li2O and 125 ppm Ta2O5. Arcadia's Probable Ore Reserves forms the basis of a standalone 1.2 Mtpa mining and processing operation over a 15 year Life of Mine (LoM). The PFS further examines a mine plan, which includes a pit inventory of Probable Ore Reserves and Inferred Mineral Resources within the pit outlines, giving a pit inventory of 23 Mt @ 1.34 % Li2O and 124 ppm Ta2O5, a Life of Mine of 20 Years and an average strip ratio of 2.79 : 1.
Not included in the Main Pit Ore Reserve estimate but contained within the pit design is an Inferred Mineral Resource+ of 3.1 Mt at 1.31 % Li2O and 152 ppm Ta2O5 as well as two satellite pits containing Inferred Mineral Resources of 0.98 Mt at 1.54 % Li2O and 90 ppm Ta2O5 and 3.1 Mt at 1.54 % Li2O and 125 ppm Ta2O5 respectively. + Cautionary Statement: With respect to the Inferred Mineral Resources, there is a low level of geological confidence associated with Inferred Mineral resources and there is no certainty that further exploration work will result in the determination of Indicated Mineral resources or that the production target itself will be realized.
Further to the above cautionary statement, infill drilling has been completed to test the pit inventory areas containing Inferred Mineral Resources, which are scheduled late in the LoM plan. On receipt of this drilling information, the Company plans to re-estimate the Mineral Resource and up-date the Ore Reserves. The Company believes it has a reasonable basis for this pit inventory as the Inferred Mineral Resources have been tested by the recent infill drilling, and confirms sufficient mineralisation continuity for category upgrade once all the necessary checks have been completed.
The results of the PFS confirm the strong and robust economics and financial viability of the project with a 39 % IRR and pretax NPV10 of USD139 Million. Arcadia is set to generate Life of Mine revenues of approximately USD 2 Billion from production of a variety of Lithia and tantalite products targeting the battery (chemical) and glass/ceramics (technical) lithium markets along with traditional tantalite end consumers in the electronics markets. These estimates have been based on conservative Life of Mine average spodumene prices of USD540/t (6 % Li2O) and petalite prices of USD400/t (4.1 % Li2O).
The estimated Capital Expenditure (including initial working capital) of USD52.5 Million represents a key variable in the PFS result, and certainly supports the Company's aims and objectives of bringing Arcadia into production before the end of 2018. The Company is currently evaluating the establishment of a lithium carbonate and hydroxide chemical plant at Arcadia to produce high end specialty lithium chemical products, with a PFS due to be completed during Q3 2017.
Commenting on the PFS results, Prospect's Chairman, Mr. Hugh Warner, said: "This result is a phenomenal outcome for Arcadia, our Project Team and importantly our shareholders. In the space of less than a year, we have developed Arcadia to a stage where we have defined a globally significant deposit containing highly sought after lithium products in spodumene and petalite."
"We decided to extend the PFS period to ensure our extensive metallurgical testwork programs were completed in order to properly support these aspects of the PFS. We are now confident that Arcadia will have the ability to produce battery grade lithium, glass & ceramic grade lithium and tantalite products to the market by late 2018."
"Following Government environmental and financial approvals and coupled with the excellent results of this PFS, the development of Arcadia can now be fast tracked. This is undoubtedly supported by the very low startup costs, which further places Prospect at an advantage to its peers. Prospect can now actively pursue and execute offtake agreements and pursue funding options to develop this quality asset"
"A significant value add to the project is through our ongoing feasibility of establishing a lithium carbonate and hydroxide chemical plant that would make Prospect a vertically integrated producer of lithium products to the market, and I look forward to the results of the PFS due later in the year"
"The Prospect Resources team, along with our key consultants and contractors must be thanked for the hard work and effort put in, adding significant value to our Company and shareholders." The PFS has demonstrated Arcadia's potential to create significant shareholder value and our next task is to focus on bringing Arcadia into production by end 2018 and to further assess the downstream beneficiation options at Arcadia."
ARCADIA LITHIUM PFS OUTCOMES
The Company commissioned BioMetallurgical Zimbabwe (BMZ) to undertake the PFS on the Arcadia Lithium Project. The PFS represents the culmination of technical and financial inputs from the Company's in house team and supported by several independent consultants and contractors comprising:
- Geology, Mineral Resources and Reserves - Digital Mining Services, Harare and The MSA Group, Johannesburg
- Mine Design and Planning - McDhui Mining Services, Johannesburg
- Geotechnical Design - Practara, Harare
- Metallurgical Test Work - FT Geolabs, Johannesburg and Nagrom, Perth
- Tailings Storage Facility Design - Blonton Management Consultants, Bulawayo
- Environmental Impact Assessment - Envirosmart Consultancy, Harare
- Layout and CAPEX estimates - LogiProc and Consulmet, Johannesburg
LOCATION AND INFRASTRUCTURE
The Arcadia Lithium Project is located approximately 38 km east of Harare, Zimbabwe and occupies an area of more than 9 km2 of granted Mining Rights and consists of several historical lithium and beryl workings within an existing agricultural area. The Project is located close to major highways and railheads, with the Beira Port being less than 450 km away by rail/road transport (see Figure 1 in the link below).
The proximity to Harare as a source of skilled and semi-skilled labour, engineering skills and its location as a regional transport hub serves the project's infrastructure and logistics needs very well. The Project area has access to sufficient ground and surface water resources to service the Project's development and operational needs. Grid power (33 kVA) is located less than 3 km away from the Project, although onsite generation will initially be used.
The findings of the PFS defined a 1.2 million tonne per annum (Mtpa) mining and processing operation annually producing, on average for the LoM, 75 000 tpa spodumene and 155 000 tpa petalite concentrates destined for the battery (chemical) and glass/ceramics (technical) markets.
Run of Mine ("RoM") material will be extracted via a single open pit operation that will serve a process facility that will utilize standard communition, dense media separation ("DMS"), floatation and gravity techniques to recover spodumene, petalite, tantalite concentrates as well as silica sand and mica as by-products. Lithia and tantalite concentrates will be bulk transported to Beira for onward shipping to downstream customers, whilst by-products will supply the domestic industrials markets in Zimbabwe.
GEOLOGY AND MINERAL RESOURCES
The Arcadia Lithium deposit is hosted within a series of stacked, sub parallel petalite-spodumene bearing pegmatites that intrude the local Archaean age Harare Greenstone Belt. Dimensions of the pegmatites defined by drilling to date are 3.5 km along strike (SW-NE), with an average thickness of 15 m and dipping 15 degrees to the NW. The Main Pegmatite is exposed in the historical pit, and the deposit is open along strike to the southwest, where drilling is ongoing. The deposit is cut by the NNE-SSW trending Mashonganyika Fault zone, as well as a regional SW-NE trending dolerite dyke that appears to truncate the pegmatite to the NW. Continuation of the Lower Main Pegmatite has been identified and tested to the north east of the Mashonganyika Fault Zone.
Since initiation of drilling in July 2016, the Company has completed over 18 000 m of Diamond and Reverse Circulation drilling that has to led to the definition of several JORC Mineral Resource estimates, the most recent defining the fifth largest JORC Compliant hard rock lithium resource globally. Please refer to Prospect Resources' ASX Announcement 14 March 2017 for further details. These Mineral Resource estimates have formed the basis to and underpin the PFS (see Table 1 and Figure 3 in the link below) and have been prepared by a Competent Person as referred to in the ASX Announcement 14 March 2017.
Additional drilling is ongoing with a focus of converting existing Inferred Resources located within the PFS pit inventory to higher Indicated and Measured Resources. Assay results will then be incorporated and an updated Mineral Resource estimate completed, whose results will provide further resolution and refinement for the mining plan at Arcadia (see Figure 3 in the link below).
MINING METHOD
Conventional open pit mining is proposed for the delivery of 100 000 t/month or 1.2 Mtpa of RoM material to the communition and processing facilities. In order to develop the pit design for the Arcadia deposit, an optimised pit shell was first prepared using Dassault System Surpac(C) software. The mining method is based on six nested sequential open pits (1a, 1b, 2, 3, 4 and 5). The final pit, (5) will measure some 1.1 km by 750 m, with a maximum depth of 130 m on the final high-wall. The total surface area of the final pit 5 will be approximately 0.55 km2.
Mining is anticipated to commence from the location of the historical open pit where the Main Pegmatite is exposed (see Figure 5 and 6 in the link below). Pit slope parameters were designed based on recommendations made by Geotechnical Consultants (Practara) with overall slope angles planned to be 54DEG - 56DEG, with a batter angle of 80DEG. 10 m high benches are planned, with an operating berm width of 15 m, and a final width of 5 m.
The pit design has also taken cognisance of the local resource geometry to maximise the location of the ramp with respect to pit entry location, pit base access and utilisation of the pit floor for access to the final benches. Waste dumps have been located as close as possible to the pit exit points to minimise haulage profiles without disrupting the access to the orebodies or crushing plant.
Mining operations will be conducted utilising a contracted fleet for key equipment with some ancillary vehicles being supplied by the Company. Ore and waste will be handled by diesel hydraulic excavators and articulated dump trucks. Ore will be trucked to the crushing station where it will be directly dumped to the primary crusher, or stockpiled prior to front-end loader feeding. Waste material comprising meta basalt and some pegmatites will require blasting except for some of the very upper weathered rocks.
The mining dilution was estimated at 5 %, and the total ore losses have also been estimated at 5 %. This is to take into account the fact that some waste material will be added into the ore stream going to the processing plant and that some of the ore material will be directed to the waste dump. The grade of the dilution material, added to the ore stream is taken to have an average value of 0 % Li2O. This conservative approach does not make any allowance for Li2O values which are likely to be contained in the dilutant material. This scenario maximises the recovery of ore during mining, hence the mining recovery of the open pit minable resource is considered to be 95 %.
ORE RESERVES
The Ore Reserves declared at Arcadia are defined as the portion of the in situ Measured and Indicated Mineral Resources estimates declared by the Company on 14 March 2017. Ore Reserves for the Arcadia Lithium Project are based upon a cut-off of 1 % Li2O and are contained within the practical pit design / profile with the effects of mining dilution, economic mining recovery and economic metallurgical recovery applied. It must be noted that a component of Inferred Resources has been delineated within the PFS pit design (see Figure 3 in the link below). This material has therefore accordingly been declared as part of the in pit mineral inventory, and not Ore Reserves until as such time the infill drilling and subsequent Mineral Resource upgrade are completed.
The area currently delineated by the Inferred Resource (Western part - see Figure 3 in the link below) is confined to the Lower Main and Upper Pegmatites that have demonstrated strike and downdip continuity. This has been confirmed from logging of the recently completed close spaced infill drilling (assays pending). A significant portion of these near-surface Inferred resources therefore have a strong likelihood of being upgraded to the Indicated Category.
This Ore Reserve value therefore represents the crushing plant tonnage feed and head grade for the LoM.
The current pit optimisation procedures utilised in definition of the final pit design have taken the following factors and assumptions into consideration:
- A mining cost for RoM ore to crusher of approximately USD13/t ore
- A total processing and export cost of approximately USD66/t ore
- An overall process recovery of 71 % of the Li2O values;
- Metallurgical testwork has indicated there are no deleterious elements that would impact the sale of products
- Petalite concentrate glass and ceramic grade >4 % Li2O Price of USD400/t
- Spodumene concentrate battery grade >6 % Li2O Price of USD540/t
- State Royalty of 2 %
- Minerals Marketing Corporation of Zimbabwe (MMCZ) marketing fees of 0.875 %
- A component of Inferred Resources located within the pit mineral inventory
Lithium concentrate prices have been based on a number of external reports and an independent lithium marketing consultant both for the chemical and glass/ceramics markets.
The current Ore Reserve is based on all Measured, Indicated Resources and in pit mineral inventories >1 % Li2O declared as part of this PFS and based on PFS inputs is detailed in Table 2 (see the link below).
METALLURGICAL TESTWORK
During the last year, the Company has completed 25 dedicated diamond drill holes in order to draw representative samples to complete metallurgical, mineralogical and geometallurgical testwork at Arcadia. The metallurgical test work undertaken to date includes X Ray Diffraction ("XRD"), Heavy Liquid Separation ("HLS") test work, Dense Medium Separation ("DMS") pilot plant test work, spiral concentration and flotation test work.
Work is being completed by two independent metallurgical/process laboratories; FT Geolabs in Johannesburg and Nagrom Laboratories in Perth. Both facilities have significant experience in working in and optimising Lithia and tantalite process streams.
Mineralogical analyses (including petrography) carried out included more than 800 individual XRD analyses that provided a high resolution distribution of spodumene and petalite within the orebodies, information that has had vital inputs into mining and process planning. The results indicate the mineralogy of the lithium mineralisation is coarse grained petalite and fine grained spodumene. HLS results show petalite reporting largely to the floats and spodumene to the sinks and following DMS testwork on these products, results reflected a near total recovery of spodumene and petalite minerals.
Based on the results of these studies, the Company has designed a concentrator plant to process 1.2 Mtpa of ore feed using conventional DMS and froth flotation technology. The processing plant comprises key areas including, three-stage crushing, grinding, dense media separation, mica-flotation, spodumene flotation, petalite flotation, magnetic separation, concentrate dewatering and drying, and tailings filtering (see Figure 6 in the link below).
The plant will produce a >6 % Li2O and >4.1 % Li2O concentrates suitable for lithium hydroxide and carbonate plants that supply feed-stock to the lithium battery manufacturers and the glass/ceramics markets. Tantalite concentrate (>25 % Ta2O5) will also be produced to serve the downstream electronics markets.
Further metallurgical optimisation and enhancement to improve the metallurgical recoveries and concentrate grades is underway. Historically, recoveries of up to 85 % have been achieved in certain parts of the deposit and further testing is required to ascertain whether this can be extended homogenously across the deposit. Potential deleterious elements have not been observed and the identification and removal of iron as a possible impurity will trigger the necessary control measures.
CAPITAL COST ESTIMATES
Capital expenditure (CAPEX) has been estimated using firm prices, budget prices, list prices and current industry costs. Estimates for major areas of the plant were obtained from two Johannesburg based independent engineering consultants: Logiproc and Consulmet. Firm quotations for long lead items such as ball mills and crushers were also obtained from suppliers and used in the CAPEX estimate. The capital estimate can be assumed to have an accuracy of 25 %.
The CAPEX estimate to construct a 1.2 Mtpa plant and infrastructure at Arcadia including all direct and indirect costs is estimated at USD52.5 Million, with this estimate including a 10 % contingency. Table 3 (see the link below) summarises the main CAPEX items for Arcadia.
OPERATING COST ESTIMATES
Operating costs (OPEX) for the Arcadia Project have been based on the mining schedule, metallurgical variables and the mass balance. Costs are based on existing mining operations within Zimbabwe. Reagent costs are based on firm and budget quotations or list prices. Labour and administration costs are based on existing mining operations within Zimbabwe, projected workforce numbers and anticipated labour costs.
Maintenance costs are calculated based on similar existing operations in the region and supplier information. The crushing, milling and flotation costs and respective power consumptions per tonne are based on a similar operation in the region for which >18 months of data was analysed. The crushing, milling and flotation costs per tonne include wear items and maintenance costs. The OPEX estimate can be considered to have an accuracy of 25 %.
The total operating expenditure (OPEX) was calculated to be USD66/t of ore milled or USD342/t of Li2O concentrate produced. By including Ta2O5 concentrate credits, the unit OPEX for production was reduced to USD320/t concentrate. The breakdown of the OPEX costs are summarised in Table 4 (see the link below).
FINANCIAL EVALUATION & RISK ASSESSMENT
The financial model included a Mining and Operations Schedule, Operating Cost Schedule and the Financial Schedule where NPV and IRR were calculated. All were driven dynamically from factors in the design criteria allowing dynamic sensitivity analysis to be carried out to determine sensitive and non-sensitive variables.
The Mining and Operations Schedule incorporated the different grades, strip ratios, dilution factors, blast factors and metallurgical factors for each mining block. The dynamic model was interrogated with variations in the major input variables to determine which variables influenced the financial model the most.
The sensitivity of the project IRR was analysed using Monte Carlo @Risk software to interrogate the sensitivity of a range of input variables with the output IRR calculated as a measure of the sensitivity. As to be expected, the project NPV and IRR are most sensitive to OPEX as shown in Figure 7 (see the link below). The main component of OPEX is the transport charges to get the product to market in China and this makes the IRR / NPV sensitive to OPEX. Ore grade or dilution rank as the second most sensitive variables followed by the final concentrate prices. Financial returns proved to be relatively insensitive to the costs of electricity and diesel.
The OPEX assumptions for the base case have been conservative and thus there is considerable potential to operate with an OPEX of less than assumed in the base case. The combination of processes (i.e. Dense Medium Separation (DMS), spirals and flotation) will result in a higher overall recovery and thus be able to economically process a lower grade reserve.
Markets and Pricing
Market Analyses
The lithium market continues to remain in a supply deficit reflected in the significant increase in lithium mineral and chemical prices during 2016. There appears to have been an underestimation of the strong growth in demand for lithium particularly in the lithium ion battery market. Additional supply towards addressing the supply deficit has started to come onto the market including the Mt Cattlin and Mt Marion projects commencing sales this year and the commissioning of Pilbara Minerals and Altura's Pilgangoora project in 2018. However, it will not be until 2019/20 when a number of existing operations including Greenbushes, Olaroz and Albemarle's Sa lar de Atacama commence delivering product from their expansions that supply is likely to meet demand.
However, with market commentators forecasting a 15 % pa year on year growth equating to a demand of 350 kt LCE in 2020 and 700 kt LCE by 2025, a number of new projects and further expansions from existing projects will be required to meet future demand.
Sales and Pricing
Sales of lithium minerals from the project is forecast to average 26 000 tpa LCE in lithium mineral concentrates and about 88 000 lb. pa Ta2O5 in tantalite concentrates over the LoM.
The Spodumene concentrate price is based on a formula derived from the chemical price less the chemical convertor's cost of production and margin and the mineral to chemical conversion ratio. Using actual Chinese lithium carbonate producer data and taking a conservative view of long term price for lithium carbonate the price derived is USD 540/t for 6 % Li2O spodumene concentrate.
For Petalite, an average price of only USD400/t has been applied to ensure competitively pricing relative to other mineral and chemical sources in the glass/ceramics market.
The price of tantalite (Ta2O5) has continued to remain flat at around USD60/lb with no significant demand growth and large feedstock supplies available from Central Africa. The price reflects the cost to produce and deliver product from Central Africa to the world's tantalum smelters and this price has been applied over the life of mine.
Environment and Government Approvals
Following completion, submission and review of the Environment Impact Assessment completed by Independent Consultants over Arcadia, the Zimbabwe Environmental Management Agency (EMA) issued EIA Certificate number 8000018391 to the Company. This grants the Company permission to operate in accordance with Part XI of the Environmental Management Act (Chapter 20:27) subject to certain specified terms and conditions that are normal for such an authority.
All local stake holders have been consulted and have agreed to the proposed mine plan and development. In addition, the Zimbabwe Investment Authority (ZIA) issued Investment License Number 003496 to the Company which now provides the Company with access to several fiscal and investment benefits and incentives. It was deemed prudent to separate the Company's gold assets from lithium assets into two separate subsidiary structures, each with their own ZIA license. The Board believes that this structure will offer greater flexibility as to how the Arcadia Lithium Project can be financed and also how the Company finances its gold assets.
Lithium Chemical Plant
In tandem with the Arcadia PFS, the Company has initiated a PFS to evaluate the construction of a lithium chemical plant. The construction of a lithium chemical plant adjacent to the Arcadia mine has numerous benefits for both downstream consumers of lithium and the Company.
Processing of lithium chemicals from minerals is currently only carried out in China. Consumers have indicated a keenness to have geographical diversity of product. The lithium chemical market is also dominated by four major producers. The chemical plant at Arcadia Lithium Project provides an alternative source of feedstock for downstream lithium users.
The location of the Arcadia Lithium Project is close to key infrastructure such as electricity, waste and transport. Importantly, the project has regional access to the major consumables of coal and sulphuric acid required for the conversion process.
A major component of the cost of producing and delivering mineral concentrates to market is transport. With over 10 t of petalite and approximately 7 t of spodumene concentrate required to produce 1 t of lithium chemical product, transport costs are significantly reduced.
With reduced delivered concentrate costs, a major component of a chemical plant's operating cost and close proximity to infrastructure and consumables, the vertically integrated approach from ore to lithium chemicals at site would indicate a higher value add proposition than solely producing mineral concentrates.
Engineering Consultants Hatch is already underway on a more detailed PFS study on the lithium chemical project and the Company expects to release the results of this PFS during the third quarter of 2017.
PROJECT SCHEDULE
The following Project Schedule (see the link below) outlines the development of Arcadia towards commissioning and production by end 2018 and proposed lithium chemical plant development schedule.
To view tables and figures, please visit:
http://abnnewswire.net/lnk/732OE3SC
About Prospect Resources Ltd

Prospect Resources Limited (ASX:PSC) is based in Australasia with operations in Zimbabwe and is a publicly listed company. We are committed to creating value for Prospect's shareholders and the communities in which our company operates. Our vision is to build a Southern African based mining company of international scale.

Hugh Warner
Prospect Resources Ltd
Executive Chairman
T: +61-413-621-652

Harry Greaves
Prospect Resources Ltd
Executive Director
T: +263-772-144-669
WWW: www.prospectresources.com.au

Related CompaniesProspect Resources Ltd