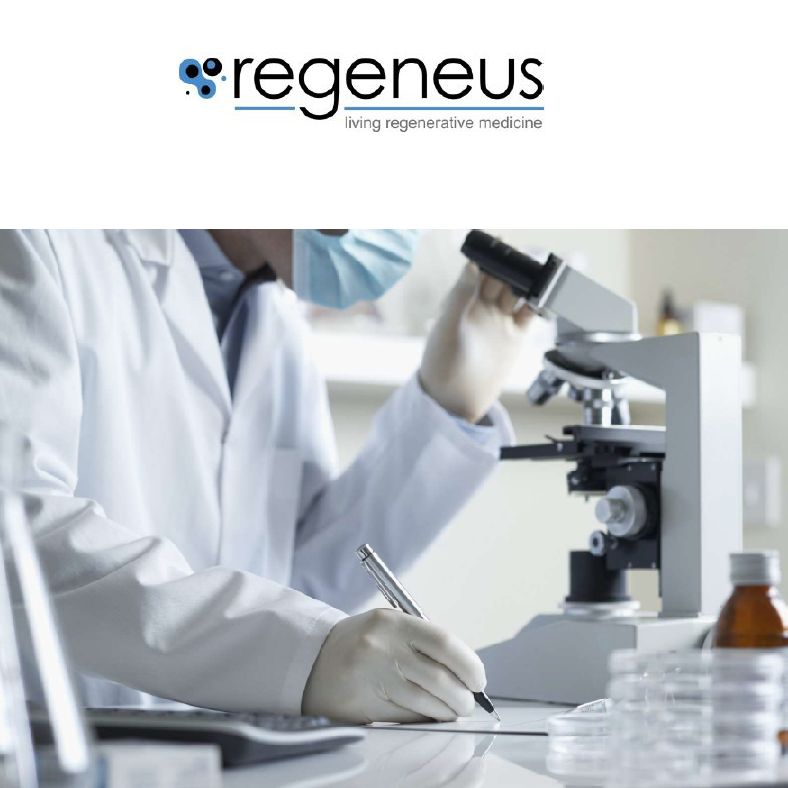 Q2 2017 Update
Sydney, July 5, 2017 AEST (ABN Newswire) - Regeneus Ltd (

ASX:RGS
) provides the Company's latest newsletter for the quarter ended 30 June 2017.
-----------------------------------------------------------------------
Unlocking significant value in Progenza
Positive results from Phase I - meeting primary safety endpoints, showing significant reduction in knee pain and improvement in cartilage volume
We were pleased to announce on 22 May positive results from the Phase I safety trial of Progenza in patients with knee osteoarthritis (OA), meeting the primary endpoint of safety and tolerability. The study showed that a single injection into the knee of either dose of Progenza (3.9 million cells or 6.7 million cells) in patients appeared safe and was well tolerated. We were also excited to find that Progenza showed durable and clinically meaningful pain relief in patients with knee OA.
No serious adverse events occurred and a single injection of Progenza was well tolerated. No trends or findings of concern were identified from the data collected from patients' blood tests, physical examinations, ECG's, or other safety measurements, demonstrating that Progenza is safe and well tolerated.
Secondary endpoints were assessed to explore the impact of Progenza on efficacy outcomes. We were pleased to find that patients treated at either dose of Progenza showed a statistically significant withingroup reduction in pain. In contrast, the placebo group showed no statistically significant reduction in pain during the study.
Examination of knee joint structure by MRI showed a statistically significant improvement in lateral tibial cartilage volume for patients treated with 3.9 million cells compared to a worsening in placebo patients. This builds on previously reported Regeneus preclinical findings in an OA model which showed that Progenza-treated joints showed no deterioration from the time of injection, in contrast to the non-treated control group, which continued to deteriorate.
Leading Sydney-based sports medicine specialist, Dr Donald Kuah, the Principal Investigator on the trial said "This study confirms a benign safety profile for Progenza when given as an intra-articular injection. Progenza significantly reduced pain, and in the majority of patients, Progenza alleviated pain to clinically meaningful levels, defined as 30% or more reduction from baseline. The same pain reduction was not seen in the placebo group. The beneficial effect of Progenza on the knee structure reinforces Progenza preclinical findings and may offer the potential for disease modification."
-----------------------------------------------------------------------
Milestone payment for STEP trial results
On 30 June, we received a milestone payment of US$1 m from AGC for meeting the primary endpoints in the STEP Phase I safety trial of Progenza. The milestone payment is part of the agreement between Regeneus and AGC dated 28 December 2016 for the exclusive licence of the rights to manufacture Progenza for all clinical applications in Japan.
Under the licence agreement, Regeneus received US$5.5m as an upfront payment in January 2017. There are two further milestones in the agreement totalling US$10m relating to the development and approval of Progenza in Japan. We look forward to meeting the next milestone in the coming financial year.
-----------------------------------------------------------------------
Japanese patent to grant for Progenza
On 24 May, we were pleased to announce the Japanese Patent Office issued a decision to grant a key patent for the composition, manufacture and use of Progenza for the treatment of a wide range of inflammatory conditions including osteoarthritis.
The Japanese Patent, Application Number 201-531048 entitled "Therapeutics using cells and cell secretions" will provide commercial rights in Japan through to 2032. Corresponding patents have been granted in Australia and New Zealand and are being pursued for grant in other key territories including the USA and Europe.
Regeneus has 56 patents or patent applications across 14 patent families which provides a substantial competitive advantage for the company's product pipeline.
The combination of positive STEP trial results, the Progenza patent in Japan and our new manufacturing collaboration with AGC in Japan, puts us in an excellent position to advance our clinical licensing discussions for Progenza in Japan and other key markets.
-----------------------------------------------------------------------
We have been out and about spreading the Regeneus story
Austrade's Business Mission in Japan
On April 18 and 19, John Martin, CEO, participated in Austrade's business delegation to Japan, which was led by the Hon Steven Ciobo MP, Minister for Trade, Tourism and Investments.
Organised by Austrade, the Australian Government's export, international education and foreign investment promotion agency, the two-day mission saw a showcase of leading Australian capabilities in a range of key sectors including regenerative medicine, which is an area of particular interest in Japan. The Japanese market offers significant growth opportunities for Australian regenerative medicine companies and Japanese businesses are looking to Australia for solutions in response to the implementation of the Japan Australia Economic Partnership.
The mission included meetings with the Forum for Innovative Regenerative Medicine (FIRM) and the company presentations were attended by over 60 Japanese pharmaceutical and healthcare companies. John sits on AusBiotech's Regenerative Medicine Advisory Group.
-----------------------------------------------------------------------
BIO International Conference, San Diego
In June, John Martin, presented at the BIO International Conference in San Diego. This is one of the largest biotech conferences in the world with over 16,000 biotechnology and pharma leaders who come together for one week of intensive networking to discover new opportunities and promising partnerships. There were over 300 company presentations and 40,000 partnering meetings.
While at the conference, John met with a range of companies interested in our technologies and potential collaborations.
-----------------------------------------------------------------------
Proactive Investors CEO Sessions
In June, John Martin attended the Proactive Investors CEO Session in Sydney and Melbourne, where he presented the Regeneus story to over 120 high net worth investors. We received very positive feedback from the investors who attended.
Proactive Investors is a leading multi-media news organisation, investor portal and events management business with offices in New York, Sydney, Toronto, Frankfurt and London.
Proactive Investors operates five financial websites in four languages providing breaking news, comment and analysis on hundreds of listed companies across the globe daily. They are one of the fastest growing financial media portals in the world and Regeneus works with them to help communicate our story to high net worth sophisticated investors, fund managers, hedge funds, private client brokers and analysts.
Proactive Investors has a dedicated biotech website -
http://www.biotech-capital.com
-----------------------------------------------------------------------
ChinaBio
In June, Dr. Duncan Thomson, VP of Licensing and Alliances, visited ChinaBio - an equivalent conference in China. With a fifth of the world's population, China's annual healthcare expenditure is growing well above GDP levels, and is estimated to climb to US$1 trillion annually by 2020, according to a recent report from global consulting firm McKinsey. It is also predicted that the nation will quickly become the most elderly on earth, surpassing Japan around 2030, and about 100 million Chinese patients will receive treatment by tissue repair and regeneration technologies.
-----------------------------------------------------------------------
The International Society for Cellular Therapies (ISCT)
On 3-6 May, Dr Balarka Banerjee, Regeneus Research Manager attended The International Society for Cellular Therapies (ISCT) Annual Scientific Meeting for 2017 held in London. This year was the society's Silver Jubilee and the meeting was attended by 1,586 participants from 50 countries - a new record. Almost 100 sessions were presented by over 200 experts from around the globe during the preconference day and the subsequent three-day scientific programme.
This year's meeting focused on highlighting some of the cutting-edge developments in emerging cell and cell-based gene therapies leading to no shortage of sessions focused on stem cell-based therapeutics with prominence given to MSC-based therapies.
The meeting highlighted how advancements in cell therapy development have exponentially grown over the past couple of years especially with respect to in vivo work, demonstrating that we are on the cusp of some exciting clinical developments.
-----------------------------------------------------------------------
BioKorea
In April, Regeneus joined a delegation led by Ausbiotech to BioKorea 2017.
This year BioKorea attracted delegates from over 42 countries, and had a large focus on regenerative medicine. South Korea is one of the early adopting nations supporting cell therapy and regenerative medicine and has 18 marketed products. At present, many of the top Korean pharmaceutical companies have regenerative medicine products at various stages of development. In addition, there is also a growing interest in the use of stem cell secretions for their therapeutic effects. Dr. Duncan Thomson, attended the conference and gave a presentation.
-----------------------------------------------------------------------
Sygenus - our new name for the secretions technology platform
As interest and opportunity builds for the secretions technology platform, it was time to give it a name!
The secretions products include elements such as exosomes, cytokines and growth factors, that are secreted by mesenchymal stem cells (MSCs) and work in concert to reduce pain and inflammation and encourage accelerated healing and repair. Regeneus has developed technologies and protocols for the production of secretions of MSCs which have the potential to be used for a range of delivery methods for multiple indications.
We are currently undertaking a number of preclinical studies for topical application of the secretions for cosmetic applications and anticipate results by end of September 2017. We are continuing our discussions with parties for the development and commercialisation opportunities for topical applications, in both the therapeutic and cosmetic markets.
-----------------------------------------------------------------------
Chinese Patent granted for Sygenus
In March, we announced that the State Intellectual Property Office of the People's Republic of China had granted a patent covering the use of the company's stem cell secretions technology for the topical treatment of acne.
The patent provides commercial rights in China through 2032. This was the first Regeneus patent to be granted in China. The granted patent is specific for the topical treatment of acne, however, Regeneus has additional patent applications that cover the use of Sygenus for other skin conditions.
The global market for acne-based prescription treatments is over $3b per annum.
-----------------------------------------------------------------------
New Edison Investment Research Note
On 31 May, Edison Investment Research released its latest research note on Regeneus. The note largely covered off the positive STEP data and the grant of the Japanese patent. Edison increased its valuation to A$145m or A$0.70c per share. Edison recognises that additional licencing and milestone payments will extend the funding runway beyond the end of FY18.
-----------------------------------------------------------------------
Alliance for Regenerative Medicine's 2016 Annual Data Report
The Alliance for Regenerative Medicine's (ARM) 2016 Annual Data Report details industry-specific statistics compiled from more than 730 leading cell therapy, gene therapy, tissue engineering and other regenerative medicine companies worldwide. Key features of the report include total financing for the sector, partnerships and other deals, clinical trial information, major clinical data events and current legislative and regulatory priorities and ARM's strategic priorities for 2017.
-----------------------------------------------------------------------
Regeneus are active on social media
Do you follow us on social media? Regeneus is active on Facebook, Twitter and Linkedin and use these platforms to engage with our investors, industry, media and key global stakeholders to keep them informed of our latest news. Not everything we do can be communicated through the ASX Platform, as it's not a marketing platform, but a continuous disclosure platform. So if you want to keep up with what we are doing and see the latest industry news, we welcome you to follow our pages!
-----------------------------------------------------------------------
Please contact us directly or connect with Regeneus via our social media platforms below if you'd like further information.
To view the newsletter and figures, please visit:
http://abnnewswire.net/lnk/6MBYH83B
About Regeneus Ltd

Regeneus Ltd (ASX:RGS) is a Sydney-based clinical-stage regenerative medicine company using stem cell and immuno-oncology technologies to develop a portfolio of innovative cell-based therapies to address significant unmet medical needs in the human and animal health markets with a focus on osteoarthritis and other musculoskeletal disorders, oncology and dermatology.
Sandra McIntosh
Investor Relations
T: +61-2-9499-8010
F: +61-2-9499-8020
E: investors@regeneus.com.au
W: www.regeneus.com.au
Related CompaniesRegeneus Ltd