Helping make better batteries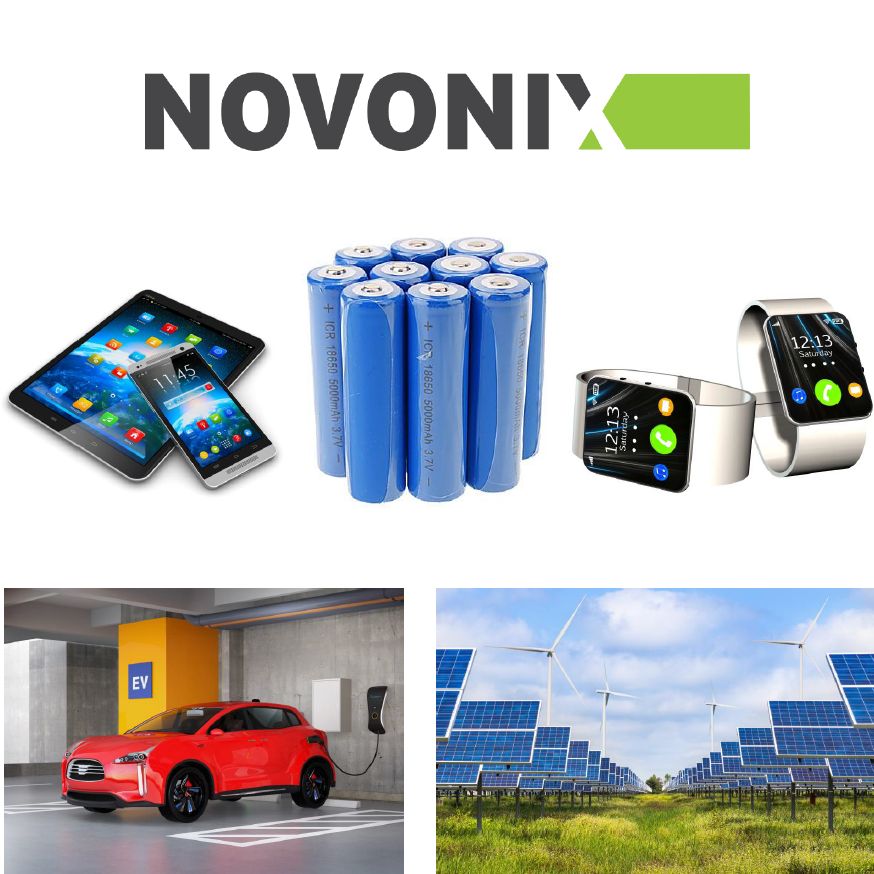 Company Presentation
Brisbane, July 18, 2017 AEST (ABN Newswire) - NOVONIX Ltd (

ASX:NVX
) provides the Company's latest Presentation.
ABOUT NOVONIX
- Established Brand in Lithium-ion Battery Industry
o NOVONIX Limited (

ASX:NVX
) is a developer and supplier of high performance materials, equipment and services for the global lithium-ion battery industry and has sales in over a dozen countries
- Bluechip Customers
o 100%-owned subsidiary, NOVONIX Battery Testing Services Inc., is headquartered in North America and develops and sells the most accurate battery cell test equipment in the world now used by leading battery makers and researchers and equipment manufacturers including PANASONIC, CATL, BOSCH, Dyson, 3M, Alcatel- Lucent, DALHOUSIE University, Pacific Northwest National Laboratory, Helmholtz Institute and many others
- Proprietary Battery Materials
o NOVONIX, via our PUREgraphite joint venture with Coulometrics, develops and manufactures ultra-high purity high performance battery anode materials in the USA. PUREgraphite anode materials are aimed at meeting the most demanding lithium-ion battery applications which include electric vehicles, renewable energy storage, grid energy storage, military, aerospace, aviation and medical
- Vertical Integration Security
o NOVONIX owns a high grade, long-life natural graphite deposit in Queensland, Australia
Two operating businesses in North America
NOVONIX
- LEADING BATTERY TESTING EQUIPMENT AND SERVICES COMPANY BASED IN CANADA WITH SALES IN 12 COUNTRIES
- ESTABLISHED IN 2013
http://www.novonix.ca
PUREgraphite
- USA BASED DEVELOPER OF HIGH PERFORMANCE GRAPHITE ANODE MATERIAL FOR THE LITHIUM ION BATTERY MARKET
- ESTABLISHED IN 2017
http://www.puregraphite.com
NOVONIX
Battery Testing Services Inc.
- NOVONIX Battery Testing Services Inc., was spun out of Dr Jeff Dahn's lab at Dalhousie University (DAL) in 2013
- We manufacture the highest accuracy battery cell test equipment in the world used by leading battery makers, manufacturers and researchers
- Our equipment allows researchers to accurately predict battery cell life and performance within weeks of testing rather than years
Current Priorities / Work Streams / Progress
- Expanding equipment manufacturing capacity to meet increasing demand
- Marketing of new range of products to customer base
- Expanding the battery materials services side of the business
- Expanding the testing services side of the business - internal and external
- Expanding technology development work steams with strategic customers
- Ongoing development of innovative new battery testing technology
- Relocation to a larger facility
PUREgraphite
Sourcing Artificial and Natural Graphite Precursor Materials
- PUREgraphite is sourcing artificial and natural graphite concentrates from existing producers in the global market
- We have experience electrochemically testing artificial and natural graphite sources from around the world to determine what is best suited for lithium-ion batteries
- We are well advanced in selecting our preferred supply for our proprietary product and manufacturing processes
- From a strategic perspective PUREgraphite will continue to develop and test product based on the NOVONIX Mount Dromedary graphite resource to provide our customers greater supply security and to prepare to leverage this related asset commercially and strategically as early as possible
graphitePROJECT
Update and Next Steps
- Working with our PUREgraphite joint venture in the USA to develop high grade anode materials from our concentrate for blending into finished products
This includes milling, shaping, purification, coating blending, making of slurries, electrode coating and calendering, battery cell assembly and the full range of battery testing. This work is expected to be completed by the end of 2017.
- Working with GORCIEX in Brazil to optimise our metallurgical flowsheet for the production of concentrate from the mine ore
The program is currently being expanded to test a wider range of equipment now available. A five-ton pilot processing program will be undertaken in the next quarter.
- Undertaking further work to assist the Queensland Government to complete their assessment of our environmental and mining applications
This includes the installation of additional base line water monitoring bores and provision of more engineering data and information relating to our waste rock, tailings and environmental management plans. It is expected that these environmental authority work streams will add another three to four months to the approval process and we are working toward completion by the end of 2017 subject to any unknown issue arising between now and then.
- Land valuations completed and we are working through appropriate access and compensation agreements with native title and land owner stakeholders
Our process - very different
Higher performance - lower cost - lower emissions
- Proprietary blends of artificial and natural graphite specific to customer applications
- Integrated high efficiency, high throughput and high consistency integrated furnace technology
- Proprietary PUREgraphite particle coating technology
- Low cost and low emission electricity sources
- High purity artificial and natural graphite sources
PURE graphite
Short Term Milestones / Goals
- Jet Mill, Shaping Mill and Air System delivered and being installed
- Coating and purification equipment ordered and under manufacture
- Commissioning by end of 2017 and target 1,000 tpa capacity by end FY
- Large scale production sites under investigation in US
Target Customers
- Phase 1 - US domestic speciality customers with applications in military, aerospace, aviation, medical, transport and consumer electronics
- Phase 2 - International customers including major battery makers, auto makers and equipment manufacturers
To view the full presentation, please visit:
http://abnnewswire.net/lnk/27FJFB92
About NOVONIX Ltd

NOVONIX Ltd (ASX:NVX) (FRA:GC3) is an integrated developer and supplier of high performance materials, equipment and services for the global lithium-ion battery industry with operations in the USA and Canada and sales in fourteen countries. NOVONIX is co-owner of the PUREgraphite anode material Joint Venture, headquartered in Chattanooga, Tennessee, USA. The Company also owns a world-class, large and high-grade natural graphite deposit in Australia.
NOVONIX's mission is to accelerate the adoption of batteries for a cleaner energy future.

Operations - USA
Dr Edward Buiel
Phone: +1-423-954-7766
Email: ed@puregraphite.com

Operations - Canada
Dr Chris Burns
Phone: +1-902-449-9121
Email: chris.burns@novonix.ca

Corporate office
Philip St Baker
Phone: +61-438-173-330
Email: phil@novonixgroup.com
Website: www.novonixgroup.com
Related CompaniesNOVONIX Ltd