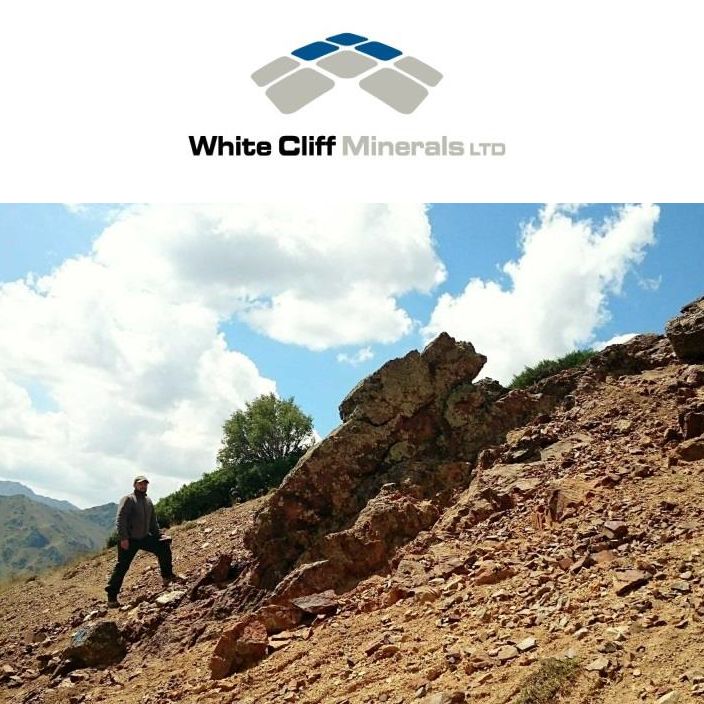 PARTIALLY UNDERWRITTEN RIGHTS OFFER AND PLACEMENT MANDATE
Perth, Aug 4, 2017 AEST (ABN Newswire) - White Cliff Minerals Limited (

ASX:WCN
) ("White Cliff" or "the Company") is pleased to announce a non-renounceable pro rata offer of one New Share (1) for every two (2) White Cliff Shares held at an issue price of $0.002 per New Share to raise up to approximately $1,879,477 (Rights Offer).
The Rights Offer is underwritten to the amount of $1 million by Sydney-based Gleneagle Securities Nominees Pty Ltd ("Gleneagle") and will be available to White Cliff Shareholders registered at 5.00pm WST on 9 August 2017.
In addition, the Company has entered into a "best endeavours" placement mandate for Gleneagle to raise up to a further $1 million by the placement of up to 500,000,000 additional New Shares in the Company at an issue price of $0.002 per New Share (Placement).
The funds raised by the Rights Offer and proposed Placement will be used primarily for:
- drilling of the Company's flagship Aucu gold project in the Kyrgyz Republic and associated exploration costs;
- drilling of selected gold targets within the Company's Western Australian gold project tenement package;
- general working capital; and
- pursuing a dual listing of the Company's ordinary shares on the UK AIM market.
All New Shares issued will rank equally with existing Shares on issue and the Company will apply for official quotation of the New Shares. A prospectus in relation to the Rights Offer will be lodged with ASIC shortly. Option holders are not entitled to participate in the Rights Offer without first exercising their options to be registered as a Shareholder in Australia or New Zealand, in accordance with the terms and conditions of the options.
White Cliff Managing Director Todd Hibberd said: "The recent drop in the Company's share price has been disappointing for all shareholders and has occurred despite our 2016 drill program almost doubling the Aucu project gold resource to 302,000 ounces at 5.2g/t. By undertaking a rights issue, all existing shareholders will be given the opportunity to acquire New Shares at the same price that the Company is seeking to raise additional funds from new professional investors. If the maximum funds are raised from both the rights issue and placement, the Company will be securely funded through to 2018 such that its primary focus can be on adding resource ounces at Aucu."
INDICATIVE TIMETABLE
The following are indicative dates in respect of the Rights Offer:
Event: Announcement of Rights Offer
Date: 3 August 2017
Event: Prospectus lodged with ASIC and ASX
Date: 4 August 2017
Event: Notice of Rights Offer sent to Shareholders
Date: 7 August 2017
Event: Ex-date (date from which Shares begin trading without the entitlement to participate in the Rights Offer)
Date: 8 August 2017
Event: Record Date (to identify Shareholders entitled to participate in Rights Offer)
Date: 9 August 2017
Event: Prospectus and Entitlement and Acceptance Forms sent to Eligible Shareholders
Date: 11 August 2017
Event: Last day to extend the Closing Date
Date: 22 August 2017
Event: Rights Offer Closes (Closing Date)
Date: 25 August 2017
Event: New Shares quoted on a deferred settlement basis
Date: 28 August 2017
Event: Notice to ASX of shortfall
Date: 30 August 2017
Event: New Shares issued
Date: 1 September 2017
Event: Normal trading of New Shares on ASX commences
Date: 4 September 2017
The above dates are indicative only and may be subject to change. The Directors may vary these dates subject to any applicable requirements of the Corporations Act or the Listing Rules.
An Appendix 3B New Issue Announcement is attached (see the link below) in relation to the New Shares to be offered under both the Rights Offer and proposed Placement.
To view the Appendix 3B New Issue Announcement, please visit:
http://abnnewswire.net/lnk/8UJM772T
About White Cliff Minerals Ltd

White Cliff Minerals Ltd is a Gold, Copper, Cobalt, Nickel resources and mining company listed in Australia (ASX:WCN). The Company is focused on developing low cost high value mineral deposits that have near term cash flow potential.
Major projects include the Aucu gold deposit that contains 484,000 ounces of gold (3mt at 5.1 g/t) starting at surface and Chanach copper deposit that contains 64,000 tonnes of copper (17.2Mt at 0.37% copper). Both projects have substantial blue sky potential with drilling covering only 5% of the known structures. In Australia the company is developing the Coronation Dam cobalt–nickel deposit where a maiden resource will be announced in the late 2018.
Todd Hibberd
Managing Director
T: +61-8-9321-2233
E: todd@wcminerals.com.au
W: www.wcminerals.com.au

Luke Forrestal
Media + Capital Partners
M: +61-411-479-144
E: luke.forrestal@mcpartners.com.au
Related CompaniesWhite Cliff Minerals Ltd