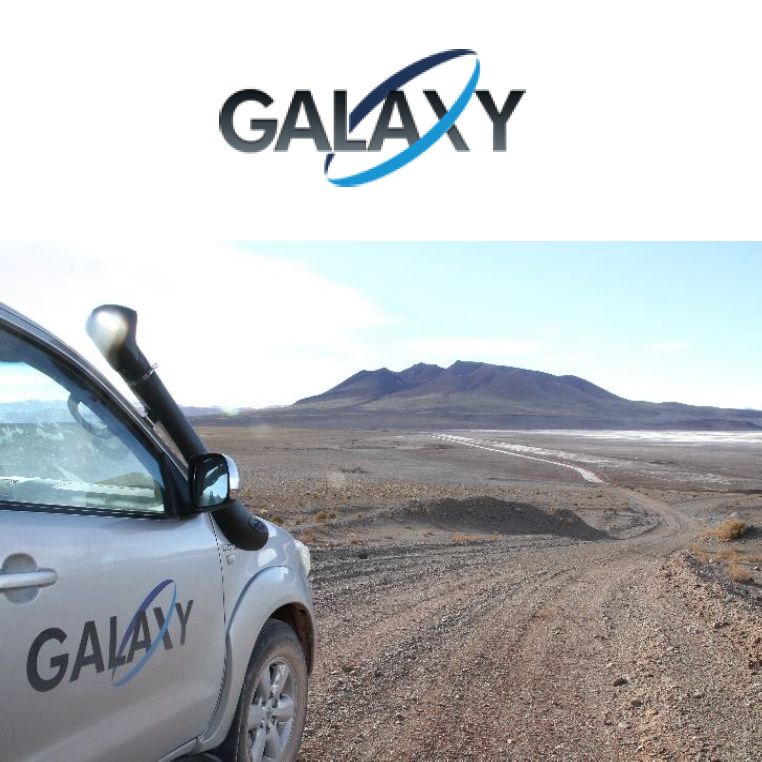 James Bay Drilling - Continued High Grade Mineralisation
Perth, Aug 10, 2017 AEST (ABN Newswire) - Galaxy Resources Limited ("Galaxy" or the "Company") (

ASX:GXY
) (

OTCMKTS:GALXF
) is pleased to announce further assays from its 2017 drilling campaign at the James Bay Project in Quebec, Canada. In late March, the Galaxy James Bay team commenced a ~31,000m diamond drilling campaign to extend and develop the existing resource at the James Bay Project in Quebec, Canada. The entire program is expected to be completed by the end of this month.
Earlier assay results (drill hole JBL17-19, 98.0m @ 1.62%, ASX, 2 August, 2017) have confirmed the extent and continuity of spodumene mineralization. The earlier results have been re-confirmed elsewhere in the pegmatite swarm (drill holes JBL17-21, JBL17-36, JBL17-38 and JBL17-39, below) with the latest assays. Mineralisation remains open below and to the west of the currently drilled out resource. Drill hole JBL17-21 (with drill hole JBL-17-20) extends parts of the resource a further -75m vertically below the current resource.
Highlights from the most recent stage of drilling (all intercept data reported downhole) and assay are as follows:
- 68.7m at 1.55 % Li2O from 49.7 m to 118.35m, (drill hole JBL17-21)
and 45.5m at 1.66 % Li2O from 280.5m to 326m
- 30.20m at 1.52% Li2O from 51.23m to 81.43m (JBL17-35)
- 23.3m at 1.57% Li2O from 61.91m to 85.25m (JBL17-36)
and 25.5m at 1.73% Li2O from 112.5m to 138m
- 29.8m at 1.38% Li2O from 120.5m to 150.33m (JBL17-37)
- 32.4m at 1.77% Li2O from 76.0m to 108.40m (JBL17-38)
and 37.0m at 1.71 % Li2O from 168.0m to 205.0m
- 43.9m at 1.43 % Li2O from 156m to 199.94m (JBL17-39)
- 24.9m at 2.14 % Li2O from 11.7m to 36.6m (JBL17-41)
- 30.8m at 1.13% Li2O from 238.94m to 269.59m (JBL17-66)
- 25.7m at 1.74% Li2O from 48.83m to 74.53m (JBL17-71)
Mineralisation is and remains open and untested below current drilling in the center and dips westward. Assays (Tables 1 & 2 below) have been received for a further 24 diamond holes for 4,824 of NQ (47.6mm core diameter) drilling. Drill hole collars are presented in Table 3, below. Drill hole JBL-17-21 returned a cumulative 199.60m (down hole) of Li2O mineralisation including a cumulative 21m @ > 2% Li2O (Table 1, below). Of these the lowermost three intercepts fall outside the current resource and demonstrate the significant down dip potential of the James Bay pegmatites.
Further results from this drilling campaign will be released as received.
To view tables and figures, please visit:
http://abnnewswire.net/lnk/1PY78421
About Galaxy Resources Limited

Galaxy Resources Limited (ASX:GXY) (OTCMKTS:GALXF) is an international S&P / ASX 200 Index company with lithium production facilities, hard rock mines and brine assets in Australia, Canada and Argentina. It wholly owns and operates the Mt Cattlin mine in Ravensthorpe Western Australia, which is currently producing spodumene and tantalum concentrate, and the James Bay lithium pegmatite project in Quebec, Canada.
Galaxy is advancing plans to develop the Sal de Vida lithium and potash brine project in Argentina situated in the lithium triangle (where Chile, Argentina and Bolivia meet), which is currently the source of 60% of global lithium production. Sal de Vida has excellent potential as a low cost brine-based lithium carbonate production facility.
Lithium compounds are used in the manufacture of ceramics, glass, and consumer electronics and are an essential cathode material for long life lithium-ion batteries used in hybrid and electric vehicles, as well as mass energy storage systems. Galaxy is bullish about the global lithium demand outlook and is aiming to become a major producer of lithium products.
Corporate
Nick Rowley
Director - Corporate Development
M: +61-455-466-476
T: +61-8-9215-1700
E: nick.rowley@galaxylithium.com

Media Enquiries (Australia)
John Gardner
Citadel-MAGNUS
M: +61-413-355-997 or
T: +61-8-6160-4901
E: jgardner@citadelmagnus.com

Media Enquiries (International)
Heidi So
Strategic Financial Relations Ltd
T: +85-2-2864-4826
E: heidi.so@sprg.com.hk
Related CompaniesGalaxy Resources Limited