Major buyers register to attend Mustang's maiden auction of 200,000cts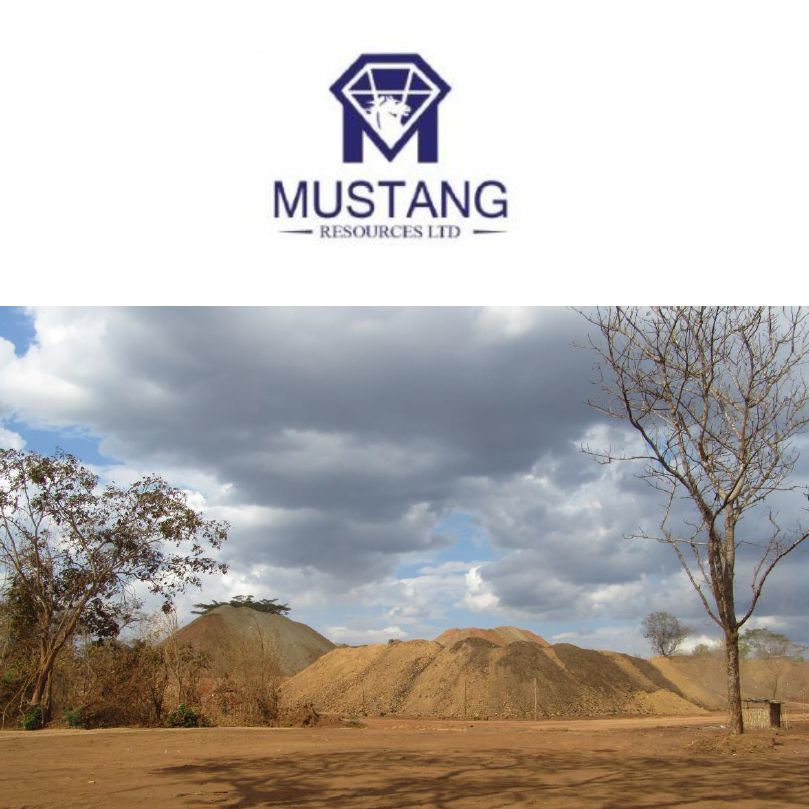 Ruby Inventory Grows To 147,000cts as October Auction Dates Are Confirmed
Sydney, Aug 16, 2017 AEST (ABN Newswire) - Mustang Resources (

ASX:MUS
) (

OTCMKTS:GGPLF
) is pleased to announce that its ruby inventory at the Montepuez project in Mozambique continues to grow, reaching 147,052 carats.
Highlights
- Ruby inventory hits 147,000cts - on track to reach 200,000cts target in time for planned October 2017 auction
- Plant working at full capacity of ~1,500tpd with consistent daily recoveries of high-quality rubies totalling up to 760cts/day
- Mustang's inaugural rough ruby auction has been scheduled for 27 - 30 October 2017 in Port Louis, Republic of Mauritius
- Leading global ruby buyers have confirmed their attendance at the auction
- Numerous bulk sampling pits opened on recently discovered ruby-bearing gravels
- Started process of converting exploration and prospecting licences to mining concessions with tenure of 25 years (renewable)
The increase in the ruby inventory comes as previously-reported water shortages have been overcome, enabling the ramp up of the upgraded processing plant to reach its full target rate of ~1,500tpd.
This has resulted in the plant delivering consistent daily recoveries of high-quality rubies totalling 500 to 760cts/day. The Company is well on track to reach its target of 200,000cts in time for its planned auction in October 2017.
Inaugural Rough Ruby Auction
Mustang's inaugural rough ruby auction/tender has been scheduled for 27 - 30 October 2017 in Port Louis, Republic of Mauritius, within the zero-tax/free trade zone. Mauritius was selected above other short-listed global locations as the most suitable jurisdiction for the Mustang ruby auctions owing to its proximity to both the Montepuez Project in Northern Mozambique as well as key customer locations in Asia, its favourable taxation regime and the excellent natural lighting conditions in the conference centre where the auction will be hosted and the rubies inspected by the buyers.
Mustang has also leased a 100m2 safehouse and sorting facility adjacent to the conference centre where final grading and parcelling of the stones will take place prior to the auction ensuring simple and efficient logistics.
The Company's management is encouraged by the overall quality of the rubies recovered to date and the prices paid at the auctions held by Mustang's neighbour Gemfields. The Company has received strong expressions of interest in the Mustang auction from ruby buyers.
Notably, the latest June 2017 Gemfields ruby auction netted a record US$54.5 million for 895,848cts of commercial, medium and high-quality rubies (no corundum) for an average of US$61.13/ct.
Mustang's planned auction will define the value range for rubies within each of its grading categories and be a key indicator of the long-term commercial viability of the Montepuez Ruby Project. It is expected to produce significant cashflow to assist in funding the project's future working capital requirements and potential expansion plans.
Discussions with key rough ruby buyers based predominantly in Thailand, India and Hong Kong are well advanced with many of the largest buyers already confirming their support and attendance at the auction.
Mustang Managing Director Christiaan Jordaan said that all project work streams were going well and are on track for the auction.
"We are highly encouraged by the positive responses and support received from customers to date," Mr Jordaan said. "Mustang's management team is confident of delivering a strong inaugural auction and continuing to advance towards our goal of establishing the Company as a globally significant ruby supplier.
"We are very pleased with the current performance of our processing plant after solving the remaining water challenges and now achieving good daily recoveries of high quality rubies".
Processing Plant Update, Gravel Stockpile & Ruby Inventory
The ramp-up of the recently upgraded bulk sample plant was delayed due to lack of sufficient process water to run a full eight-hour shift. This bottleneck has now been removed by a combination of increased water supply (five new water bore holes have been drilled and commissioned) and increased water recycling (via an expanded settling dam).
As all the operational issues have now been resolved the plant is now running at ~1,500tonnes per day, driving the monthly processing target up to 34,500 tonnes.
The upgraded plant has achieved a consistent feed/throughput rate and Mustang intends to operate the plant initially for one shift a day. This will enable the Company to achieve its daily total processing target. It also means there is scope for further substantial increases in processing rates by operating additional shifts in the future.
Mustang has now accumulated a 70,000-tonne gravel stockpile sourced from nine different pits. With a large supply of gravel in the stockpile, sample processing activities can now focus on optimising plant throughput and maximising ruby recoveries in the lead-up to the October auction.
The ruby inventory from the bulk sample and the artisanal development program has grown consistently, with the growth rate increasing with the plant now running at its expanded capacity and the artisanal development program achieving excellent results (see Figure 4 in the link below).
Exploration & Prospecting Update
Mustang continues to advance exploration activities to define ruby mineralisation within the highly prospective Montepuez Project area. During the recent auger drilling and pitting programs multiple gravel beds were discovered. The systematic process to define all the gravel beds and determine the average grade of the different gravel beds will continue through the bulk sampling phase and subsequent project phases to define the potential life of mine and the potential Mineral Resource inventory.
Encouragingly the colluvial/elluvial gravels are delivering very high-quality rubies (desirable colour and clean stones with limited cracks/fractures (see Figure 5 in the link below), augmented by mixed ruby qualities from the artisanal development program. This will make it possible to provide rubies across a wide range of qualities to the market and will assist in the likely success of the Company's future ruby auctions.
Processing of gravels excavated from the bulk sample pits is a key focus leading to the October auction. The new secondary deposits located to the South East of the plant are proving to be lucrative in yielding high-quality secondary rubies from the near-surface colluvial/elluvial gravels.
Manual test pitting along strike from the LM01 bulk sample pit has confirmed that gravel-hosted secondary ruby mineralisation is extensive with ruby-bearing gravels recorded over 3.3km (open ended) and additional bulk sampling pits (LM 02 to LM 06) excavated.
Application for Mining Concession
Another key milestone in the continued rapid development of the Montepuez Project has been achieved with the submission of an application for a Mining Concession over the area previously covered by Prospecting and Exploration Licence 4143L. The application was submitted by the registered holder IbraMoz S.A., a Mozambican public company in which Mustang Resources Ltd holds a 60% interest through its 75% owned Australian subsidiary Montepuez Minerals Pty Ltd, which holds 80% of the issued shares in IbraMoz S.A.
Under article 42, paragraph 4 of the New Mozambican Mining Law, where a Mining Concession request emerges from a Prospecting and Exploration Licence, the holder of the Prospecting and Exploration Licence has the preferential right to acquire the Mining Concession over the subject area ahead of any third party. This is in line with most good mining title regimes around the world. Mustang has taken the step of commencing the process to convert its Prospecting and Exploration Licences to Mining Concessions, thereby exercising its preferential rights in order to secure the long-term tenure of the Montepuez Ruby Project.
Pursuant to article 42, paragraph 2 of the New Mining Law, Mining Concessions are granted for a period equivalent to the economic life of the mine (or mining operation) up to a maximum of 25 years and may be extended for further periods not exceeding 25 years.
The salient rights and obligations of a Mining Concession holder in Mozambique are detailed in Appendix A hereto (see the link below).
To view tables and figures, please visit:
http://abnnewswire.net/lnk/7WA9V198
About Mustang Resources Ltd

Listed on the Australian Securities Exchange, Mustang Resources Limited (ASX:MUS) (FRA:GGY) is an emerging gemstone developer and producer focused on the near-term development of the highly prospective Montepuez Ruby Project in northern Mozambique.
The Montepuez Ruby Project consists of three licences and now one mining concession covering 19,300 hectares directly adjacent to the world's largest ruby deposit discovered by Gemfields PLC in 2012. Since supply of rubies from sources outside Mozambique has become fractured and unreliable, Mustang stands to capitalise on the current high demand around the world for ethically produced rubies by becoming a reliable, consistent supplier of high-quality rubies.
The Company is currently fast-tracking its work program on the Montepuez Ruby Project with extensive secondary deposits discovered and low-cost bulk sampling well underway. First rough ruby sales are scheduled for 27 to 30 October 2017 in Port Louis, Republic of Mauritius under a closed bid tender of more than 350,000 cts gem quality rubies.
Visit the Mustang website at http://www.mustangresources.com.au for more information.
Managing Director:
Christiaan Jordaan
E: info@mustangresources.com.au
T: +61-2-9239-3119

Media & Investor Relations:
Paul Armstrong
E: paul@readcorporate.com.au
T: +61-8-9388-1474
Related CompaniesMustang Resources Ltd