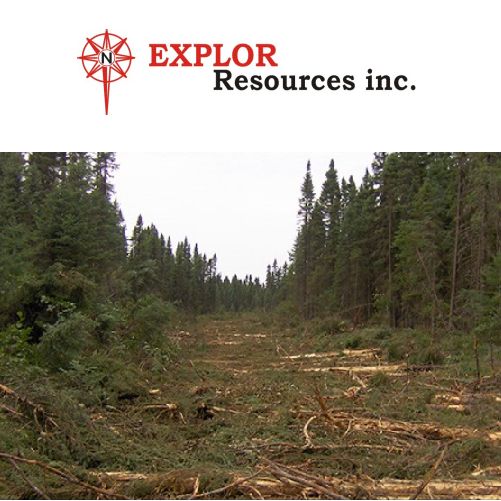 Video Drill Results Discussion
Rouyn-Noranda, Aug 22, 2017 AEST (ABN Newswire) - Both of the following interviews were conducted after the news release last Friday outlined the results of the drilling program at Explor's Timmins Porcupine West gold deposit.
Dupont clarifies the importance of the drilling results moving forward in two distinct video interviews. The first is with George Tsiolis of Agoracom, a thorough exchange offering much clarification of the drill results, and potential moving forward. Specifically, they emphasize the 95% success rate finding gold in 121 of 126 drill holes to date, and in 64 of 65 'wedges' to date. Shear Zone #5 has consistently yielded values of 5-9 gms/tonne.
Discovering that the Zone extends eastward, & trends upward, puts a whole new complexion on the Open Pit scenario, of tremendous interest to our prospective suitors. Although little detail is offered about the newly discovered Shear Zone #6, deeper than #5, it would be reasonable to suggest the gold content would be comparable to #5, as values have consistently trended upward, the deeper the Company has drilled.
Dupont also clearly states, 'people are looking at it (The TPW gold deposit) now!' He also states the Company's intention to do a 5-10,000meter drilling campaign in the fall at the TPW. The obvious question: Is a Joint Venture in progress, given a program of that size would cost $3-4 million?
The other video interview is hosted by Tim McKinnon of ABN Newswire, making a number of references to the 'Open Pit' outline of the TPW gold deposit, providing the viewer a far better understanding of the true size & scope of the deposit. Interestingly, he specifically mentions Tahoe, and Goldcorp in this video!?
All shareholders and prospects should find a few minutes to view these.
To view Agoracom Video, please visit:
http://explorresources.abn-ir.net/pr/71640/agoracom
To view ABN Newswire Video, please visit:
http://explorresources.abn-ir.net/pr/71639/abnnewswire
NOTE: This forum commentary was published from a third party source. It has not been verified by the company.
About Explor Resources Inc.

Explor Resources Inc. (CVE:EXS) (OTCMKTS:EXSFF) (FRA:E1H1) is a Canadian-based natural resources company with mineral holdings in Ontario, Quebec, Saskatchewan and New Brunswick. Explor is currently focused on exploration in the Abitibi Greenstone Belt. The belt is found in both provinces of Ontario and Quebec with approximately 33% in Ontario and 67% in Quebec. The Belt has produced in excess of 180,000,000 ounces of gold and 450,000,000 tonnes of cu-zn ore over the last 100 years. The Corporation was continued under the laws of Alberta in 1986 and has had its main office in Quebec since 2006.
Related CompaniesExplor Resources Inc.