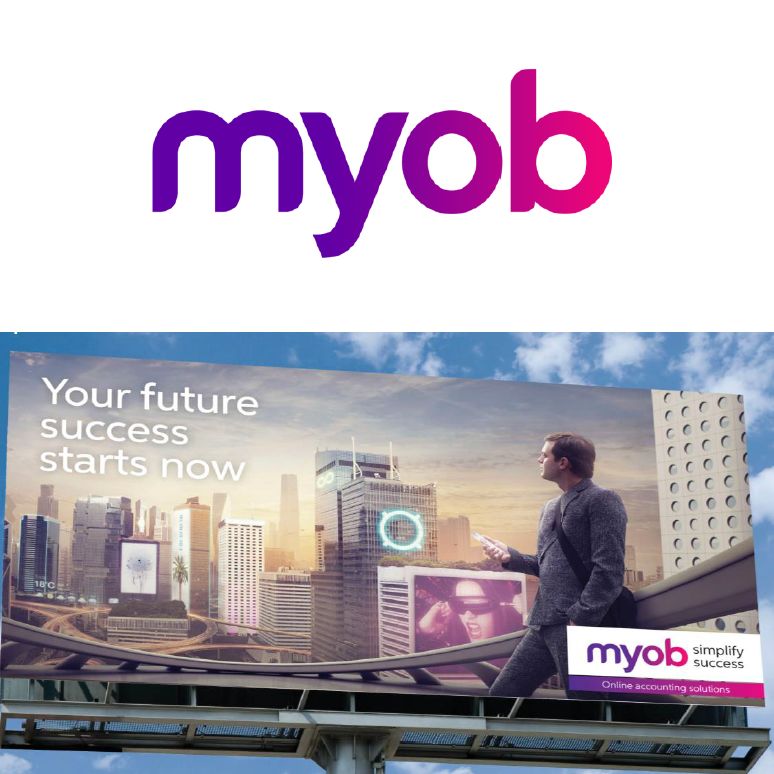 Announces Half Year Results for the Six Months Ended 30 June 2017
Sydney, Aug 24, 2017 AEST (ABN Newswire) - MYOB Group Limited (MYOB) (

ASX:MYO
), a leading provider of online business management solutions to Australian and New Zealand businesses, is pleased to announce its interim financial results for the six months ended 30 June 2017.
Highlights
- Australia and New Zealand leadership position continues to strengthen
- Strong financial performance driven by revenue growth from accelerating online subscriber growth and improved customer lifetime value
- New payments segment unlocks $1.2 billion Total Addressable Market (TAM) (see Note 1 below), increasing MYOB's total TAM opportunity to more than $3 billion
- MYOB's Connected Practice vision is leading the path of digital transformation amongst SMEs and their Advisers, and driving new client wins
- Positive trajectory continues, with FY17 revenue growth rate expected to be within the 13% - 15% range; EBITDA margin guidance narrowed to 45% - 46% range
- On-market share buy back of up to 5% of issued capital over the next 12 month period
Financial Summary
Revenues for the six month period increased to $204 million, up 14 per cent on prior year, and underlying earnings before interest, tax, depreciation and amortisation (EBITDA) grew to $90 million, up 9 per cent on prior year. MYOB's preferred measure of after tax profit (NPATA) (see Note 2 below) was $48 million, up 9 per cent on prior year, with associated NPATA earnings per share of 8.1 cents, up 6 per cent on prior year.
Recurring revenue remained strong at 96 per cent of total revenue, driven by the SME segment, which achieved 99 per cent recurring revenue in the half year period. SME recurring revenue grew 13 per cent on prior year, driven by increases in the number of paying users and Average Revenue per Paying User (ARPU).
SME Paying Users increased by 5 per cent on prior year to 601,000, underpinned by strong online additions (total up 53 per cent on prior year to 306,000, of which SME online grew 32 per cent on prior year to 257,000), together with an increased migration rate from non-paying to paying and improved retention rates.
The opportunity to migrate MYOB's existing desktop base to online users remains significant.
SME ARPU for the period increased by 6 per cent on prior year to $421, reflecting pricing increases of approximately 5 per cent, supported by growth in connected services and increased product functionality as well as a shift in mix towards higher priced 'Do It Yourself' SME products.
EBITDA margin of 43.9 per cent is slightly lower in 1H17 compared to the prior corresponding period due to a higher spend on marketing in the first half of the year driven by MYOB's brand relaunch campaign. EBITDA margins for the full year are expected to be within the 45 - 46 per cent range.
Dividend
The Board has declared an interim dividend of 5.75 cents per share, up 5 per cent from the dividend paid in relation to 1H16, and representing 72 per cent of 1H17 NPATA. The Board's decision is reflective of its confidence in the growth trajectory of the business and positive outlook for FY17.
Justin Milne, Chairman:
"MYOB has had a strong start to the 2017 financial year, delivering a positive set of results for the period. The business has achieved record growth in online subscribers, up 53 per cent on prior year to 306,000, reflecting MYOB's focus on the Connected Practice Strategy which is driving online SME growth and leading to higher migration and retention rates."
"MYOB continues to hold the highest penetration amongst SMEs and Advisers across Australia and New Zealand, who continue to use our trusted and secure accounting solutions."
"Particularly exciting for MYOB this period is the integration of our new payments division and the opportunity this brings to significantly increase MYOB's Total Addressable Market (TAM) to over $3 billion across all segments."
Tim Reed, Chief Executive Officer:
"I am pleased to report a strong set of half year results for 2017. It's great to see that our customer-focused strategy is delivering positive outcomes for the business. Our commitment to the Connected Practice Strategy continues to position us as a leader in the industry, enabling digital transformation amongst SMEs and Advisers, which remain central to our vision."
"Our focused investment in the MYOB Platform remains a key driver of our success, as we continue to develop products and services that leverage Artificial Intelligence and machine learning to deliver best in class solutions to our clients."
"Our aim to attract the best talent has seen us further strengthen our executive team in the first half and we are well positioned for strong future growth."
Outlook
Tim Reed, Chief Executive Officer:
"Our outlook for FY17 remains positive, with the Connected Practice strategy underpinned by the MYOB Platform expected to drive accelerating online subscriber growth in 2H17. On the back of a strong first half, we are updating our FY17 revenue growth rate to be in the 13 per cent - 15 per cent range and EBITDA margins to be in the 45 - 46 per cent range, a tighter range compared with previous guidance."
Investment in the MYOB platform will continue with R&D investment for FY17 expected to be at the upper end of the reported 13 - 16 per cent of revenue range."
MYOB's Long Term Growth Drivers
1 Growing the number of online subscribers
- Winning Advisers through Connected Practice vision
- Increased referrals through MYOB Platform (Dashboard)
- Investment in brand to attract new SMEs
- Migrate non-paying, desktop SMEs to the MYOB Platform
2 Increasing the lifetime value of each online subscriber
- Price uplift reflecting value of new functionality including AI and machine learning
- Increased usage of connected services
- ARPU benefit from mix shift online
- Improved retention
3 Increasing TAM through payments
- Growth in clients using MYOB PayDirect
- Increased per client usage of MYOB PayDirect through new payment types
- Expand Paycorp client base
4 Increasing penetration and TAM in Enterprise segment
- Increased share in Tier 3 with MYOB Advanced
- Migrate existing Tier 3 desktop clients online
- Increased TAM by providing solutions for larger (Tier 2) enterprises
5 Strategic acquisition opportunities
- Targeted acquisitions within our core business
- New investment opportunities which leverage our core business and increase TAM
SME Solutions (accounted for 62 per cent of total revenues)
SME Solutions revenue grew to $126.4 million, an increase of 12 per cent from 1H16. All SME revenue growth was organic and was driven equally by growth in the paying user base (up 6 per cent on prior year to 601,000) and ARPU up 6 per cent on prior year to $421 per year (1H16: $396).
Practice Solutions (accounted for 21 per cent of total revenues)
Practice Solutions revenue grew to $43.5 million, an increase of 2 per cent from 1H16. New licence growth was positive, driven by new client wins. Underlying subscription revenue grew by 3.5 per cent on prior year.
Enterprise Solutions (accounted for 15 per cent of total revenues)
Enterprise Solutions revenue grew to $30.6 million, up 38 per cent from 1H16, driven by underlying performance and strategic acquisitions, with the purchase of Greentree in August 2016 contributing $6.6 million of revenue in 1H17. Organic revenue was up 8 per cent on prior year, driven by continued strong uptake of MYOB Advanced, with Advanced Business sales making up more than half of MYOB ERP sales in 1H17.
Payment Solutions (new revenue reporting segment)
The acquisition of Paycorp completed on 1 April 2017 with the business now fully integrated into MYOB. Included within the 1H17 results is three months of payments revenue totalling $2.3 million. The opportunity for growth and increased TAM across the payments segment is significant, with estimated TAM from payments revenue expected to be greater than $1.2 billion, taking MYOB's total TAM to more than $3 billion.
Further information and web conference details
The MYOB market release should be read in conjunction with the corresponding 1H17 MYOB Investor Presentation and the MYOB Interim Financial Report. All documents are available on the MYOB IR website:
http://investors.myob.com.au/Investors
/
CEO Tim Reed and CFO Richard Moore will present the results to analysts on a conference call at 10am today. To register for the MYOB webcast, please click here
http://investors.myob.com.au
Playback facilities will be available and a conference call transcript will be published on the ASX platform.
Conference call details
Conference Pin # 4181 0799
Australia Toll Free 1800 123 296
Australia Toll +61 2 8038 5221
New Zealand 0800 452 782
United Kingdom 0808 234 0757
USA 1855 293 1544
Notes:
1. $1.2 trillion of invoices raised annually on SME accounting software in Australia, conservatively assuming a 10bp net merchant fee.
2. MYOB considers NPATA (net profit after tax and after adding back the tax effected amortisation expense related to acquired intangibles), rather than NPAT, to be a more meaningful measure of after tax profit due to the large amount of non-cash amortisation of acquired intangibles that is reflected in NPAT.
For further conference dial in details, please visit:
http://abnnewswire.net/lnk/FC6S05I6
To view tables, please visit:
http://abnnewswire.net/lnk/9APIU217
To view 1H17 Results Presentation, please visit:
http://abnnewswire.net/lnk/C230TVSR
About Myob Group Ltd

MYOB Group Ltd (ASX:MYO) is a leading provider of online business management solutions. It makes business life easier for approximately 1.2 million businesses and accountants across Australia and New Zealand by simplifying accounting, payroll, tax, practice management, CRM, job costing, inventory and more. MYOB operates across three core segments – Clients and Partners (business solutions to SMEs and Advisers); Enterprise Solutions (larger businesses) and Payment Solutions. It provides ongoing support through client service channels including a network of over 40,000 accountants, bookkeepers and other consultants. It is committed to ongoing innovation, particularly through its Connected Practice Strategy and through the development of the MYOB Platform. For more information, follow @MYOB on Twitter or visit http://investors.myob.com.au/Investors
Investor and Analyst Enquiries
Christina Nallaiah
Head of Investor Relations
T: +61-2-9089-9122
M: +61-468-362-553
E: christina.nallaiah@myob.com

Media Enquiries
Morag MacKinnon
Financial PR Specialist
P: +61-2-9089-9295
M: +61-415-066-744
E: morag.mackinnon@myob.com
W: www.myob.com
Related CompaniesMyob Group Ltd