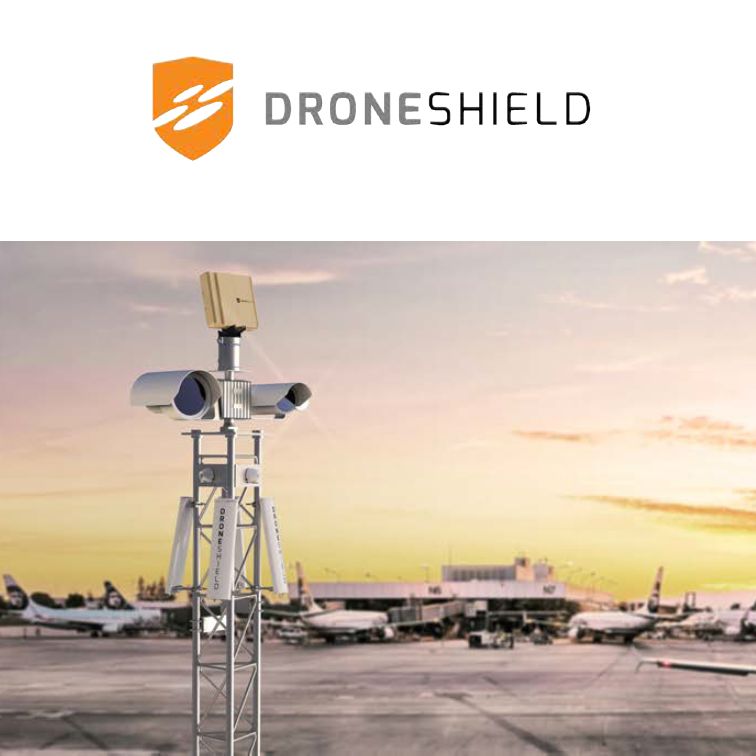 Appendix 4D - Half Year Report
Sydney, Aug 25, 2017 AEST (ABN Newswire) - The Directors present their report for DroneShield Limited (

ASX:DRO
) (

OTCMKTS:DRSHF
) (the "Company") and its controlled entities ("the Group") for the half-year ended 30 June 2017.
Business Overview
Based in Sydney, Australia and Virginia, USA, DroneShield is a worldwide leader in drone security technology. The Company has developed and continues to develop security solutions that protect people, organisations and critical infrastructure from intrusion from commercial/consumer grade drones.
The Company's unique products use proprietary software and hardware to detect drones in a combination of radar, radio frequency (RF), acoustic, optical camera and thermal camera based systems and instantly alert users in real-time through multiple channels ensuring any potential threats can be addressed, and interdict drones using radio frequency (RF) jamming.
Historically, the Company relied on acoustic detection in its detection products. During the period to 30 June 2017, in response to end-users' requirements, the Company commenced transitioning from its single-method (acoustic) detection to multiple-method detection products.
The Company's product lines currently include the following:
- DroneGun - a portable tactical rifle drone jammer;
- DroneSentinel - a multi-sensor (radar, RF, acoustics, optical and thermal camera) drone detection system; and
- DroneSentry - an integrated detect-and-defeat system, combining the DroneSentinel module with an RF jammer.
The Company made several sales during the half year period totalling $225,343. While these revenues have not been material, the sales made by the Company are important as they illustrate the increased need for drone security systems globally and the increased acceptance of DroneShield as a leader in the industry, capable of delivering an immediate working and cost-effective solution to its end users.
DroneShield's in-house and distributor salesforce continued to progress a large number of opportunities, with several orders in advanced stages, including participating in a number of government procurement processes, the outcome of which is expected be determined in calendar year 2017.
Key achievements for the period included:
- High profile customer deployments of the Company's acoustic detection product including office of the Prime Minister of Turkey, deployments by the Swiss Police for the World Economic Forum in Davos, the military of a G7 country, and orders by Asian and European security integrators.
- A number of demonstrations and trial deployments performed or scheduled to be performed in near term, to potential customers at a number of venues. This included militaries of a number of countries globally, including a scheduled demonstration for the United States Department of Defense in September.
- Consistent with the requirements of potential end-users, DroneShield continued its product development activities, including the development of DroneSentinel (multi-method detection product) and DroneSentry (multimethod detect and defeat product), announced shortly after half-year end.
- Protecting Boston Marathon for third year in a row in April 2017, working with the Boston Police Department.
- Expansion across executive, sales, operations, research and development and support teams with appointments in each of these areas.
- The Company appointed Cassidy & Associates, Inc. ("Cassidy"), a pre-eminent Washington, DC government relations firm, whereby Cassidy is advising the Company on contracting with U.S. government agencies, contracts in connection with U.S. federal government budgetary allocations, as well as on other U.S. federal government relations matters.
- DroneShield moved into new and larger premises in Vint Hill, Virginia, consolidating two existing U.S. sites into a single location. The new site allows for effective customer demonstrations, with a dedicated control room simulating customer experience for the demonstrations.
- DroneShield was awarded two additional patents and one allowed application (expected to be shortly converted into an additional patent) by the United States Patent and Trademark Office. The patents relate to acoustic detection of drones.
- The overall government and civil infrastructure demand for drone detection and mitigation products continued to increase, against the backdrop of nearly daily barrage of news about drone threats. In particular, ISIS has released a number of videos depicting weaponised consumer drones attacking military and civilian targets.
- DroneShield was recognised as one of Westpac's top 20 'Businesses of Tomorrow'.
- The Company continued to attract very substantial positive publicity, with hundreds of articles and news items covering DroneShield globally.
To view the full report, please visit:
http://abnnewswire.net/lnk/JP6753Y9
About DroneShield Ltd

Based in Sydney, Australia and Virginia, USA, DroneShield Ltd (ASX:DRO) (OTCMKTS:DRSHF) is a worldwide leader in drone security technology. The Company has developed pre-eminent drone security solutions that protect people, organisations and critical infrastructure from intrusion from drones. Its leadership brings world-class expertise in engineering and physics, combined with deep experience in defence, intelligence, and aerospace.
Oleg Vornik
CEO and Managing Director
Email: oleg.vornik@droneshield.com
Tel: +61-2-9995-7280
Related CompaniesDroneShield Ltd