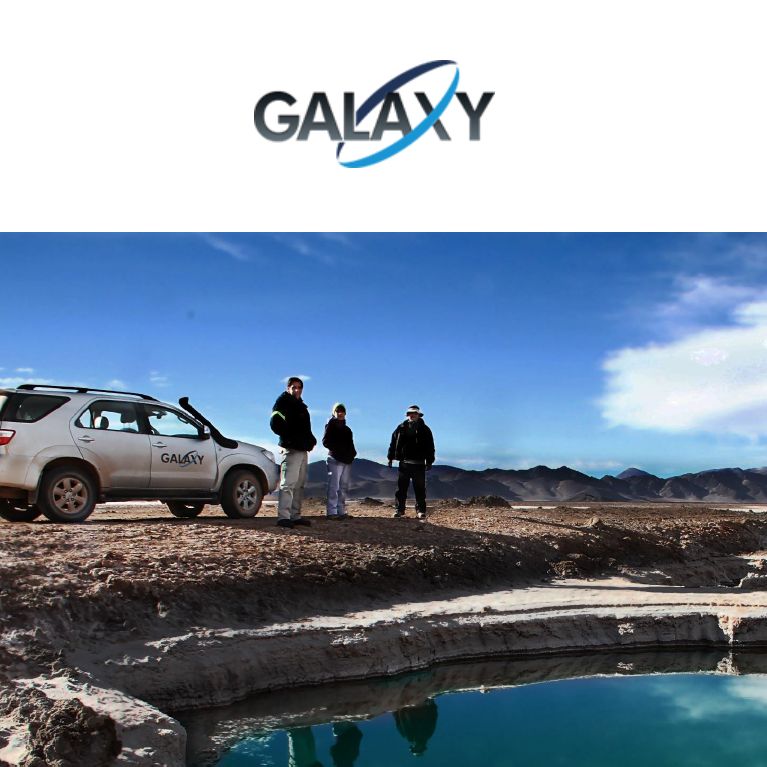 2017 Half Year Financial Report
Perth, Aug 30, 2017 AEST (ABN Newswire) - The directors present their report on the consolidated financial statements of Galaxy Resources Limited (

ASX:GXY
) (

OTCMKTS:GALXF
) ("Company") and the entities it controlled ("Group") during the half-year ended 30 June 2017.
PRINCIPAL ACTIVITIES
The principal activities of the entities within the Group are:
- Production of lithium concentrate; and
- Exploration for minerals in Australia, Canada and Argentina.
REVIEW OF OPERATIONS
Mt Cattlin Operations
Galaxy wholly owns the Mt Cattlin spodumene project, located two kilometres north of the town of Ravensthorpe in Western Australia.
The Mt Cattlin mine operations include open-pit mining of a flat-lying pegmatite ore body. The flat-lying nature of the ore body allows mining to proceed at a reasonably constant strip ratio once the ore is uncovered. Mining is carried out using excavator and truck operations, delivering to a conventional crushing and Dense Media Separation ("DMS") gravity recovery circuit. Contract mining is used for grade control drilling and earthmoving operations (drilling, blasting, load, haul and ancillary work) for the opencut mining operation.
The crushing plant consists of a 3-stage crushing circuit producing a -6mm product from ROM ore at a treatment rate of 1.6 million tonnes per annum. The crushing plant provides feed to a fine ore bin and this fine ore bin feeds the concentrator on a continuous 24 hour per day basis.
The concentrator consists of reflux classifier, dual size steam, two stages of DMS cyclones, with mechanical attritioning of the intermediate sink product. The final spodumene concentrate is stacked on a pad adjacent to the plant area, drained and prepared for trucking to the Esperance port.
Operations at Mt Cattlin remain Lost Time Incident ("LTI") free since refurbishment and restart of production.
During the half-year, the Mt Cattlin operations transitioned into commercial production with ramp up and commissioning of the plant completed at the end of April.
Mining operations achieved full production levels during the half year, with total material movement of 802,860 bank cubic metres ("bcm") of waste and ore, including 536,587 wet metric tonnes ("wmt") of ore at an average grade of 1.05% Li2O. Mining volumes increased by 147% from the March quarter mainly due to a 222% increase in waste mining volumes. Mining activities were concentrated on the northern and western sides of the pit, and run of mine ore stocks were as planned at the end of the quarter.
Spodumene production for the half-year was 56,465 dry metric tonnes ("dmt").
The efficiency of the Mt Cattlin plant has continued to improve with concentrate production for the last 2 months of the half-year averaging 436 dmt per day, equivalent to production of approximately 160,000 tonnes per annum ("tpa"). The annualised rate of concentrate production in June was approximately 170,000 tpa.
The performance of the redesigned Mt Cattlin plant has now reached steady state operations with an average recovery of 61% achieved in June, well above the budgeted target of 50-55%. This was due to higher head grade and improved specific gravity ("SG") control, as well as improved stability in the DMS circuit.
There were four shipments of lithium concentrate during the half-year totaling 53,590 dmt, with the last 3 shipments at product grade and specifications well above contract requirements and with moisture and mica content levels well below contract requirements. Product sales achieved an average realised sales price (before royalties and marketing fees) of US$645 (A$856) per dmt of spodumene for the half-year.
With the shipment in April, Mt Cattlin completed repayment in full of all prepayments advanced by customers.
Galaxy has completed its 2016 contract off take supply obligations priced at US$600 per tonne. All shipments are now based on 2017 pricing terms of US$830 per tonne for 5.5% grade lithium concentrate, rising to US$905 per tonne for 6.0% grade product.
A technical and financial evaluation has commenced for the construction of an ultra fines DMS circuit, a secondary float re-crush circuit and a final product optical sorter that will target further increasing recoveries to between 70-75%. If implemented, construction would occur in Q1 2018.
Work continues to progress on establishing medium and long term water supply sources.
The average production cash costs (excluding royalties and marketing fees) for the half-year were US$391 (A$515) per dmt of spodumene produced. The production cash costs (excluding royalties and marketing fees) for the month of June was US$334 (A$442) per dmt of spodumene produced. It is anticipated that unit production cash costs will continue to reduce as the operation achieves further efficiencies and full production rates are maintained.
Sal De Vida
The Sal de Vida (Salt of Life) deposit is one of the world's largest and highest quality undeveloped lithium brine deposits with significant expansion potential. The JORC-compliant ore reserve estimate of 1.1 million tonnes of retrievable lithium carbonate equivalent and 4.2 million tonnes of potassium chloride (potash or KCI) equivalent supports total annual production over a 40 year period.
The Sal de Vida Project is located in north-west Argentina in what is known as the 'Lithium Triangle', home to more than 60 per cent of the world's annual production of lithium from brines in the Salar de Atacama and the Salar del Hombre Muerto. The Salar lies approximately 1,400 kilometres north-west of Buenos Aires at an altitude of 4,025 metres. The property is accessible from the city of Salta via an all-seasons road, and there is a major powerline 115 kilometres away.
The development of Sal de Vida, when completed, will include evaporation ponds, a battery grade lithium carbonate plant and a potash plant.
In 2016, Galaxy engaged Techint, one of the largest engineering and construction firms in Argentina to assist in the formal review on the economics for the Definitive Feasibility Study ("DFS") of the Sal de Vida Project. The revision to the DFS reaffirmed the strong potential for a low cost and long life operation. The revised DFS estimated a post-tax net present value ("NPV") of US$1.416 billion at an 8% discount rate. Sal de Vida has the potential to generate average annual revenues of US$354 million and average operating cash flow of US$273 million. Average operating costs have been estimated at US$3,369 per tonne before potash credits and US$2,959 per tonne after potash credits to produce battery grade lithium carbonate. The revised total capital cost was estimated at US$376 million. The capital costs that related to the potash plant and related infrastructure were approximately US$34 million, with operating cost credit of approximately US$410 per tonne of lithium carbonate produced. The revised DFS provided for the option of deferring the capital commitment on building the potash circuit subject to potash price market conditions at the time.
The following key milestones were achieved during the half year:
- Granted an extension of its Environmental Permit by the Mining Secretary of Catamarca. The renewal of this permit will allow the project to move towards the definitive test work phase, all the way through completion of construction to commissioning.
- In February, the Company confirmed appointments to the Development team, bringing on board industry professionals with a combined 200 years of experience with the leading global lithium producers SQM, FMC and Rockwood. This team of highly credentialed industry specialists have the expertise and proven track record of developing lithium brine projects over the past couple of decades, and cover all the major technical disciplines required for the project including processing and chemical plant operations, engineering and construction, as well as hydro-geology.
- Commenced development work for the initial production wells and planned 45 hectares of evaporation ponds, both of which will be utilised as part of the future full scale production operations. Upon completion of the topographic survey, the evaporation ponds location will be finalised. Commencing in the December quarter, the newly constructed evaporation ponds will be initially used to perform testing and optimisation work, particularly around pond liner selection. To facilitate the overall increased level of activity at the project, an existing camp facility in the area was acquired and will be refurbished to accommodate up to 80 construction and project development staff.
- Field drilling of the initial two production wells was completed. Following the completion of the first drill hole for a planned production well in early April, a second drill hole, located on SDV property in the northern basin of the lithium-rich Salar del Hombre Muerto, was completed to a depth of 300 metres. The Salar del Hombre Muerto is one of the world's leading lithium deposits and is the same location where FMC Lithium has been operating for the past twenty years.
- Pump tests on the first completed production bore (announced in April 2017) yielded encouraging results, with continuous brine flow rates of more than 25 litres per second being achieved. These results exceed the values that were assumed in the DFS as the required minimum flow rate for each well in the production phase of the project.
- The refurbishment and upgrading of the test plant for the treatment of concentrated brine was completed. New power generation facilities have also been ordered which, in the future, will facilitate continuous 24-hour test-scale production.
- Design and planning activities relating to the establishment of a temporary construction camp have been completed. The camp will incorporate numerous renewable energy systems to power and heat the facilities at its remote location in the Puna. Final approvals from relevant regulatory departments are expected shortly, and the refurbishment and establishment of the camp is expected to be undertaken in the third quarter of 2017.
Galaxy's local Argentine subsidiary has established a presence in San Fernando, the capital city of Catamarca Province and will be using this local office as a base to coordinate recruitment and other human resource initiatives in the regional community. Members of the local team were also actively engaged in field visits to surrounding communities and key stakeholders, such as that at Cienaga Redonda, which is adjacent to the planned project development site location.
In line with a long-standing commitment to the local communities, Galaxy has engaged with numerous local service providers, and the Catamarca government, to discuss and identify training opportunities for specific job vacancies that Galaxy plans to fill during the remainder of the year. Galaxy has taken proactive steps to develop a comprehensive training program for those positions to be filled once construction and operational activities commence. Training opportunities will be available for roles at the Sal de Vida Project, including laboratory technicians and various heavy equipment operators.
The Company has recently progressed its discussions with potential joint venture partners on the project to a more definitive stage, and currently has ongoing dialogue with a number of potential strategic partners and customers, for financing and offtake.
James Bay
The James Bay lithium pegmatite project in Quebec, Canada contains an ore resource stands at 11.75Mt @ 1.30% Li2O (Indicated) and 10.47Mt @ 1.20% Li2O (Inferred), and has been limited to an open-pit vertical depth of less than 100 metres. The Project is located in northwest Quebec, two kilometres south of the Eastmain River and 100 kilometres east of James Bay.
The Project is readily accessible by paved road as the James Bay Highway bisects the property 384 kilometres from Mattagami where there is an airport and mining infrastructure. The airstrip is only 15 kilometres away. The Relais Routier gas station and truck stop is located one kilometre from the property with helicopter access, fuel, motel and restaurant services.
The James Bay deposit occurs at surface, comprises of several swarms of pegmatite dykes and resource modelling indicates that the resource is amenable to open pit extraction. The topography is gently rolling to flat lying with much of it covered by muskeg. Outcrops are common, usually occurring as mounds or ridges above the surrounding plain. Surface mapping identified 15 different pegmatite swarms, each consisting of up to seven dykes. The individual pegmatite bodies are mainly irregular dykes or lenses attaining up to 60 metres in width and over 100 metres in length. The pegmatite outcrops form a discontinuous band or "corridor" approximately four kilometres long and 300 metres wide, cutting the host rock at a low angle and cross-cutting the regional foliation at a high angle. Spodumene crystals at James Bay are relatively coarse, usually more than 5cm in length and sometimes exceeding one metre.
In March, a ~31,000 metre diamond drilling program was commenced with the aim of extending the existing resource contained in numerous outcropping spodumene-bearing pegmatites at James Bay. The program's objective is a thorough and multi-facetted diamond-drilling campaign which will result in completion of the Feasibility Study ("FS"), which was suspended in 2012. The drilling work is focused on exploring and developing the lithium resource contained in numerous outcropping spodumene-bearing pegmatites and aims to almost triple the aggregate 14,000 metres of depth drilled so far on the project, with drill holes at a deeper depth and closer proximity.
The core-drilling program includes:
- In-fill drilling to substantially upgrade ore resources to reserves;
- Step-out holes to explore pegmatite extensions down-dip; and
- Drilling three to four pegmatites in areas where there are gaps, previously mapped, but never drilled.
The key milestones of the drilling program achieved during the half year were:
- 29,300m of drilling to date has been completed with the entire program is now expected to be completed by the end of August 2017. Both resource infill and resource extension diamond drilling was conducted. The drill program has shown the resource to be open at depths below -100 metres. The existing ore resource was only reported to an average of - 110 metres (maximum -200 metres) below surface;
- This drilling has delineated two new large pegmatites in the gap between known pegmatites in the western part of the mineralised zone which bring the total number of dykes in the James Bay pegmatite swarm to 33;
- Full details of these drilling results are set out in ASX announcements dated 27 June 2017, 2 August 2017 and 10 August 2017 however selected drill holes results include:
o drill holes JBL17-19 (98.80m at 1.62 %Li2O); JBL17-53 (83.19m at 1.56% Li2O) and JBL17-57 (73.90m at 1.50 % Li2O) returning exceptional results; and
o drill hole JBL17-21 (with drill hole JBL-17-20) returned a cumulative 199.60m (down hole) of Li2O mineralisation including a cumulative 21m @ > 2% Li2O and extends parts of the resource a further -75m vertically below the current resource.
The drilling at James Bay was undertaken to reinforce the scale of the pegmatite and the significant potential for further growth. James Bay's proximity to local infrastructure, including the accessible road networks, water and power supply are all natural advantages and key to the development of the Project. The Project Team will now focus on concluding the activities required on the resource upgrade campaign, in addition to commencing the work in relation to the Feasibility Study, both for the upstream mine and concentrator plant, as well as the downstream lithium conversion facility.
The current ore resource estimate at James Bay dates back to 2010, however the data that has been collected in the current drilling program will allow for an update to these resources and conversion to reserves, with the results to be included in the final FS. The relevant Environmental Studies relating to the FS will be also advanced in parallel. Metallurgical testwork conducted in 2012 used a dense-media separation ("DMS") technique, produced a lithium concentrate with grades of up to 6.53% Li2O at a 75% lithium recovery rate.
To view the full report, please visit:
http://abnnewswire.net/lnk/V29C55C7
To view 2017 Half Year Result Presentation, please visit:
http://abnnewswire.net/lnk/Y8YPAGNU
About Galaxy Resources Limited

Galaxy Resources Limited (ASX:GXY) (OTCMKTS:GALXF) is an international S&P / ASX 200 Index company with lithium production facilities, hard rock mines and brine assets in Australia, Canada and Argentina. It wholly owns and operates the Mt Cattlin mine in Ravensthorpe Western Australia, which is currently producing spodumene and tantalum concentrate, and the James Bay lithium pegmatite project in Quebec, Canada.
Galaxy is advancing plans to develop the Sal de Vida lithium and potash brine project in Argentina situated in the lithium triangle (where Chile, Argentina and Bolivia meet), which is currently the source of 60% of global lithium production. Sal de Vida has excellent potential as a low cost brine-based lithium carbonate production facility.
Lithium compounds are used in the manufacture of ceramics, glass, and consumer electronics and are an essential cathode material for long life lithium-ion batteries used in hybrid and electric vehicles, as well as mass energy storage systems. Galaxy is bullish about the global lithium demand outlook and is aiming to become a major producer of lithium products.
Corporate
Nick Rowley
Director - Corporate Development
M: +61-455-466-476
T: +61-8-9215-1700
E: nick.rowley@galaxylithium.com

Media Enquiries (Australia)
John Gardner
Citadel-MAGNUS
M: +61-413-355-997 or
T: +61-8-6160-4901
E: jgardner@citadelmagnus.com

Media Enquiries (International)
Heidi So
Strategic Financial Relations Ltd
T: +85-2-2864-4826
E: heidi.so@sprg.com.hk
Related CompaniesGalaxy Resources Limited