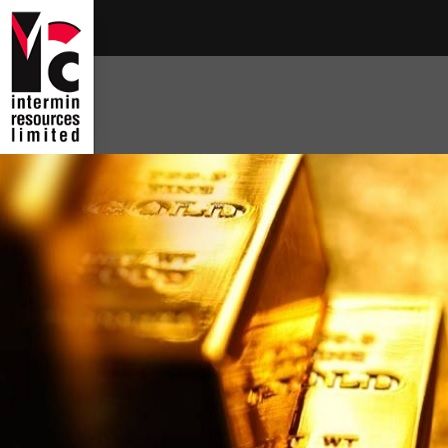 Initial drilling at Anthill hits 105m at 1.38g/t Au
Perth, Aug 30, 2017 AEST (ABN Newswire) - Intermin Resources Limited (

ASX:IRC
) ("Intermin" or the "Company") is pleased to announce initial drilling results from diamond core drilling at the 100% owned Anthill gold project located 54km northwest of Kalgoorlie-Boulder in Western Australia (see Figure 3 in the link below). The project comprises granted Mining Lease M16/531 and it is located on the highly prospective Zuleika Shear Zone which is host to numerous high grade deposits (see Figure 2 in the link below).
HIGHLIGHTS
- First pass diamond drill hole AHD1701 completed at the Anthill gold project to 226m depth on the Zuleika Shear in the Western Australian Goldfields
- Drilling intercepts continuous gold mineralisation from 48m below surface dominated by fresh, highly bleached sericite-albite-carbonate-pyrite alteration with the following results:
o 105m at 1.38g/t Au from 48m (including 41m at 2.35g/t from 73m) (see Note 1 below)
- Diamond drilling successfully confirms Anthill gold deposit structural interpretation and validates historic drilling data
- 7,000m Resource validation and extensional drill program commenced to update the historic JORC 2004 Resource Estimate of 160,000 ounces (see Note 2 below)
- Further results and the updated Mineral Resource Estimate expected in the December Qtr
Commenting on results, Intermin's Managing Director, Mr Jon Price said:
"While the initial headline intercepts at Anthill are very encouraging, the geological data from the drill core has been invaluable in confirming the structural interpretation and the most appropriate drilling orientation for the follow up extension drilling.
"The Company now looks forward to the results of the drilling campaign now underway and adding Anthill to our Resource portfolio in the December Quarter."
Overview
Diamond hole AHD1701 was drilled to a depth of 226m to validate the mineralisation model, examine the mineralisation and vein orientations and obtain specimens for metallurgical and physical properties testing. The hole successfully confirmed Intermin's geological model whereby mineralisation consists of a discrete steeply plunging quartz stock work zone developed within a folded and altered pillow basalt unit within the Zuleika Shear.
Combined with historic drilling, the stock work zone is interpreted to be roughly circular or funnel shaped in plan, dipping to the northeast and is about 100 to 150m in diameter. The mineralisation has intense sericite-albite-carbonate-pyrite alteration, is bounded by a contact with metasediments to the west and the basalt host rock is intruded by an irregular Archaean dolerite body. The host rock is intensely weathered to 70 to 80m depth and there is a surface layer of soil and lateritic mineralisation 1 to 8m thick. Mineralisation is continuous from around 20m depth to the depth limit of drilling at around 200m.
All gold assay results from hole AHD1701 have been received with drill hole collar details and significant downhole intervals included in Table 1 (see link below). The hole was designed to intersect stock work veins at high angles and has been drilled partly down dip of the broad mineralised envelope. The orientation of the drill hole and mineralisation intersected has not provided a basis for the estimation of the true width intervals. Strong visible gold has been noted in some sections of the core which loosely correlate to assay intervals however it is assumed that the mineralisation has high nugget effect.
Follow up
A reverse circulation ("RC") drilling program comprising 50 holes for ~7,000m commenced on the 28 August and will be completed on a 20m x 20m grid. The holes will test interpreted mineralisation to approximately 180m depth and several holes are planned to target adjacent, parallel structures with a view to expanding high grade mineralisation. A new JORC 2012 compliant resource will be calculated shortly after all the assays are received and the mineralisation interpretation is complete.
Several other prospects have been identified at Anthill (see Figure 2 in the link below) including Fire Ant (3 km north of Anthill) where an area of 1.6 Ha has been cleared and scraped for alluvial gold by prospectors. Earlier work also delineated a moderate soil anomaly in this location and within the underlying laterite horizon. Despite the obvious signs of surface gold, this area has received limited shallow drilling. Several shallow, historic RAB holes recorded low levels of probable supergene gold nearby which adds to the prospectivity. Approximately 1,000m of "new discovery drilling" will be undertaken shortly after the resource program is completed.
Notes:
1 See Table 1 on Page 4 in the link below and JORC Tables on Page 7 in the link below,
2 As announced to the ASX on 8 March and 6 July 2017, see also Competent Persons Statement on page 5 in the link below and Forward Looking and Cautionary Statement on page 6 in the link below.
To view tables and figures, please visit:
http://abnnewswire.net/lnk/89J504X4
About Intermin Resources Limited

Intermin Resources Limited (ASX:IRC) is a gold exploration and mining company focussed on the Kalgoorlie and Menzies areas of Western Australia which are host to some of Australia's richest gold deposits. The Company is developing a mining pipeline of projects to generate cash and self-fund aggressive exploration, mine developments and further acquisitions. The Teal gold mine has been recently completed.
Intermin is aiming to significantly grow its JORC-Compliant Mineral Resources, complete definitive feasibility studies on core high grade open cut and underground projects and build a sustainable development pipeline.
Intermin has a number of joint ventures in place across multiple commodities and regions of Australia providing exposure to Vanadium, Copper, PGE's, Gold and Nickel/Cobalt. Our quality joint venture partners are earning in to our project areas by spending over $20 million over 5 years enabling focus on the gold business while maintaining upside leverage.

Jon Price
Managing Director
Tel: +61-8-9386-9534
E: jon.price@intermin.com.au

Lorry Hughes
Director - Business Development
Tel: +61-8-9386-9534
E: lorry.hughes@intermin.com.au

Michael Vaughan
Media Relations - Fivemark Partners
Tel: +61-422-602-720
E: michael.vaughan@fivemark.com.au
Related CompaniesIntermin Resources Limited