MarketNewsUpdates.com News Commentary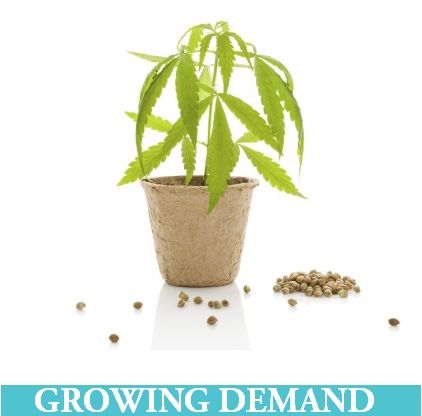 Growing Demand For CBD Based Products
Palm Beach, FL, Aug 30, 2017 AEST (ABN Newswire) - In an article published on Forbes last week*, Hemp-derived cannabidiol (CBD) is projected to be a billion-dollar market in just three years, according to a new report by Brightfield Group*. Revenues being generated from the legal cannabis and marijuana market continues to push upward as leaders throughout the industry announce positive financial results and aim at surpassing initial benchmarks set last year. This growth in the multi-billion market is providing strong revenue potentials for companies such as: PotNetwork Holding Inc. (

OTCMKTS:POTN
), Canna Consumer Goods, Inc. (

OTCMKTS:CBMJ
), Hemp, Inc. (

OTCMKTS:HEMP
), Medical Marijuana, Inc. (

OTCMKTS:MJNA
), Cannabis Science Inc. (

OTCMKTS:CBIS
)
PotNetwork Holding Inc. (

OTCMKTS:POTN
) announced today that the Company has officially retained the auditing services East West Accounting Services, LLC, a Public Company Accounting Oversight Board (PCAOB) registered CPA firm, based out of South Florida. The firm will provide a methodical review and analyzation, to deliver a detailed report of the Company's recent revenues and provide credible verification. Read this and more news for POTN at:
http://www.marketnewsupdates.com/news/potn.html
East West Accounting Services, LLC is a Public Company Accounting Oversight Board (PCAOB) registered CPA firm, which provides audit, review, and consulting services to smaller capitalized public companies that are required to provide financial information with the Security and Exchange Commission.
Management has long strategized the initiation of a PCAOB audit, whereas transparency is key to the Company's strategy for growth and fortification. Strategically, management prepared for a level by which the time and money required to proceed was warranted. A a string of positive and profitable corporate events are the catalyst for Diamond CBD's achievement of this level, by which the Company has taken a proactive approach to deepen accountability in the public marketplace.
"We believe that the timing for this action is now. In consideration of the amount of momentum built up over the past 6 months, coupled with reported revenues of $5,077,625 for the first 6-months of fiscal 2017, the only logical next step was to initiate the auditing process, whereby the market can recognize the significance and legitimacy of the Company's position, enabling the stock to begin better reflecting the Company's true growth in value." Stated, Gary Blum, Chief Executive Officer, PotNetwork Holding Incorporated.
In other industry developments and market performances of note:
Canna Consumer Goods, Inc. (

OTCMKTS:CBMJ
) Developments: Canna Funding Solutions who provides advertising and marketing funding for companies in the cannabis sector announced today that they have purchased $100,000.00 in media placements with premier cannabis broadcasting company Canna Broadcast Media/Loudmouth News
http://cannabroadcastmedia.com
/
The mainstream media will be used to promote companies that we seek to invest in during the MJAC2017 Investorshub International Cannabis Conference powered by Canna Broadcast Media in Los Angeles Sept. 1st-2nd 2017
http://mjac2017.com
/
Canna Broadcast Media/Loudmouth News who has established relationships in Radio, Print, TV, and online media on a national basis produces several cannabis based content programs including Loudmouth News currently cleared to air on over 700 radio stations nationwide.
Hemp, Inc. (

OTCMKTS:HEMP
) announced this week The Hemp University will hold its 4th educational symposium entitled: The Hemp Oil Event (The Art & Science of CBD Oil) on Saturday, September 30, 2017 from 8:30am - 5:00pm. The event will be held at the Peachtree Hills Country Club, 3512 Peachtree Hills Road, Spring Hope, NC 27882. The educational symposium, The Art & Science of CBD Oil, will bring attendees up to speed on all business and scientific aspects of Industrial Hemp CBD cannabinoids by disseminating current, reliable information that continues to shape the revolutionary CBD market.
Medical Marijuana, Inc. (

OTCMKTS:MJNA
) announced last week that its subsidiary, Kannaway LLC the first hemp lifestyle network to offer cannabidiol (CBD) hemp botanical products is holding an exclusive Red-Carpet Event in Phoenix, AZ this weekend, August 26th. The Red-Carpet Event provides a unique opportunity to network with top Kannaway leaders, the company's executive team and other industry professionals. Participants will hear from executive team members, including Kannaway CEO Blake Schroeder, President Brad Tayles and CEO of Kannaway parent company Medical Marijuana, Inc., Dr. Stuart Titus. Additionally, the Red-Carpet Event will provide Kannaway business owners with exclusive opportunities to accelerate their success as brand ambassadors by hearing from some of the top leaders and highest income earners.
Cannabis Science, Inc. (

OTCMKTS:CBIS
), a U.S. company specializing in the development of cannabinoid-based medicines, and Free Spirit Organics Native American Corporation (FSO NAC) are announced late last week significant comprehensive educational, economic, and property development plans are underway for its 250-acre CBIS/FSO NAC MBS industrial hemp project. To date, there have been approximately 25-30 part-time workers from the community hired so far, and it is expected that another 50-75 people will be hired before the harvest is completed. The harvesting process is very labor intensive and very seasonal until the staggering process has been completed for year-round harvesting.
DISCLAIMER: MarketNewsUpdates.com (MNU) is a third party publisher and news dissemination service provider, which disseminates electronic information through multiple online media channels. MNU is NOT affiliated in any manner with any company mentioned herein. MNU and its affiliated companies are a news dissemination solutions provider and are NOT a registered broker/dealer/analyst/adviser, holds no investment licenses and may NOT sell, offer to sell or offer to buy any security. MNU's market updates, news alerts and corporate profiles are NOT a solicitation or recommendation to buy, sell or hold securities. The material in this release is intended to be strictly informational and is NEVER to be construed or interpreted as research material. All readers are strongly urged to perform research and due diligence on their own and consult a licensed financial professional before considering any level of investing in stocks. All material included herein is republished content and details which were previously disseminated by the companies mentioned in this release. MNU is not liable for any investment decisions by its readers or subscribers. Investors are cautioned that they may lose all or a portion of their investment when investing in stocks. For current services performed MNU has been compensated twenty-five hundred dollars for news coverage of the current press release issued by PotNetwork Holding Inc by a non-affiliated third party. MNU HOLDS NO SHARES OF ANY COMPANY NAMED IN THIS RELEASE.
This release contains "forward-looking statements" within the meaning of Section 27A of the Securities Act of 1933, as amended, and Section 21E the Securities Exchange Act of 1934, as amended and such forward-looking statements are made pursuant to the safe harbor provisions of the Private Securities Litigation Reform Act of 1995. "Forward-looking statements" describe future expectations, plans, results, or strategies and are generally preceded by words such as "may", "future", "plan" or "planned", "will" or "should", "expected," "anticipates", "draft", "eventually" or "projected". You are cautioned that such statements are subject to a multitude of risks and uncertainties that could cause future circumstances, events, or results to differ materially from those projected in the forward-looking statements, including the risks that actual results may differ materially from those projected in the forward-looking statements as a result of various factors, and other risks identified in a company's annual report on Form 10-K or 10-KSB and other filings made by such company with the Securities and Exchange Commission. You should consider these factors in evaluating the forward-looking statements included herein, and not place undue reliance on such statements. The forward-looking statements in this release are made as of the date hereof and MNU undertakes no obligation to update such statements.
Article in Forbes, link:
http://www.abnnewswire.net/lnk/9498EV7T
Brightfield Group report, link:
http://www.abnnewswire.net/lnk/WUOZ3YX1
SOURCE MarketNewsUpdates.com
E: info@marketnewsupdates.com
T: +1(561)325-8757
Related CompaniesPotNetwork Holdings Inc.
Medical Marijuana Inc
Hemp Inc.
Cannabis Science Inc
Canna Consumer Goods