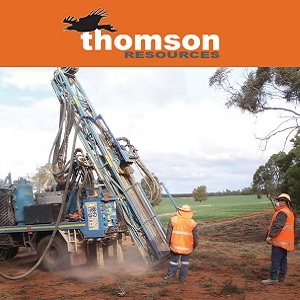 Strong Drill Results at Bygoo Tin
Sydney, Aug 31, 2017 AEST (ABN Newswire) - Thomson Resources (

ASX:TMZ
) is pleased to announce drilling results from its fifth round of drilling at the Bygoo tin project near the old Ardlethan tin mine, NSW. Eight holes were drilled in all for a total of 1098m. The drilling took place in July 2017 and tested targets at Bygoo North and South as well as some other historic workings between these two.
- Exceptional tin intercepts up to 19m at 1.0% Sn at Bygoo North
- New shallow greisen zone at Bygoo North with 8m at 1.2% Sn
- Further tin at Bygoo South with 7m at 1.3% Sn recorded
- Further drilling planned to commence shortly
High grade tin intersections of similar tenor to those previously recorded were obtained at both North and South prospects (see Figures in the link below). The standout intersections are -
Bygoo North
- 19m at 1.0% Sn from 49m depth (BNRC40)
- 8m at 1.2% Sn from 16m depth (BNRC38)
- 6m at 0.8% Sn from 80m and 7m at 0.7% Sn from 95m (BNRC39)
Bygoo South
- 7m at 1.3% Sn from 22m depth (BNRC35)
Bygoo North
Drilling at the main prospect of Bygoo North has unearthed a possible new greisen zone located 50m to the north of the historic Dumbrells pit. This new position has prompted a reinterpretation of the greisen zones as a multiple system akin to a stockwork (see Figure 1 in the link below). The new intersection of 8m at 1.2% Sn from 16m depth in BNRC38 is quite shallow and occurs at the Ardlethan Granite upper contact. Potentially this means it could be part of a "contact" greisen or alternatively a new steeply dipping greisen - both types occur to the south of Dumbrells pit (see Figure 2 in the link below). The next drilling program will target this zone as a priority.
BNRC40 was drilled on the same section further south and confirmed the results from BNRC10 of a strong steeply dipping greisen with 19m at 1.0% Sn from 49m depth below a weaker contact greisen with 14m at 0.3% Sn from 21m depth.
BNRC39 was drilled further east, targeting the multiple greisen intersections seen in BNRC13. Two greisen positions were confirmed with solid intercepts of 6m at 0.8% Sn from 80m and 7m at 0.7% Sn from 95m (see Figure 3 in the link below). However the relationship of the various intercepts on this section is unclear and contributes to the multiple greisen interpretation drawn schematically in Figure 1 (see link below).
Two further deeper drill holes were completed at Bygoo North but the holes deviated strongly in the softer cover rocks and missed their targets. Diamond drilling is needed to effectively test deeper targets further along strike to the east and will be included in the next program.
Bygoo South
The Bygoo South prospect is at the site of a historic underground mine ("Smiths"), 400m south of the Bygoo North area, which operated between 1932 and 1946 for a reported production of just over 10,000 tonnes of ore at 0.8% Sn (Department of Mines Mine Record No. 20).
BNRC35 was drilled directly south from the main historic workings and intersected 7m at 1.3% Sn from 22m depth (see Figure 4 in the link below). This is similar to the intercept of 14m at 0.7% Sn from 36m depth in BNRC28, 25m to the east, suggesting a near-horizontal component to the mineralisation.
The next round of drilling will seek to extend and confirm the zones intersected.
To view figures, please visit:
http://abnnewswire.net/lnk/462HOWIY
About Thomson Resources Ltd

Thomson Resources Ltd (ASX:TMZ) is an NSW active mineral explorer. Thomson has several tin projects (including an advanced project near Ardlethan), as well as gold, copper and zinc targets in a range of settings. Thomson has a good record of discovery, with multiple new Intrusion-Related Gold (gold with copper, lead, zinc, molybdenum, tungsten) systems discovered in the Thomson Fold Belt in the NW of the state.

Thomson Resources Ltd
T: +61-2-9906-6225
E: info@thomsonresources.com.au
WWW: www.thomsonresources.com.au

Related CompaniesThomson Resources Ltd