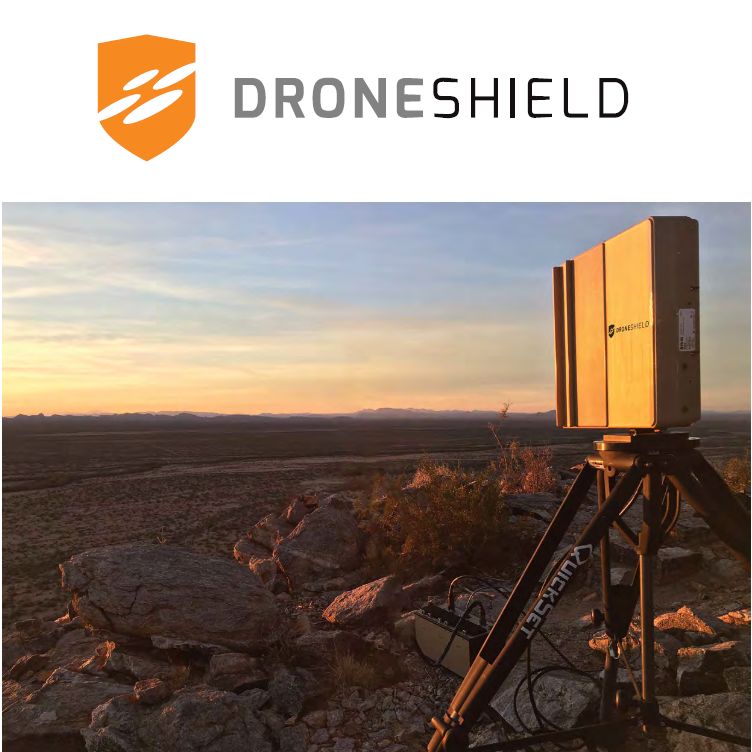 Market Update
Sydney, Sep 11, 2017 AEST (ABN Newswire) - DroneShield Ltd (

ASX:DRO
) (

OTCMKTS:DRSHF
) ("DroneShield" or the "Company") is pleased to provide an update on several significant developments.
- Development of second generation of DroneShield(R) tactical drone jammer (DroneGun MKII) product completed
- Product has been released for testing to Australian and United States militaries
- DroneShield accepted to be part of Team Defence Australia, a join effort with the Australian Department of Defence and Austrade
DroneGun MKII
DroneShield is pleased to announce the launch of a DroneGun MkII drone countermeasure product, a second generation version of its DroneGun product.
The product is a rifle-style handheld jammer device, highly effective at the standard frequencies of consumer and commercial drones globally. An optional GPS-jamming capability is also available to customers where lawful. (see Note below)
The product was developed in response to feedback by sophisticated end-users. The product offers a number of improvements over the first generation of DroneGun, including a substantially ruggedised design, lighter weight, and improved jamming algorithms.
Testing by Australian and United States militaries
DroneShield remains the only company in the world offering both drone detection and handheld rifle-style tactical drone countermeasures, as its own product suite. Initial units of the product have been released for immediate testing and evaluation by several branches of the United States and Australian militaries.
Peter James, Chairman of the Company, has commented "DroneGun MkII is expected to continue to position DroneShield at the cutting edge of the counterdrone industry. The Company also continues to develop other innovative products being actively sought by end users, including the DroneSentinel and DroneSentry products, with initial customer demos for DroneSentinel and DroneSentry having been scheduled for early November."
DroneShield accepted to be part of Team Defence Australia
On the sales and marketing front, the Company has been undertaking a significant effort in building out its military and security global selling channels. Among other things, it is pleased to report that it has been accepted to be part of Team Defence Australia, a joint effort with the Australian Department of Defence and Austrade. As part of Team Defence Australia, DroneShield is participating at the Defence and Security Equipment International Conference in London this week and The Association of the United States Army Annual Meeting and Exposition in Washington, DC in early October.
Additional senior staff
The Company welcomes Mr. Casey Betzold as a new VP of Sales, focusing on US, European, and APAC Sales, as well as David Powers who will be focusing on the US federal and military market.
Mr. Betzold brings over 15 years of experience in US and International business development and sales. He has extensive experience working with major market segments world-wide specific to the industry, to include government and law enforcement agencies, commercial, and OEM markets.
His career began as an officer in the United States Air Force where he attended pilot training and operated as an Acquisitions and Program Management Officer working with large prime defense contractors on programs including the Minuteman III Propulsion and GPS Metric Tracking programs.
After leaving the Air Force as a Captain, he spent time with well known members of the defense and outdoor industry to include working in business development and sales for ATK and as the Director of International Sales for Beretta.
Most recently, Mr. Betzold was CEO of Snake River Shooting Products and Consulting Inc, a manufacturing and distribution company focused on ammunition, components, and accessories.
David Powers is a former Federal Agent, Intelligence Officer and U.S. Special Operations Forces (SOF) leader, operator, combat training developer, and decorated combat veteran of Operations Desert Shield, Desert Storm and Provide Comfort, and the Enduring Freedom Campaign.
Annexed to this announcement is the Company's product brochure (see the link below) in relation to the Company's current product offering, including DroneGun MKII.
Note: DroneGun has not been authorized as required by the United States Federal Communications Commission ("FCC"). This device is not, and may not be, offered for sale or lease, or sold or leased, in the United States, other than to the United States government and its agencies, until such authorization is obtained. The use of DroneGun in the United States by other persons or entities, including state or local government agencies, is prohibited by federal law. Laws limiting the availability of DroneGun to certain types of users may apply in other jurisdictions, and any sales will be conducted only in compliance with the applicable laws.
To view figures and Product Brochure, please visit:
http://abnnewswire.net/lnk/FVQ3W2BF
About DroneShield Ltd

Based in Sydney, Australia and Virginia, USA, DroneShield Ltd (ASX:DRO) (OTCMKTS:DRSHF) is a worldwide leader in drone security technology. The Company has developed pre-eminent drone security solutions that protect people, organisations and critical infrastructure from intrusion from drones. Its leadership brings world-class expertise in engineering and physics, combined with deep experience in defence, intelligence, and aerospace.
Oleg Vornik
CEO and Managing Director
Email: oleg.vornik@droneshield.com
Tel: +61-2-9995-7280
Related CompaniesDroneShield Ltd