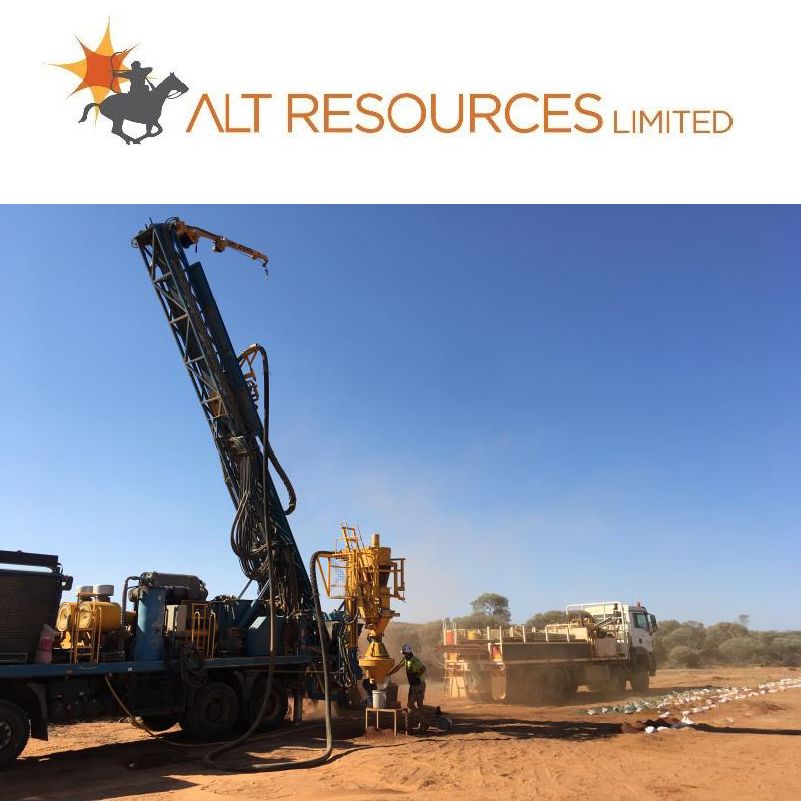 Exploration Update at Mt Roberts Gold Project, WA and Myalla Gold Project, NSW
Canberra, Sep 21, 2017 AEST (ABN Newswire) - Alt Resources Ltd (

ASX:ARS
) ("Alt or the Company") is pleased to announce that RC drilling has commenced at the highly prospective Mt Roberts Gold Project, near Leinster, WA. 22 RC holes have been planned, for a total of 1,700m.
Key Points:
- RC drilling has commenced at the Mount Roberts Gold Project near Leinster, WA
- Two-stage program planned to complete 51% earn-in from Mount Roberts Mining followed by resource drilling in 2018
- Final approval from NSW Office of Environment and Heritage granted for drilling at Myalla gold and base metals project, NSW
Mt Roberts Drilling Commenced
The Mt Roberts Project is located 9 km northwest of Leinster and 19 km northeast of the 3.8 Moz Agnew Gold Mine (Gold Fields Ltd). The project lies within the Agnew-Wiluna Greenstone belt, which is host to several major gold deposits including the Agnew Gold Mine, Lawlers and Vivien, within or near the Agnew Gold Camp. Alt completed 2,088m RC drilling (34 holes) at Mt Roberts in November 2016. High grade gold was intersected during this drilling program, confirming a 200m strike length for mineralisation at the Mt Roberts Workings. Some of the more significant intercepts included (see Note 1 & 2 below):
MRRC0003: 3m @ 28 g/t Au, including
1m @ 67.4 g/t Au
MRRC0006: 3m @ 1.95 g/t Au from 17m
MRCC0007: 1m @ 5.59 g/t Au from 29m
MRRC0008: 1m @ 20.3 g/t Au from 49m
MRRC0009: 1m @ 24.4 g/t Au from 64m, and
4m @ 7.96 g/t Au from 78m, including
2m @ 13.75 g/t Au from 82m
MRRC0014: 1m @ 3.57 g/t Au from 51m
MRRC0032: 7m @ 1.66 g/t Au from 35m
The current program aims to test greenfields targets peripheral to the main Mt Roberts Workings. These targets were defined in March 2017 based on detailed mapping and reconnaissance carried out by Alt Resources (see Note 3 below).
The 1,700m to be conducted under the current program will satisfy the Company's requirement to carry out an additional 912m RC drilling in order to complete the 51% earn-in to the project from Mount Roberts Mining Pty Ltd.
Myalla Gold and Base Metals Project
Final approval of the Aboriginal Heritage Impact Permit for drilling activity at the Myalla gold and base metals project has been granted by the NSW Office of Environment and Heritage. All approvals for planned drilling at this project are now in place, with drilling scheduled to commence in mid-late October.
The Myalla Project is located 15km northeast of Dalgety and 45 km east of Jindabyne in southern NSW. The project is approximately 30 km east of the Company's Paupong Project. Alt Resources holds 70% of the Myalla Project, in Joint Venture with GFM Exploration Pty Ltd (see Note 4 below).
The Rock Lodge prospect at Myalla is a known deposit of Cu-Au-Ag-Zn massive sulphide within deformed Ordovician sediments. Historical drilling by Southern Gold N.L in 1985 and 1986 beneath old gold workings returned intercepts of:
Hole 8: 12m @ 1.2 g/t Au, and 0.2 % Cu from 39m, including
2.7m @ 4.3 g/t Au, 35 g/t Ag and 0.73% Cu from 42.3m
Hole 2: 1.07m @ 13.5% Zn, 0.17 g/t Au and 6.6 g/t Ag from 75m
Hole 3: 7.4m @ 1.1 g/t Au from 9m, and
Hole 4: 0.3m @ 5.6 g/t Au and 10.4 g/t Ag from 10.3m
Notes:
1 See ARS announcement, 16th November, 2016:
http://abnnewswire.net/lnk/KQJ6UJ73
2 See ARS announcement,
http://abnnewswire.net/lnk/4RUY26SP
3 See ARS announcement, 5th April, 2017:
http://abnnewswire.net/lnk/AC3K2WF9
4 See ARS prospectus, 29th October, 2014:
http://abnnewswire.net/lnk/3MQ427D7
To view figures, please visit:
http://abnnewswire.net/lnk/T33J98E0
About Alt Resources Ltd

Alt Resources Limited (ASX:ARS) operates in the secure jurisdictions of Western Australia and New South Wales, focusing on gold and base metals. The Company's objectives are to continue aggressive exploration activities to develop the existing projects and define new JORC compliant mineral resources. Key focus for the Company is the Mt Ida Gold Belt region which includes several high value drill and project targets.
The Company also owns a 70% interest in the Paupong and Myalla gold and base metal projects in the Lachlan Orogen, NSW. An aggressive exploration program was undertaken throughout 2016 at the Paupong intrusion-related Au-Cu-Ag system, over an area of 60 square kilometres.
The Board considers the portfolio of assets to represent excellent potential for the discovery of economic gold and copper deposits. Exploration by the Company is ongoing with drilling programs planned and underway at Bottle Creek, Paupong, Myalla and the Mt Roberts project.
Alt Resources Ltd
T: 1300-66-00-01
M: +61-406-069-243
E: info@altresources.com.au
www.altresources.com.au
Related CompaniesAlt Resources Ltd