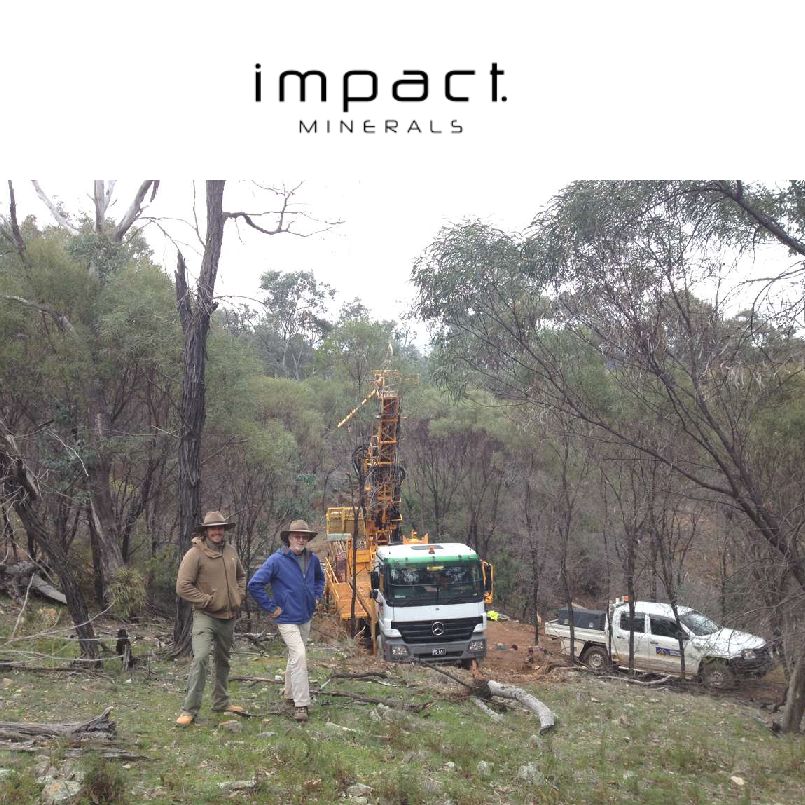 Further High Grade Results at Silica Hill
Perth, Sep 21, 2017 AEST (ABN Newswire) - Further drill assays from the on-going drill programme at Impact Minerals Limited's (

ASX:IPT
) emerging gold-silver discovery at the Silica Hill Prospect, part of the 100% owned Commonwealth Project 100 km north of Orange in New South Wales, continue to confirm and expand the bulk-tonnage potential close to the near-surface high grade massive sulphide resource at Main Shaft, with only 10% of the target area tested to date close to surface.
In addition the closed spaced drilling completed to date has elucidated further important structural controls on high grade shoots as well as the broad vertical and lateral metal zonation within the stockwork vein system (see Figures 1 and 2 in the link below).
East-west trending structures have now been identified as an important control of the high grade zones and shoots within the overall north east trending zone of mineralisation, and it has been shown that the entire vertical extent of the mineralised system has been preserved from an upper barren silica-pyrite zone that passes progressively down and laterally through low grade silver +/- gold veins; higher grade gold and silver veins; and a lower zinc-lead-copper zone containing "feeder veins" of massive base metal sulphides that also have high grade gold and silver in places.
Hole CMIPT063 has returned:
98 metres at 0.7 g/t gold and 53 g/t silver (1.5 g/t gold equivalent) from 58 metres down hole including
31 metres at 1.3 g/t and 70 g/t silver (2.2 g/t gold equivalent) from 58 m down hole which includes;
0.6 metres at 0.8 g/t gold and 2,090 g/t silver and 0.2% zinc (28.5 g/t gold equivalent) from 85.4 m;
and
0.3 metres at 6.2 g/t gold, 149 g/t silver, 8.4% zinc, 3.9% lead and 0.2% copper (16.5 g/t gold equivalent - "feeder vein" - see announcement 4th August 2017);
and
10 metres at 0.5 g/t gold and 232 g/t silver (4.1 g/t gold equivalent) from 146 m which includes:
1 metre at 0.7 g/t gold and 1,285 g/t silver (18.8 g/t gold equivalent) from 150 metres;
and
1.2 metres at 0.3 g/t gold, 37 g/t silver, 1.6% zinc, 1.1% lead and 0.1% copper
(2.6 g/t gold equivalent) from 166.8 metres
Drill hole 63 was drilled above CMIPT060, an RC hole that failed to reach depth and ended in mineralisation at 88 metres and which returned:
37 metres at 1.0 g/t gold and 31 g/t silver (1.4 g/t gold equivalent) from 51 metres.
Drill holes CMIPT64 and 65 were also drilled above Hole 60 and intersected stockworks of narrow veins as previously reported. These holes were sampled at practical sample widths of about 1 metre and have returned significant widths of anomalous gold and silver assays showing that they are part of the upper lower grade silver+/- gold part zone of the system.
Hole 64 returned 84 metres at 0.3 g/t gold and 18 g/t silver and hole 65 returned 62 metres at 0.5 g/t gold and 17 g/t silver, with individual one metre samples returning up to 75 g/t silver.
Drill hole CMIPT071 is in progress to test below these strongly anomalous intercepts to test the lower gold-rich zone and also in particular to also test down dip extension of the high grade base metal massive sulphide veins in Hole 63.
Hole 61 also intersected a zone of narrow veins with silver and returned 10 metres at 86 g/t silver. This hole is interpeted to have been drilled between two east-west structures as detailed below.
Further assays are expected within three weeks.
Discussion
An intial interpretation of these results combined with detailed logging of the diamond core, shows that the overall north east trending corridor of mineralisation at Silica Hill is resolving into several mineralised domains related to east-west trending, steeply south dipping structures (see Figure 1 in the link below). The intersection of the east-west and north east trending structures appears to be a strong control on the higher grade portions and shoots of the mineralised system.
At least two east-west structures have been identified, each over at least 400 metres of strike and both open along trend and at depth.
One structure occurs along the southern contact of the Silica Hill rhyolite and includes the high grade assays from Holes 43 and 11 (e.g. 23 metres at 1 g/t gold and 224 g/t silver including 0.9 metres at 2.4 g/t gold and 3,146 g/t silver - see announcement 22 February 2017 for details).
A second east west structure occurs 50 m to 75 m to the north and is defined in part by extensive low grade molybdenum with lesser tin and shown as the "molybdenum corridor" on Figure 1 (see the link below). The metal assemblage is interpreted as futher evidence that the mineralising fluids may be sourced from a late stage intrusive at depth. Further drilling will also test these structures along trend and at depth.
Drilling to date at Silica Hill has only tested 10% of the combined soil-geochemical and IP geophysical target area. Larger spaced step out drilling is now being planned and a second RC rig is being sourced to help expedite the programme. This work will also include testing beneath Hole 51 which intersected a variably developed stockwork of narrow quartz-sulphide veins with anomalous silver and gold over the entire 270 metre length of the drill hole with three better developed zones 25 metres, 50 metres and 30 metres thick (see Figures 1 and 2 in the link below).
Together, these results and previous work demonstrate a mineralised system that extends over at least 700 metres of strike and a vertical extent of at least 400 metres (see Figure 2 in the link below). The drill programme is on-going and will continue to test this very large system which clearly has the potential to host a major deposit.
About the Drill Programme
A total of 21 drill holes for 3,432 metres have been completed in this phase of drilling and comprising 11 diamond holes for 2,321 metres and 10 Reverse Circulation (RC) holes for 1,111 metres.
Two more diamond drill holes are planned before the drill rig will be converted to a multi-purpose rig to allow it to also drill by reverse circulation (RC). This will take about four weeks and occur in October. A second RC rig, which has to be small and/or track mounted because of the terrain, is also being sourced.
As previously announced, a previous RC drill rig did not perform to standard and was removed from site. In particular the drill holes deviated significantly from the planned orientation and accordingly four drill holes were abandoned, mostly at the drill company's cost.
About the Commonwealth Project
The Commonwealth Project forms part of Impact's extensive 100% owned land holding of 1,000 sq km in the Lachlan Foldbelt, home to numerous gold and copper mines including the giant Cadia deposit near Orange (40 million ounces of gold and 12 million tonnes of copper).
At Silica Hill significant gold and silver mineralisation covers an area of 200 metres by 100 metres down to a depth of 120 metres below surface and with an average true thickness of at least between 40 metres and 70 metres. The mineralisation is open in all directions including up dip.
Four drill holes have also returned gram-times-metre intercepts of more than 100 gram.metres and a fifth hole returned an intercept of greater than 50 gram.metres. These are robust and significant results for potential bulk mining and indicate the potential to significantly increase the resources at the Commonwealth Project, which currently stand at 720,000 tonnes at 2.8 g/t gold, 48 g/t silver, 1.5% zinc and 0.6% lead (see announcement 19 February 2015).
In detail, these thick widths of mineralisation actually comprise numerous narrow veins and vein stockworks of high grade gold and very high grade silver hosted by the Silica Hill rhyolite that contain lower grade disseminated gold and silver.
For example, Hole CMIPT046 returned an intercept of
41 metres at 2 g/t and 176 g/t silver from 61 metres including 30 individual assays of varying widths of between 2 g/t and 24 g/t gold and 12 individual assays with more than 500 g/t silver including
1 metre at 12.2 g/t gold and 680 g/t silver including 0.3 metres at 23 g/t gold and 1,110 g/t silver;
1 metre at 5.3 g/t gold and 924 g/t silver;
1.7 metres at 3.8 g/t gold and 1,176 g/t silver; and
0.7 metres at 1.5 g/t gold and 855 g/t silver.
(see announcements dated 5th December 2016 and 22nd February 2017).
To view tables and figures, please visit:
http://abnnewswire.net/lnk/AW4LWB0G
About Impact Minerals Limited

Impact Minerals Limited (ASX:IPT) is an exploration company listed on the ASX in November 2006. The Company manages extensive tenement holdings (>2,000 km2) within Australia featuring significant potential for high-grade mineral deposits of gold, silver, lead, zinc, copper, nickel and PGM's. The Directors of the Company have extensive experience in mineral exploration and a strong history of exploration success, business development and corporate management. Impact Minerals intends to build wealth for its shareholders through a vigorous campaign of project generation and evaluation with a view towards profitable mining operations. Impact Minerals intends to build wealth for its shareholders through a vigorous campaign of project generation and evaluation with a view towards profitable mining operations.

Dr Michael G Jones
Managing Director
Impact Minerals Limited
T: +61-8-6454-6666
E: info@impactminerals.com.au
Related CompaniesImpact Minerals Limited