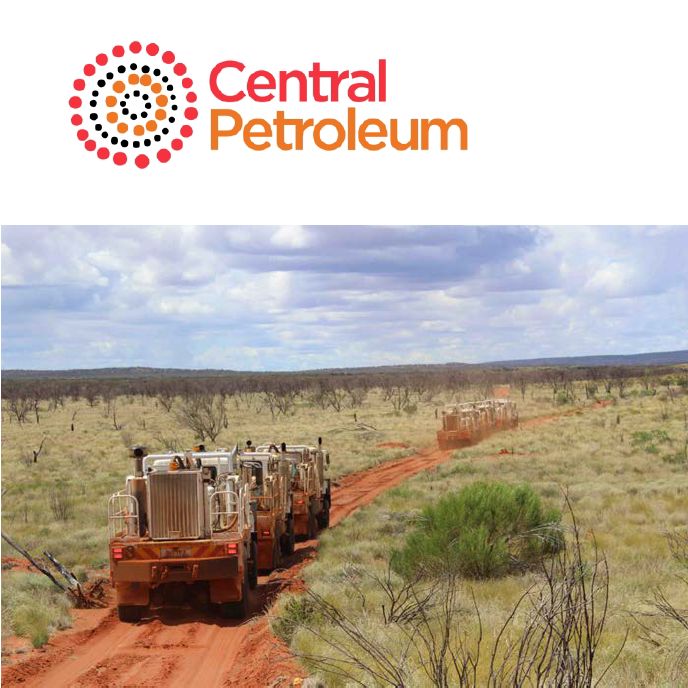 Mereenie Joint Marketing Agreement
Brisbane, Sep 25, 2017 AEST (ABN Newswire) - Central Petroleum Limited (

ASX:CTP
) (

OTCMKTS:CPTLF
) ("Central") announces a Mereenie Joint Marketing Agreement ("JMA") which will facilitate the upgrading of Mereenie Reserves to coordinate with the commissioning of the Jemena NGP link to the East Coast gas network.
The JMA terms have been agreed today by the Mereenie Joint Venture participants (Central Petroleum Mereenie Pty Ltd as trustee for the Central Petroleum Mereenie Unit Trust ("CPMUT") and Macquarie Mereenie Pty Ltd ("Macquarie Mereenie").
The commencement of joint marketing under the JMA remains subject to satisfaction of a condition precedent, being the grant of authorisation by the ACCC (or Australian Competition Tribunal on review of an ACCC decision) for joint marketing under the JMA. (see Note below) A public submission for interim approval is planned to be lodged shortly.
The Supplementary Scheme Booklet distributed during the recent Scheme of Arrangement proposal by Macquarie MPVD Pty Limited, Central outlined to shareholders the complexities the company needed to address before further development of the Mereenie Gas Field. These arose particularly due to Mereenie being a 50:50 joint venture, with each party having a veto on the joint venture budget other than those expenditures required by law.
With joint marketing in place, budget approvals to commercialise future Mereenie gas reserves can be sought with parties being able to feasibly and efficiently progress various joint production and appraisal activities, including appraisal and development of the Stairway as a commercial production zone. Additionally it provides the certainty of being able to pursue sales for additional gas produced by allowing both parties to approve the capital investment required for any appraisal and development work to expand production.
Central is progressing plans for the drilling of two Mereenie wells using the funds raised in the successful A$27.2 million (before costs) equity raising, announced on 10 August 2017.
Additionally, on commencement of joint marketing, Macquarie Mereenie, as ultimate recipient of the $15m NEGI Bonus has agreed to cause the removal and/or indemnification of CPMUT of these payments, subject to such payment obligations being reinstated if the JMA is terminated prior to 3 June 2018.
Central Managing Director, Mr Richard Cottee, said "The Mereenie JMA provides independence and certainty to both of the joint venturers clearing the way for either of us to upgrade Mereenie Reserves so that the first delivery of gas can coincide with the NGP becoming operational.
"If approved by ACCC, it will signal a significant new supplier in the East Coast Gas Market at a time when the country urgently needs new competitors in the domestic gas market.
Importantly, Central retains full marketing rights to its existing Palm Valley and Dingo Gas Fields.
Once interim authorisation is granted the Stairway Development Programme ("SDP") will be put for joint venture approval. Ideally full authorisation of the joint marketing may be able to be obtained before the first appraisal well is drilled under the SDP which is expected in January."
Note:
1 Whilst a different type of joint marketing could occur without ACCC authorisation due to CPMUT and Macquarie Mereenie already being parties to an existing joint venture for the Mereenie Gas Field, it was considered prudent to seek ACCC authorisation in the circumstances
About Central Petroleum Limited

Central Petroleum Limited (

ASX:CTP) is an oil and gas explorer and producer listed on the Australian Securities Exchange focused on supplying the domestic gas market. Central is advancing several separate projects across what is regarded as the biggest package of proven and prospective oil and gas acreage across central Australia. This spread of assets gives Central multiple options for growth and development. 88% of this land being gas prone has led to the Company's focus on becoming a major domestic gas producer.

Central Petroleum Limited
T: +61-7-3181-3800
F: +61-7-3181-3855
E: info@centralpetroleum.com.au
WWW: www.centralpetroleum.com.au

Media Enquiries
Martin Debelle at Citadel-MAGNUS
T: +61-2-8234-0100
M: +61-409-911-189
Related CompaniesCentral Petroleum Limited