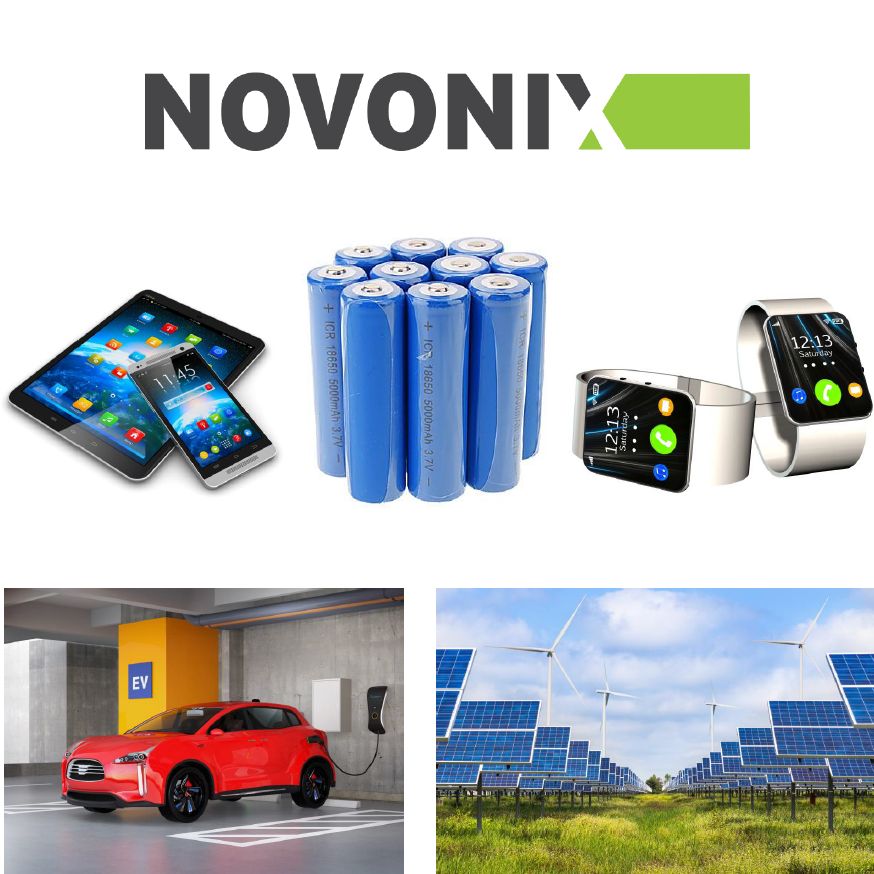 Annual Report to shareholders
Brisbane, Sep 28, 2017 AEST (ABN Newswire) - NOVONIX Ltd's (

ASX:NVX
) Board and management are excited by the opportunities for NOVONIX in the delivering new high-performance battery materials (anode materials and electrolytes) and the world's highest performance battery testing equipment in the year ahead.
HIGHLIGHTS
- downstream integration into high value, high growth battery materials market
- production JV with leading USA-based anode materials development group
- acquisition of leading battery testing equipment and services company
- completion of $16.3 million capital raising to fund strategic transactions
- successful implementation of all transactions
- Mount Dromedary Graphite Project mining lease application lodged
FY2017 saw the company expand and diversify strategically via downstream integration into the high growth US$20 billion global rechargeable lithium-ion battery (LIB) market.
These transactions and subsequent business development undertaken during the year have transformed the company from a developer of a natural graphite deposit into a developer and supplier of high performance battery equipment, services and materials.
Today NOVONIX Limited (

ASX:NVX
) has operations in the USA and Canada and sales and equipment deployed in over a dozen countries.
The NOVONIX group now includes a Battery Testing Services business headquartered in Canada which produces the most accurate lithium-ion battery cell test equipment in the world now used by leading battery makers and researchers and equipment manufacturers including Apple, TESLA, PANASONIC, CATL, BOSCH, Dyson, 3M, and Alcatel-Lucent. This business was acquired on 1 June 2017, and as such, only one month of operation occurred within FY2017.
NOVONIX, via its PUREgraphite joint venture with Coulometrics, is planning to develop and manufacture ultra-high purity high performance battery anode materials in the USA. PUREgraphite anode materials are aimed at meeting the most demanding applications which include electric vehicles and energy storage. The PUREgraphite joint venture was established 1 April 2017 and as such, included only three months of operations within the NOVONIX group within FY2017.
To view the annual report, please visit:
http://abnnewswire.net/lnk/KS32K3HQ
About NOVONIX Ltd

NOVONIX Ltd (ASX:NVX) (FRA:GC3) is an integrated developer and supplier of high performance materials, equipment and services for the global lithium-ion battery industry with operations in the USA and Canada and sales in fourteen countries. NOVONIX is co-owner of the PUREgraphite anode material Joint Venture, headquartered in Chattanooga, Tennessee, USA. The Company also owns a world-class, large and high-grade natural graphite deposit in Australia.
NOVONIX's mission is to accelerate the adoption of batteries for a cleaner energy future.

Suzanne Yeates
Company Secretary
Phone: +61-439-310-818
Email: contact@graphitecorp.com.au
Website: www.graphitecorp.com.au

Philip St Baker
Managing Director
Phone: +61-438-173-330
Email: phil@novonixgroup.com
Website: www.novonixgroup.com
Related CompaniesNOVONIX Ltd