High Grade Drill Results Increase Potential at the Goongarrie Lady Gold Project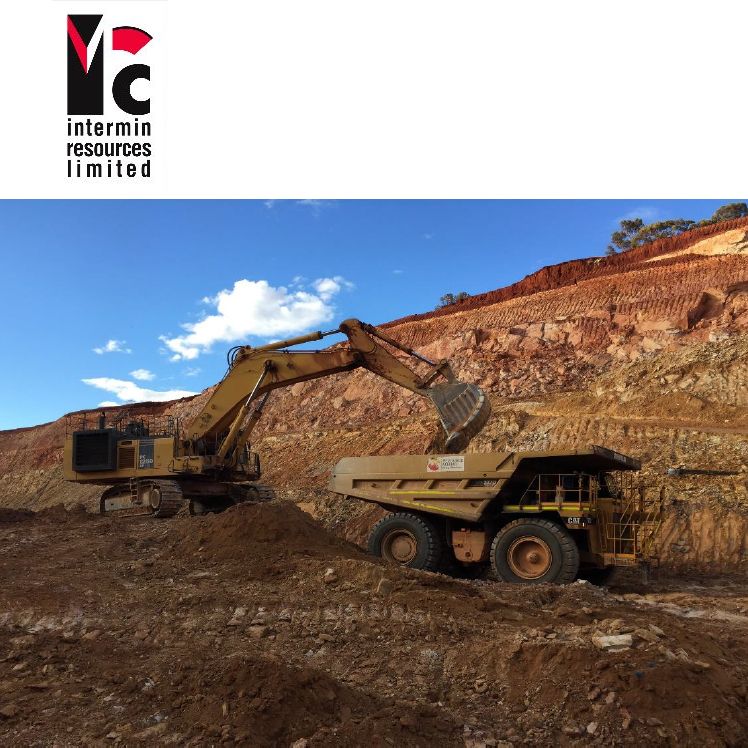 Drilling at Goongarrie Lady increases production potential
Perth, Oct 3, 2017 AEST (ABN Newswire) - Intermin Resources Limited (

ASX:IRC
) ("Intermin" or the "Company") is pleased to announce drilling results from the September Quarter 20171 reverse circulation ("RC") and diamond infill drill program at the 100% owned Goongarrie Lady gold project located 80km north of Kalgoorlie-Boulder in Western Australia (Figure 2 and 5 in link below).
HIGHLIGHTS
- Reverse circulation and diamond drill program completed at the 100% owned Goongarrie Lady gold project 80km north of Kalgoorlie-Boulder in Western Australia
- Significant shallow oxide intercepts include:
- 6m @ 14.35g/t Au from 30m (GLRC17064)
- 12m @ 6.97g/t Au from 31m (GLRC17042)
- 12m @ 5.99g/t Au from 49m (GLRC17046)
- 7m @ 8.06g/t Au from 57m (GLRC17036)
- 12m @ 4.04g/t Au from 31m (GLRC17014)
- 15m @ 2.80g/t Au from 17m (GLRC17025)
- 4m @ 10.37g/t Au from 20m (GLRC17050)
- 8m @ 5.50g/t Au from 34m (GLRC17032)
- 18m @ 2.33g/t Au from 21m (GLC17095)
- 4m @ 12.27g/t Au from 40m (GLC17116)
- Drilling significantly improves geological confidence and demonstrates potential for increased ore production beyond the 14,700 ounces estimated in the Scoping Study
- Current JORC (2012) Mineral Resource stands at 270,000t grading 2.9g/t for 25,000oz
- Geotechnical and hydrogeological drilling also completed as part of the Feasibility Study work program due for completion early in the March Quarter 2018
- Statutory approval activity for mine development in H1 2018 well advanced
Commenting on the project Intermin's Managing Director, Mr Jon Price said:
"The excellent results at Goongarrie Lady have provided increased confidence in the geology and demonstrate potential for an increased production profile. We look forward to releasing the maiden Reserve and the Feasibility Study results early in the March Quarter."
Overview
The program was part of the open pit Feasibility Study and comprised 121 RC and six HQ diamond drill holes for a total 5,912m and 368m respectively. The data will be used to compile a Resource update and increase the proportion of mineralisation in the Measured Resource category. The RC holes have an average depth of 50m and are spaced 10-20m apart in order to accurately assess the short range variability of oxide and transitional mineralisation.
The close spaced data has provided improved confidence in the interpretation of geology and mineralisation boundaries ahead of ore body modelling planned for completion in October (Figure 1, 2 and 4). The current Resource for Goongarrie Lady is included in Table 1.
Two diamond drill holes were completed to collect high quality samples for metallurgical testing to verify Intermin's earlier carbon in leach gold recovery results of 94%2. In addition, four diamond holes were completed for the development of geotechnical and hydrogeological parameters for input into the open pit mine design (results not included in Table 2 as logging and sampling is currently in progress).
To view tables and figures, please visit:
http://abnnewswire.net/lnk/B6K08PY9
About Intermin Resources Limited

Intermin Resources Limited (ASX:IRC) is a gold exploration and mining company focussed on the Kalgoorlie and Menzies areas of Western Australia which are host to some of Australia's richest gold deposits. The Company is developing a mining pipeline of projects to generate cash and self-fund aggressive exploration, mine developments and further acquisitions. The Teal gold mine has been recently completed.
Intermin is aiming to significantly grow its JORC-Compliant Mineral Resources, complete definitive feasibility studies on core high grade open cut and underground projects and build a sustainable development pipeline.
Intermin has a number of joint ventures in place across multiple commodities and regions of Australia providing exposure to Vanadium, Copper, PGE's, Gold and Nickel/Cobalt. Our quality joint venture partners are earning in to our project areas by spending over $20 million over 5 years enabling focus on the gold business while maintaining upside leverage.

Jon Price
Managing Director
Tel: +61-8-9386-9534
E: jon.price@intermin.com.au

Lorry Hughes
Director - Business Development
Tel: +61-8-9386-9534
E: lorry.hughes@intermin.com.au

Michael Vaughan
Media Relations - Fivemark Partners
Tel: +61-422-602-720
E: michael.vaughan@fivemark.com.au
Related CompaniesIntermin Resources Limited