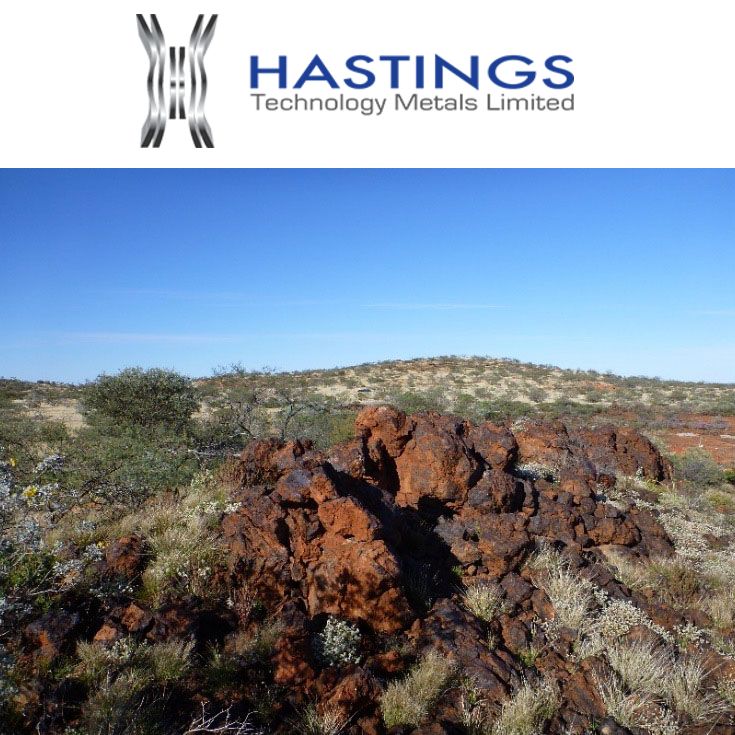 Yangibana Project Resources Now Exceed 20.5 Million Tonnes
Sydney, Oct 11, 2017 AEST (ABN Newswire) - Hastings Technology Metals Limited (

ASX:HAS
) advises that the Yangibana JORC Resources now exceed 20.5 million tonnes. The updated resources include recent results from the Company's 2017 drilling programme, including reverse circulation (RC) drilling at two new targets, Yangibana and Simon's Find (100% owned, Figure 1 in link below). These deposits were not included in the Company's July 2017 JORC Resource estimate.
HIGHLIGHTS
- Updated JORC Resources defined for the Yangibana Project now exceed 20.5 million tonnes.
- This provides a further significant increase in tonnes of contained TREO (+12.5%) and of contained Nd2O3+Pr6O11 (+19.4%).
- New Resources at Yangibana Deposit of 2.17 million tonnes at 0.84%TREO including 0.40%Nd2O3+Pr6O11
- New Resources at Simon's Find Deposit of 1.31 million tonnes at 0.66%TREO including 0.35%Nd2O3+Pr6O11
- First JORC Measured Resource at Yangibana North Deposit
INTRODUCTION
Both Yangibana and Simon's Find host mineralisation with very high ratios of Nd2O3+Pr6O11:TREO, ranging from 44 to 57%. They are potentially important sources of feed to the Company's planned production of mixed rare earths carbonate concentrate, as they are enriched in neodymium (Nd) and praseodymium (Pr), for sale into the high growth rare earths magnets industry.
The first JORC Measured Resource has been estimated for the Yangibana North deposit (70% owned) following infill drilling results.
September 2017 Total JORC Resources
JORC Resource estimation was completed by independent consultant Mr. Lynn Widenbar, principal of Widenbar and Associates Pty Limited, to take account of the recent drill results reported in the ASX Release dated 9th October titled "High Neodymium (Nd) And Praseodymium (Pr) Ore Grade Content Confirmed At New Targets". The new estimation provides the first resources for the recently discovered Yangibana and Simon's Find deposits, and include the first Measured Resources at Yangibana North. The updated total JORC Resources for the Yangibana Project are shown in Table 1 (see link below).
These resources represent a further significant increase in contained tonnes of TREO from 216,000 tonnes in the July estimate to 243,000 tonnes now (+12.5%), and in contained tonnes of Nd2O3+Pr6O11 from 68,900 tonnes to 84,240 tonnes (+19.4%). The location of all deposits with JORC Resources are shown in green in Figure 1 (see link below).
Yangibana Prospect
The new resource report includes the first estimation for the Yangibana deposit as shown in Table 2 (see link below). The Yangibana deposit as drilled lies within Mining Lease M09/165 (100% owned).
Simon's Find Prospect
The first resource estimation for the Simon's Find deposit is shown in Table 3 (see link below). The Simon's Find deposit covers a discontinuously outcropping ironstone unit within Exploration Licences E09/2018, E09/2129 and E09/1943 (100% owned).
Yangibana North
Recent infill drilling has upgraded a significant portion of the Yangibana North deposit (70% owned) from Indicated to Measured Resource category as shown in Table 4 (see link below).
TERMINOLOGY USED IN THIS REPORT
TREO is the sum of the oxides of the light rare earth elements lanthanum (La), cerium (Ce), praseodymium (Pr), neodymium (Nd), and samarium (Sm) and the heavy rare earth elements europium (Eu), gadolinium (Gd), terbium (Tb), dysprosium (Dy), holmium (Ho), erbium (Er), thulium (Tm), ytterbium (Yb), lutetium (Lu), and yttrium (Y).
To view tables and figures, please visit:
http://abnnewswire.net/lnk/ZR27C2M8
About Hastings Technology Metals Ltd

Hastings Technology Metals Ltd (ASX:HAS) (FRA:5AM) is a leading Australian rare earths company, with two rare earths projects hosting JORC-compliant resources in Western Australia.
- The Yangibana Project hosts Probable Reserves totaling 5.15 million tonnes at 1.12% TREO including 0.45% Nd2O3+Pr6O11 within JORC Resources totalling 21.0 million tonnes at 1.17% TREO (comprising Measured Resources of 3.9 million tonnes at 1.19% TREO, Indicated Resources of 8.6 million tonnes at 1.25% TREO and Inferred Resources of 8.4 million tonnes at 1.09% TREO), including 0.40% Nd2O3+Pr6O11.
- The Brockman deposit contains JORC Indicated and Inferred Resources totalling 41.4 million tonnes (comprising 32.3mt Indicated Resources and 9.1mt Inferred Resources) at 0.21% TREO, including 0.18% HREO, plus 0.36% Nb2O5 and 0.90% ZrO2.
- Rare earths are critical to a wide variety of current and new technologies, including smart phones, electric vehicles, wind turbines and energy efficient light bulbs.
- The Company aims to capitalise on the strong demand for rare earths permanent magnets created by expanding new technologies.

Aris Stamoulis
Director Corporate Finance
M: +61-457-853-839

Andy Border
General Manager Exploration
T: +61-2-8268-8689
Related CompaniesHastings Technology Metals Ltd