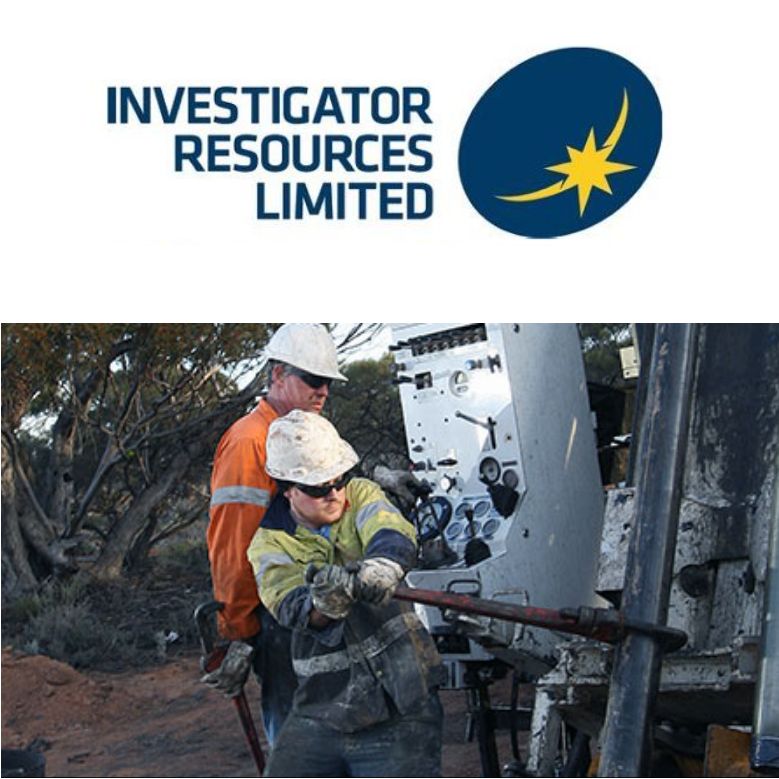 Annual Report to Shareholders
Adelaide, Oct 27, 2017 AEST (ABN Newswire) - Investigator Resources Ltd (

ASX:IVR
) provides the Company's Annual Report to shareholders.
Key 2017 Results
After raising A$5.4million in July 2016, Investigator Resources Limited had a successful 2016/17 financial year advancing the development of the Paris silver project and the adjacent Nankivel copper-gold prospect in the southern Gawler Craton. The Company completed an active program comprising 13,180 m of drilling and 21 line kilometres of ground geophysical surveying. An ongoing research-based exploration approach continued to support and improve the geological understanding of the Paris silver project and to expand the discovery space nearby and regionally. The year also saw a changeover of Chairman with the retirement of Roger Marshall OBE and the appointment of David Ransom.
Paris Silver Project
Infill resource drilling (6,510m):
- Upgraded the Mineral Resource estimation to 42million ounces of contained silver at a higher average grade of 139g/t silver with an open-pit scenario.
- Increased confidence in the geology and high-grade components of the mineralisation.
- Indicated higher grades and ounces were likely with further infill drilling.
Pre-feasibility Study:
- Advanced metallurgical study delayed until late 2017 by the better characterisation of geometallurgical domains with multi-element drill geochemistry.
- Six test holes completed for hydrological study of nominated water sources and pit profile.
Nankivel Copper-Gold Prospect
Drilling (5,058m) and Induced Polarisation (IP) surveying confirmed:
- A porphyry system of likely Olympic Dam age.
- Classic porphyry zoning of alteration mineralogy vectors towards an interpreted undrilled copper-gold prospective centre.
- A coincident Trojan Induced Polarisation ('IP') chargeability anomaly offers a large 2km by 500m and shallow porphyry copper-gold target.
Multiple other porphyry-style targets are interpreted within the Nankivel intrusive complex.
Satellite Silver Targets
The remainder of the year's drilling was applied to initial testing of new silver targets near Paris:
- Ares target confirmed to have a breccia host and prospective mineralisation similar to Paris.
- Two silver targets confirmed in Thurlga joint venture with Investigator earning 75% equity.
- Extensive graphite potential was also identified at Thurlga.
Research
On-going Company and collaborative research developed new ideas and techniques that benefited our targeting work around Paris and Nankivel and for new prospective mineral systems within the region.
- R&D tax concessions and State Government drill funding assistance totalled A$1,040,000.
To view the full report, please visit:
http://abnnewswire.net/lnk/OQIN5NIK
About Investigator Resources Ltd

Investigator Resources Limited (ASX:IVR) is a metals explorer with a focus on the opportunities for greenfields silver-lead, copper-gold and other metal discoveries in South Australia.
The Company's priority is progressing the development pathway for the Paris silver project with the preparation of a pre-feasibility study. The Paris Mineral Resource Estimate is 9.3Mt @ 139g/t silver and 0.6% lead, comprising 42Moz of contained silver and 55kt of contained lead, at a 50g/t silver cut-off. The resource has been categorised with an Indicated Resource estimate of 4.3Mt @ 163g/t silver and 0.6% lead for 23Moz contained silver and 26kt contained lead, and an Inferred Resource: 5.0Mt @ 119g/t silver and 0.6% lead for 19Moz contained silver and 29kt contained lead.
The Company has applied an innovative strategy that has developed multiple ideas and targets giving Investigator first-mover status. These include: the Paris silver discovery; recognition of other epithermal fields and the associated potential for porphyry copper-gold of Olympic Dam age; extending the ideas developed at Paris-Nankivel and using breakthrough government Magneto-Telluric surveying to rejuvenate targeting with the Maslins IOCG target as the next priority drill target.

Mr John Anderson
Managing Director
Investigator Resources Limited
E: info@investres.com.au
T: +61-8-7325-2222

Mr Peter Taylor
Investor Relations
NWR Communications
E: peter@nwrcommunications.com.au
T: +61-41-203-6231
Related CompaniesInvestigator Resources Ltd