Bygoo Tin Project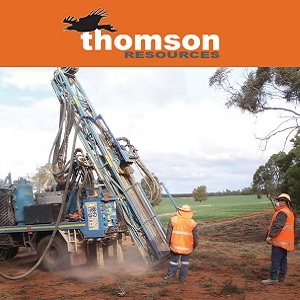 Quarterly Activities Report
Sydney, Oct 31, 2017 AEST (ABN Newswire) - Thomson Resources Ltd (

ASX:TMZ
) provides the Company's Quarterly Activities Report.
- Exceptional tin intercepts continue in drilling at Bygoo North (up to 19m at 1.0% Sn)
- New shallow tin greisen zone at Bygoo North with 8m at 1.2% Sn
- Follow up drilling planned to commence shortly
- Further funding received
Further drilling at Bygoo during the quarter (8 holes for 1,098m) continued to intersect high grade tin of similar tenor to those previously recorded at both North and South prospects (see ASX release of 31 August, 2017). The standout intersections were -
Bygoo North
- 19m at 1.0% Sn from 49m depth (BNRC40)
- 8m at 1.2% Sn from 16m depth (BNRC38)
- 6m at 0.8% Sn from 80m and 7m at 0.7% Sn from 95m (BNRC39)
Bygoo South
- 7m at 1.3% Sn from 22m depth (BNRC35)
The program both confirmed existing interpretations (BNRC35, 39 and 40) and discovered a potential new shallow position (BNRC38). Drilling is planned in the next quarter to extend the known greisens and follow up the new potential.
A further significant payment of A$420,000 under the Bygoo Farm In agreement signed with Canadian investors (see ASX announcements of 7 June 2017, 17 March 2017 and 21 November 2016) was received after the quarter end. This brings the total received to date to A$790,000, with the remainder of the $3 million initial investment to be received by June 30, 2018 (see ASX release of 16 October, 2017).
Tenement Holdings and Joint Ventures
There were no changes to tenement holdings during the quarter.
Corporate
Exploration expenditure incurred during the quarter totalled $84,000. Cash at the end of the quarter was $89,000. A further cash contribution of $420,000 as part of the Bygoo Tin Farm-In agreement was received after quarter end.
Thomson has 103,024,841 shares on issue currently.
To view the full report, please visit:
http://abnnewswire.net/lnk/E08XKW3T
About Thomson Resources Ltd

Thomson Resources Ltd (ASX:TMZ) is an NSW active mineral explorer. Thomson has several tin projects (including an advanced project near Ardlethan), as well as gold, copper and zinc targets in a range of settings. Thomson has a good record of discovery, with multiple new Intrusion-Related Gold (gold with copper, lead, zinc, molybdenum, tungsten) systems discovered in the Thomson Fold Belt in the NW of the state.

Thomson Resources Ltd
T: +61-2-9906-6225
E: info@thomsonresources.com.au
WWW: www.thomsonresources.com.au

Related CompaniesThomson Resources Ltd