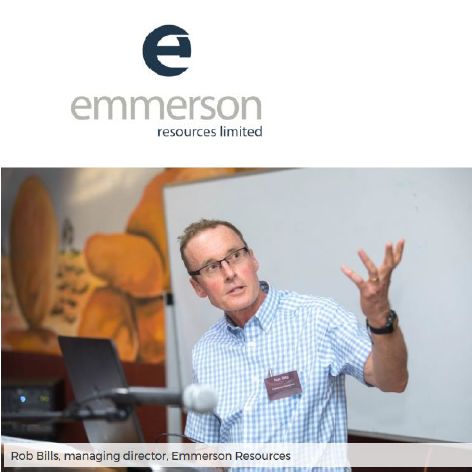 Precious Metals Investment Symposium Presentation
Perth, Nov 8, 2017 AEST (ABN Newswire) - Emmerson Resources Limited (

ASX:ERM
) (

OTCMKTS:EMMRF
) provides the Company's latest Precious Metals Investment Symposium Presentation.
Integrated 3 fold strategy -to deliver short and longer term value
- Application of new technology/ideas to make new discoveries in Tennant Creek (Goanna copper-gold, Mauretania gold, Edna Beryl gold)
- Small Mines -monetise existing resources and provide opportunities for "near mine" discoveries (Edna Beryl under development and will be one of Australia's highest grade gold mines plus pipeline of others)
- Leverage new technology/ideas outside of the Tennant Creek Project
o Five new gold-copper projects in New South Wales
Emmerson -a unique gold and copper explorer
- Kadungleproject (NSW) -new IP indicates great potential for shallow gold and deeper copper-gold (2,500m of drilling about to commence)
- Other NSW projects undergoing systematic exploration
- Tennant Creek Exploration fully funded by Evolution Mining
- First small, ultra high grade gold mine under construction (Edna Beryl)
- Other small mines undergoing permitting and planning
- Next drill program at Tennant Creek (NT) of ~2,500m at the recently discovered Gecko-Goanna copper-gold project about to commence
- ERM remains well funded ~$5.4m in cash plus potential for risk free cash from small mines
- Successful capital raising at a premium of ~$2m provides funds to fast track NSW projects
To view the full presentation, please visit:
http://abnnewswire.net/lnk/360L581Z
About Emmerson Resources Limited

Emmerson Resources Limited (ASX:ERM) (FRA:42E) recently commenced exploration on new gold-copper projects in NSW, identified (with our strategic alliance partner Kenex Limited) from the application of 2D and 3D predictive targeting models – aimed at increasing the probability of discovery. The highly prospective Macquarie Arc in NSW hosts >80Mozs gold and >13Mt copper with these resources heavily weighted to areas of outcrop or limited cover. Emmerson's five exploration projects contain many attributes of the known deposits within the Macquarie Arc but remain under explored due to historical impediments, including an overlying cover (plus farmlands) and a lack of exploration focus. Kadungle is a JV with Aurelia Metals covering 43km2 adjacent to Emmerson's Fifield project.
In addition, Emmerson is exploring the Tennant Creek Mineral Field (TCMF), one of Australia's highest-grade gold and copper fields producing over 5.5 Mozs of gold and 470,000 tonnes of copper from deposits including Warrego, White Devil, Orlando, Gecko, Chariot and Golden Forty. These high-grade deposits are highly valuable exploration targets, and to date discoveries include high-grade gold at Edna Beryl and Mauretania, plus copper-gold at Goanna and Monitor. These are the first discoveries in the TCMF for over a decade.
Investor Enquiries:
Mr. Rob Bills
Managing Director & Chief Executive Officer
T: +61-8-9381-7838
E: admin@emmersonresources.com.au
www.emmersonresources.com.au
Related CompaniesEmmerson Resources Limited