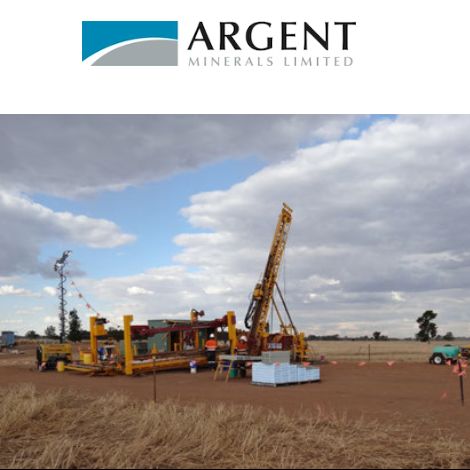 Kempfield Exploration Target
Sydney, Nov 8, 2017 AEST (ABN Newswire) - Argent Minerals Limited (

ASX:ARD
) (Argent, or the Company) is pleased to report the completion of an intensive sitewide geological review, resulting in a significant revision of the Kempfield 3D geology and exploration model.
Highlights:
- Argent's 2016 and 2017 Kempfield drilling campaigns have materially added a JORC compliant Exploration Target to the existing Kempfield resource.
- The enhanced Kempfield 3D geology and exploration model shows the increased extent of mineralisation compared to the current resource dimensions) as follows:
o Strike length - increased 2.5 times to 3.0 km;
o Width - increased 1.8 times to 650 m;
o Depth - increased 2.0 times to 400 m.
- The reported Exploration Target is a small envelope within these dimensions with further upside potential.
- The reported Exploration Target tonnage and grade range estimates were completed by resource specialists, H&S Consultants Pty Ltd.
- The 2018 drilling programme is designed to enable an enhanced resource estimate to be completed.
KEMPFIELD 3D GEOLOGICAL MODEL - UNPRECEDENTED DEPOSIT SCALE AND DETAIL
MINERAL RESOURCE AND EXPLORATION TARGET ESTIMATES
Mineral Resource estimate
As detailed in Appendix D (see link below), the existing Kempfield JORC 2012 resource (prior to the planned update) is summarised in the following table (see link below).
Exploration Target estimate
An Exploration Target for the potential mineralisation, additional to the above existing resource, has been estimated by H&S Consultants Pty Ltd (H&SC), as summarised in the following table (see link below).
FURTHER ADDITIONAL STRIKE LENGTH POTENTIAL IDENTIFIED
The Company has identified further additional potential for mineralisation through two broad scale regional mapping campaigns and petrological analyses of drill core it has conducted at Kempfield. The following potential extensions are additional to that considered by the Exploration Target estimate reported in this announcement:
- Kempfield host geology continues 4 km along strike to the north - uninterrupted from the Henry Zone, containing several gossans that have yielded positive results for proximal silver-lead-zinc mineralisation;
- Additional 800 m strike length to the south. Mineralisation is considered open along strike to the south, following the announcement dated 15 March 2017; and
- Copper-gold footwall domain identified to the west (see Appendix A, Figure 2 in link below). The potential for mineralisation identified by the sitewide geological review - likelihood that hydrothermal fluids responsible for formation of the Kempfield deposit have passed through this older volcanic package and potentially mineralised the immediate geology.
Please refer to Appendix C (see link below) for a map and the accompanying explanation.
About the 3D Kempfield geology and exploration model
Argent developed the revised model based on the review, analysis and interpretation of 60,324 data records. In addition to assay suites of up to 33 elements obtained through 49,229 metres of drilling and various soil geochemistry surveys, the Company augmented the comprehensive database with vital lithostratigraphic information obtained from analysis of drill core, and field mapping examinations.
The result is the new Kempfield 3D geological model - providing an unprecedented level of detail for geometry of the stratigraphy and mineralisation controls for the project. The Company is using these results to design and execute the resource infill drilling programme for a high degree of effectiveness in achieving results.
The Company's revised 3D model shows the potential extent of mineralisation, with the predicted dimensions significantly exceeding all historic expectations (see link below).
The identified total extent of potential mineralisation (together with comparisons to the dimensions of the total dimensions of the known deposit1) is summarised as follows:
- Total strike length - 3,000 metres (2.5 times);
- Total width - 650 metres (1.8 times);
- Total depth - 400 metres (2 times).
1. Open cut pit outlines are included in Figure 1 (see link below) to enable a simplified visual comparison of the increased scale to that of the existing deposit. The pit outlines were submitted to the NSW Government as part of the Company's 2013 Environmental Impact Statement (2013 open cut pit outlines) in relation to a proposed shallow silver and gold mining operation. For details of the existing 21.8 Mt JORC 2012 mineral resource please refer to Appendix D (see link below).
About the resource infill drilling programme
Argent is employing the planned infill drilling programme to assess the actual mineralisation continuity and additional extensions predicted by the mineralisation and genetic model, in order to quantify the validity of the Exploration Target.
The Company has determined that lower cost reverse circulation (RC) will suffice for infill drilling purposes, having established the stratigraphy through the extensional diamond drilling programmes.
Due to the significantly increased scale potential of the deposit, the resource infill drilling programme will be conducted in a series of stages:
- Stage 1 - Mineralisation and genetic model verification - comprising approximately 5,000 metres of RC drilling, targeting completion by the end of Q1 2018.
- Stage 2 - Resource category drilling. Further RC resource infill drilling will be conducted to a level sufficient to estimate an additional mineral resource, if any, initially to Inferred category (contingent on satisfactory results from Stage 1). Stage 2 timing is envisaged to be completed by end Q2 2018. Further infill drilling may be conducted by the Company in order to estimate Indicated and Measured categories ahead of potential Ore Reserve assessments, subject to the results of this stage, including a reassessment of the project economics.
The extent of drilling and indicated timings are subject to finalisation of infill drilling programme design, regulatory approvals, access, weather, as well as all and any other operational factors that could affect the ability of the Company to perform drilling.
To view tables and figures, please visit:
http://abnnewswire.net/lnk/H6B1T70N
About Argent Minerals Limited

Argent Minerals Limited (

ASX:ARD) is an Australian publicly listed company with a 100% interest in a silver/gold project at Kempfield NSW. Work is underway on the preparation of an EIS and a feasibility study for the first stage of the project which will involve heap leaching some 8.8 million tonnes of mainly oxide and transitional material to produce over 9.5 million ounces of silver and 15,000 ounces of gold over a 5 year mine life. Argent is also earning up to a 70% interest in two other NSW projects - gold at West Wyalong and base metals at Sunny Corner.

David Busch
Chief Executive Officer
Argent Minerals Limited
M: +61-415-613-800
E: david.busch@argentminerals.com.au
Related CompaniesArgent Minerals Limited