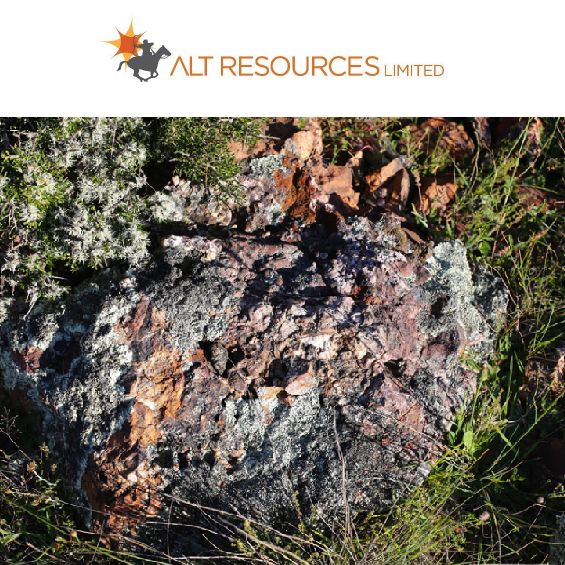 Acquisition of Bottle Creek Gold Mine
Canberra, Nov 8, 2017 AEST (ABN Newswire) - Alt Resources (

ASX:ARS
) (Alt Resources or the Company) is pleased to announce it has entered into a legally binding Option to Purchase Agreement (Option) to acquire the Bottle Creek Gold Mine located 100 km north east of Menzies in the Mt Ida gold belt (see Figure 1 in link below). The Option provides exclusive rights to the Company to acquire 100% of the Bottle Creek Gold Mine (the Project) for a period of 12 months.
HIGHLIGHTS:
- The Company has executed a legally binding Option to Purchase Agreement to acquire a 100% interest in the Bottle Creek Gold Mine
- Two granted mining leases (M29/150 and M29/151) located in the Mt Ida gold belt, Western Australia
- Bottle Creek mined in 1988-1989 by Norgold Limited producing 90,000 oz Au from two small open pits
- Bottle Creek has no environmental liability; rehabilitation of the mine completed by Rio Tinto
- Bottle Creek has been a dormant project since mining ceased in 1989
- 8,000 m of RC drilling scheduled to commence in March 2018
Under the Terms of the Option to Purchase Agreement, the Company will:
- Pay the Vendor a cash payment of $125,000 within 30 days of execution of the Option
- Pay a $25,000 rehabilitation security bond
- Meet all tenement payment obligations for the duration of the Option period
- Undertake a minimum of 8,000 m of reverse circulation (RC) drilling at the project to commence no later than 15 March 2018
- Undertake JORC compliant resource modeling
In exercising the Option to Purchase Agreement, the Company will:
- Pay the Vendor a cash payment $4.875M
- Pay the Vendor a gold royalty of 2.5% of gold produced from the Bottle Creek tenements
- Pay the Vendor $3.00 per ton process fee for all toll treatment ore processed on site
- Undertake all rehabilitation pursuant to exploration operations during the Option period
BOTTLE CREEK GOLD MINE
Bottle Creek Gold Mine is located on the northern extremity of the Mt Ida-Ularring greenstone belt extending from Davyhurst to Mt Alexander (see Figure 1 in link below). The Ularring greenstone belt forms the western part of the Norseman-Wiluna Province of the Yilgarn Craton. The location of major ore zones within the mining leases, and local geology, is shown Figure 2 (see link below). Locally, gold and silver mineralisation is hosted in carbonaceous, sulphidic shales, within a larger package of interbedded basaltic volcanics, sediments and ultramafic rocks. The area is tightly folded and metamorphosed, with intrusion of younger dolerite dykes. Mineralisation at Bottle Creek occurs over a strike length of 7km, running north-west south-east and is interpreted to be nearly vertical, to steeply west-dipping.
Bottle Creek also hosts several zones of Au-bearing ferruginous laterite. The laterite has a variable thickness, up to 8m thick in some locations, and has been identified over several zones at Bottle Creek. Gold grades in the Bottle Creek laterite range from 0.02 up to 11.14 g/t Au.
Bottle Creek was discovered by Electrolytic Zinc Company of Australasia (EZ) in 1983, subsequently entered into a in Joint Venture with Norgold Limited who managed the project to mine stage. Ore was treated onsite in a CIP Circuit, producing 90,000 oz Au over an 18 month period from 1988-1989 from two open pits (see Image 1 in link below).
Significant drilling was undertaken by EZ and later by Norgold along a 9.8 km strike length from 1984 to 1989. RC drill fences at 100m spacing were carried out, with infill drill line spacing at 50m and 25m at various locations. Drilling was nominally to a depth of 80m vertical below surface. Subsequent to mining activities, Rio Tinto acquired Norgold, and carried out all required rehabilitation of the site. Therefore all mine rehabilitation conditions relating to the project were deleted from the schedule of conditions attached to the mining leases (see Note below).
Alt Resources considers Bottle Creek to be a standalone project with potential to develop a mineable resource. The project comprises two granted mining leases, existing tailings dams. Governmental approvals are also in place (application by the Vendor) for a new tailings dam and a test heap leach pad to process the existing low-grade ore stockpile onsite from the previous mining undertaken by Norgold.
Planned Activities
Alt Resources has engaged BM Geological Services (BMGS) to conduct a review of the Bottle Creek drilling data and develop a JORC compliant resource as part of its due diligence process. Details of this review will be released to the market in the coming weeks.
The Company has provided BMGS with an access database consisting of open file data obtained from the Department of Mines, Industry Regulation and Safety's (Department) online WAMEX exploration report portal. Exploration results were obtained from reports A16161 dated 1984-85, A18217 dated 1985-86, A20156 dated 1986-87, A21207 dated 1986-87, A24964 dated 1987-88 and A28505 dated 1988-89 including exploration drilling results from:
- 5,071m in 78 Diamond drillholes;
- 43,492m in 839 Reverse Circulation drillholes; and
- 32,093m in 776 Rotary Air Blast drillholes.
Evaluation of the historical data is currently being undertaken by BMGS with support from the Company, and it is estimated that the Company will be in a position to provide details of the evaluation and report to the market by the end of November 2017.
In meeting the terms of the Agreement, the Company must undertake a minimum of 8,000 m of reverse circulation (RC) drilling at the project within 12 months which must commence no later than 15 March 2018. Alt Resources will focus initial drilling programs on the Emu and Southwark ore bodies located along strike from the mined VB pit (see Figure 3 in link below). Historical drilling results from EZ and Norgold Ltd open file reports are very encouraging and the Company expects to present the first results from confirmation and infill drilling in late April 2018.
The Company has recently acquired a high resolution airborne magnetic survey data set from Southern Geoscience and is currently undertaking a review of the mag data at the Bottle Creek project and surrounding area to enhance drill targeting for future work and will provide details to the market in the coming weeks.
Alt Resources CEO James Anderson commented on the Bottle Creek acquisition;
"We have been looking for a quality WA gold project for some time now and Bottle Creek is a classic example of a dormant asset that has been sitting for a long time. It was a reasonably high grade open pit mine in the late 1980's with a significant amount of drilling having been done. With the volume of historical drilling that has been conducted at the project, the existing knowledge base is considerable and presents a well-defined and valuable asset. Our strategy is to develop a JORC compliant resource at Bottle Creek by validating the historical drilling and conducting infill and extension drilling. We aim to confirm the resource base and undertake a scoping study for mine production once complete. The historical mining activities have given us excellent reported information on the mining, metallurgy and the plant design which will guide us in our next steps at Bottle Creek."
Note:
Details relating to the rehabilitation and relinquishment of the Bottle Creek Mine Site can be viewed at:
http://www.abnnewswire.net/lnk/4R8Y155P
To view figures, please visit:
http://abnnewswire.net/lnk/QCE95126
About Alt Resources Ltd

Alt Resources Limited (ASX:ARS) is an Australian based mineral exploration company that aims to become a gold producer by exploiting historical and new gold prospects across quality assets and to build value for shareholders. The Company's portfolio of assets includes the newly acquired Bottle Creek gold mine located in the Mt Ida gold belt, the Paupong IRG Au-Cu-Ag mineral system in the Lachlan Orogen NSW, Myalla polymetallic Au-Cu-Zn project east of Dalgety in NSW and the Mt Roberts gold project located near the town of Leinster in WA.
Alt Resources, having acquired historical and under-explored tenements in the Mt Ida Gold Belt, aims to consolidate the historical resources, mines and new gold targets identified within the region. Potential at Mt Ida exists for a centralised production facility to service multiple mines and to grow the Mt Ida Gold Belt project to be a sustainable and profitable mining operation.
Alt Resources Ltd
T: 1300-66-00-01
M: +61-406-069-243
E: info@altresources.com.au
www.altresources.com.au
Related CompaniesAlt Resources Ltd