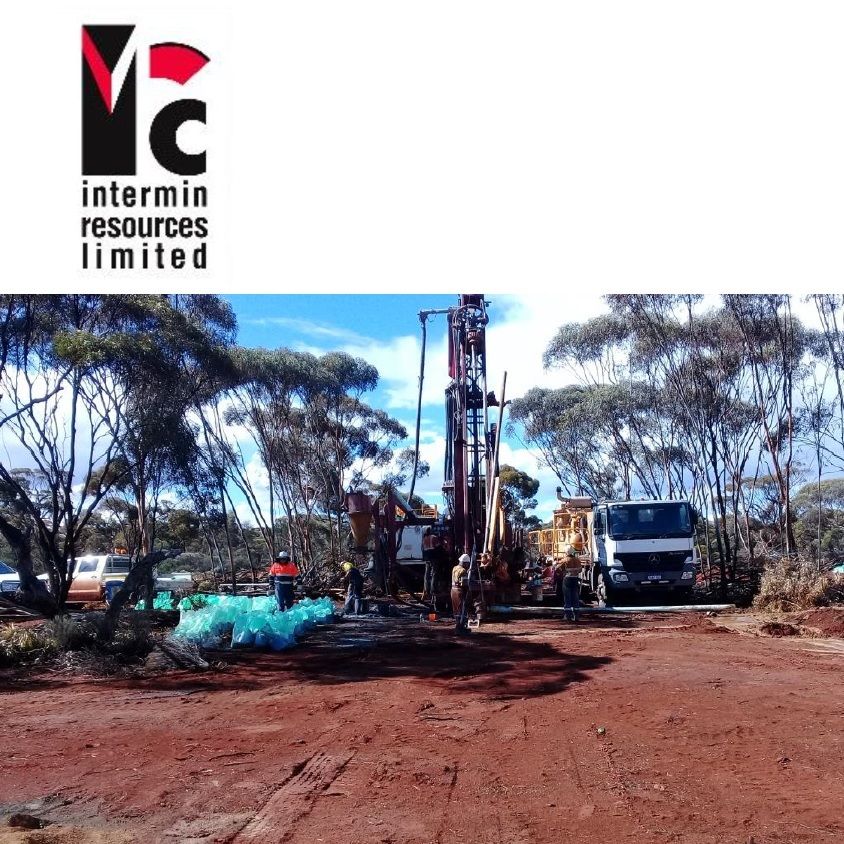 High Grade Drilling Results Extend Mineralisation at the New Jacques Find Discovery
Perth, Nov 15, 2017 AEST (ABN Newswire) - Intermin Resources Limited (

ASX:IRC
) ("Intermin" or the "Company") is pleased to announce reverse circulation ("RC") drilling results from the 100% owned Teal gold project located 11km northwest of Kalgoorlie-Boulder in Western Australia. The drilling aimed to test for extensions to known mineralisation at the Jacques Find prospect and to test an Induced Polarisation ("IP") anomaly which trends for over 600m along strike at the Yolande prospect (see Figure 2 & 3 in link below).
HIGHLIGHTS
- Resource extension and discovery drilling completed at the 100% owned Jacques Find, Peyes Farm and Yolande prospects, part of the Teal gold camp 11km from Kalgoorlie
- Significant high grade downhole RC intercepts include (see Note below):
o 26m @ 7.81 g/t Au from 48m and 16m @ 5.33 g/t Au from 86m (JFRC1704)
o 7m @ 7.13 g/t Au from 100m (JFRC1702)
o 12m @ 4.25 g/t Au from 66m (JFRC1708)
o 5m @ 2.13 g/t Au from 133m and 5m @ 3.49 g/t Au from 151m (JFRC1709)
o 12m @ 1.94 g/t Au from 84m (PFRC1701)
- Drilling highly successful in extending mineralisation beyond the current resource envelope to the north, south and at depth
- Strike length now increased to over 800m and remains open in all directions demonstrating the potential scale of the large mineralised system
- Follow up extension drilling has commenced with results expected in the current December Quarter
- Updated Mineral Resource expected in the March Quarter 2018
Commenting on the drilling results, Intermin's Managing Director Mr Jon Price said:
"These excellent widths and grades clearly demonstrate the potential scale and quality of this large new mineralised system in the heart of the WA Goldfields.
The new results at Yolande are also encouraging as the mineralisation appears to be related to the IP anomalies north of the Jacques Find discovery where very little drilling has been conducted to date. This area has now been prioritised with follow up drilling now commenced."
Overview
Nine angled RC holes for 1,308m were completed to downhole depths of 54-184m and tested Resource extension and exploration targets along the Jacques Find trend which strikes sub-parallel to the Teal and Peyes Farm prospects. Drill hole JFRC1704 was drilled beneath the southern Jacques Find Resource boundary and returned an outstanding intercept of 26m @ 7.81 g/t Au from 48m and 16m @ 5.33 g/t Au from 86m.
North of the Jacques Find Resource, 600m of strike was tested which broadly correlated with an arcuate shaped IP anomaly returning excellent results including; 7m @ 7.13 g/t Au from 100m (JFRC1702), 12m @ 4.25 g/t Au from 66m (JFRC1708, 5m @ 2.13 g/t Au from 133m and 5m @ 3.49 g/t Au from 151m (JFRC1709). The results are extremely encouraging.
JFRC1709 was drilled at the Yolande prospect appears to be a different style of mineralisation to Jacques Find as no black shale was logged in the drilling chips and small bands of massive sulphides similar to that seen at the nearby Teal deposit were noted. Further work to better understand the geological setting of strong mineralisation and the spatial relationship of mineralisation to the shale units to define additional exploration targets is ongoing.
Next Steps
Due to the quantity of high grade mineralisation discovered in JFRC1704, a new priority follow up RC drill program commenced on 7 November 2017. The drilling will comprise five holes for approximately 550m. Three holes will be completed near JFRC1704 and will help provide further detail on the geometry of this shoot.
Hole JFRC1701 is interpreted to have been drilled too shallow and will be re-entered to test the depth extension of the gold discovered in JFRC1708. One further hole is planned to test the strike length of the important black shale unit a further 80m north of JFRC1708. Results of this program are expected in the current December Quarter.
All gold assay results from the Jacques and Yolande program have been received with drill hole collar details and significant downhole intervals >1.00g/t Au included in Table 1 (see link below).
Note: See Table 1 on Page 3, Competent Persons Statements on Page 5, Forward Looking Statement on Page 6 and JORC Tables on Page 7 (see link below)
To view tables and figures, please visit:
http://abnnewswire.net/lnk/Y765TP43
About Intermin Resources Limited

Intermin Resources Limited (ASX:IRC) is a gold exploration and mining company focussed on the Kalgoorlie and Menzies areas of Western Australia which are host to some of Australia's richest gold deposits. The Company is developing a mining pipeline of projects to generate cash and self-fund aggressive exploration, mine developments and further acquisitions. The Teal gold mine has been recently completed.
Intermin is aiming to significantly grow its JORC-Compliant Mineral Resources, complete definitive feasibility studies on core high grade open cut and underground projects and build a sustainable development pipeline.
Intermin has a number of joint ventures in place across multiple commodities and regions of Australia providing exposure to Vanadium, Copper, PGE's, Gold and Nickel/Cobalt. Our quality joint venture partners are earning in to our project areas by spending over $20 million over 5 years enabling focus on the gold business while maintaining upside leverage.

Jon Price
Managing Director
Tel: +61-8-9386-9534
E: jon.price@intermin.com.au

Lorry Hughes
Director - Business Development
Tel: +61-8-9386-9534
E: lorry.hughes@intermin.com.au

Michael Vaughan
Media Relations - Fivemark Partners
Tel: +61-422-602-720
E: michael.vaughan@fivemark.com.au
Related CompaniesIntermin Resources Limited