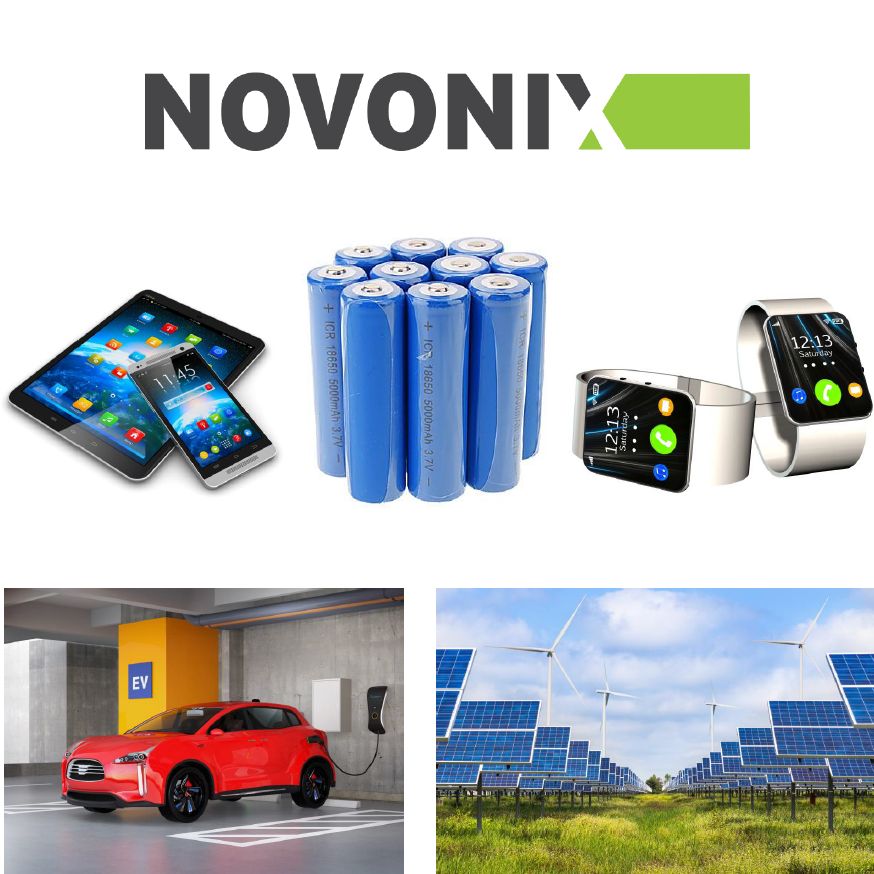 Chairman and Managing Director's Address to the AGM
Brisbane, Nov 21, 2017 AEST (ABN Newswire) - NOVONIX Ltd (

ASX:NVX
) provides the Company's Chairman and Managing Director's Address to the AGM.
CHAIRMAN'S ADDRESS
The last financial year was one in which the company seized on key strategic opportunities to advance a downstream processing capability in advanced anode materials for the rechargeable battery market.
That decision to extend into downstream parts of the value chain prompted our name change from Graphitecorp Limited to Novonix Limited. And we adopted the new name from one of our downstream acquisitions.
In June 2017, we acquired the Novonix Battery Testing Services business based in Halifax Canada and around the same time established the PUREGraphite Joint Venture with Coulometrics LLC based in Chattanooga Tennessee.
The first of these companies has developed and sells proprietary High Precision Coulometry (HPC) technology and the second uses that proprietary HPC technology in developing and testing advanced graphite-based anode materials. These two are a logical fit and greatly complement our upstream resource of natural graphite located at Mt Dromedary in the Mt Isa-Cloncurry minerals province in Queensland.
In both of these operations, Novonix Battery Testing Services and PUREGraphite, the key personnel are PhDs who studied under Prof. Jeff Dahn of Dalhousie University in Canada, arguably an institution that many regard as at the global epicentre of rechargeable battery technology.
MANAGING DIRECTOR'S ADDRESS
HIGHLIGHTS
- downstream integration into high value, high growth battery materials market
- production JV with leading USA-based anode materials development group
- acquisition of leading battery testing equipment and services company
- completion of $16.3 million capital raising to fund strategic transactions
- successful implementation of all transactions and conversion of all notes
- mining lease application lodged for Mount Dromedary Graphite Project
- strengthening of the board with announcements on Bob Natter and Andrew Liveris
INVESTMENT SUMMARY
Established brand in the rechargeable lithium-ion battery industry
- NOVONIX is an established brand name known for making the most accurate battery cell test equipment in the world
Global footprint of blue-chip customers and sales in 12 countries
- Our battery cell test equipment now used by leading battery, auto and equipment makers and researchers including PANASONIC, CATL, TESLA, BOSCH, Dyson, 3M, Alcatel-Lucent, DALHOUSIE University, Pacific Northwest National Laboratory, Helmholtz Institute and many others
Innovative new products and process being commercialised
- Developing and commercialising new innovations in battery anode materials, manufacturing processes and battery cell test equipment
Backed by a world class natural graphite resource in Australia
- NOVONIX owns a high grade, long-life natural graphite deposit in Queensland, Australia
Backed by a board experienced in building and running billion-dollar businesses
- Extensive experience in BD, resources, energy, advanced materials, battery industry, project financing, project delivery, operations and scaling
Highly incentivised Board and Management
- The Board and Management hold ~45% of the equity in the company
Great opportunity to position at an early stage in a market with exponential growth
- Exponential demand for rechargeable lithium-ion batteries being driven by EV and energy storage demand growth
To view the full release, please visit:
http://abnnewswire.net/lnk/B836F7Q5
To view the Presentation to the AGM, please visit:
http://abnnewswire.net/lnk/30VDR9MK
About NOVONIX Ltd

NOVONIX Ltd (ASX:NVX) (FRA:GC3) is an integrated developer and supplier of high performance materials, equipment and services for the global lithium-ion battery industry with operations in the USA and Canada and sales in 14 countries.
NOVONIX is majority-owner of the PUREgraphite battery anode material Joint Venture, headquartered in Chattanooga, Tennessee, USA.
NOVONIX's mission is to accelerate the adoption of batteries for a cleaner energy future.

Philip St Baker
Managing Director
Phone: +61-438-173-330
Email: phil@novonixgroup.com
Website: www.novonixgroup.com
Related CompaniesNOVONIX Ltd