Successful completion of a 633-line kilometre helicopter borne geophysical survey over the Thackaringa Project, 23km south-west of Broken Hill.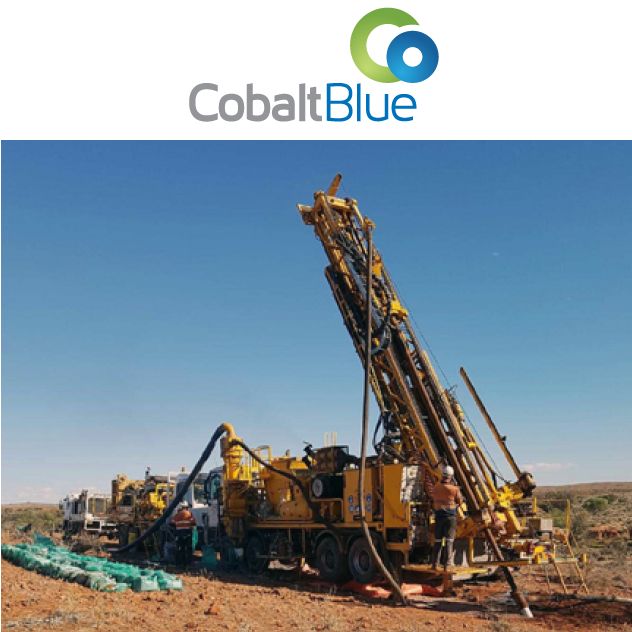 Multiple Large Exploration Targets Identified at Thackaringa Cobalt Project
Sydney, Nov 22, 2017 AEST (ABN Newswire) - Cobalt Blue Holdings Limited (

ASX:COB
) announces multiple large exploration targets identified at Thackaringa Cobalt Project.
- Survey delivers strong results and targets. Preliminary geophysical survey results support fresh exploration targets with clear potential to extend known mineralisation, as well as identifying a previously unknown target south of Pyrite Hill.
- Thackaringa's three deposits have a significant combined strike length of 4.5 kilometres, with widths varying from 25 to 100 metres. These results support substantial future additions to the Thackaringa resource, particular down dip.
- Cobalt Blue currently completing a significant 13,500m drilling program, supporting a major resource upgrade target (40Mt Indicated Resource by 1 April 2018).
- Pre-Feasibility Study work continues with geotechnical, environmental and next metallurgical testwork announcement (focussed on Calcine and Leach steps) expected shortly. PFS delivery due 30 June 2018.
Cobalt Blue's CEO, Joe Kaderavek commented:
" Thackaringa is potentially much larger than previously thought. With 4.5km of known strike and width, the results support considerable down dip potential, uncovering significant targets. The newly discovered target south of Pyrite Hill is also a major surprise. Cobalt Blue is highly encouraged by these results, supportive of a world class, long life operation."
Major Geophysical Survey
During September, a major heliborne electromagnetic ('EM') survey (VTEM-Max) was completed at Thackaringa, 23km south-west of Broken Hill. The survey covered the entire project area (63km2) at a nominal 100m line spacing and identified several strong EM responses. The Thackaringa Cobalt Pyrite deposits currently comprise 54.9Mt at 910ppm cobalt, 9.56% sulphur & 10.19% iron (as released 5 June 2017 at a 500ppm cobalt cut-off).
Multiple targets were identified as extensions of, or nearby to, known Thackaringa Cobalt Pyrite deposits, with the survey also successfully 'fingerprinting' known mineralisation (ie: calibrating EM signatures with known drilling results). This calibration provides improved confidence in overall results, allowing prioritisation of targets based on similar signatures to known mineralisation. Four high potential areas were identified as T1 to T4.
A target occurring as a nearby extension of the Railway deposit forms an immediate high value focus (T1), backed by existing drilling data. This target appears to reflect the folded nature of the Cobalt Pyrite mineralisation and has resulted in significant thickening.
Additional targets currently being investigated include:
- T2 - A deep target identified along strike from the Railway deposit and coincident with an anomaly defined by historical Induced Polarisation ('IP'). This target is an extension of the Railway deposit is expected to form part of future exploration programs.
- T3 - A series of targets parallel to the main Big Hill - Railway trend.
- T4 - A large, deep target identified approximately 1.5km south of Pyrite Hill. This response occurs within the strike extension known to host the Pyrite Hill deposit. This signature is indicative of a significant fourth, to date unknown, target at Thackaringa.
The Thackaringa deposits are currently subject to a significant drilling campaign comprising approximately 13,500m. The campaign targets confirmation of geological continuity to support improved Mineral Resource classification. The revised Mineral Resource estimate will underpin Ore Reserve estimation to be completed during the Pre-feasibility study.
A dedicated geotechnical drilling program also nears completion with results to inform detailed pit optimisation and mine planning. Initial results from current drilling are expected shortly.
Survey Details
The helicopter borne VTEM-Max survey was flown on 100m spaced northwest-southeast orientated flight lines perpendicular to the predominant geological strike. The survey has delivered high quality data which will be synthesised with regional datasets for the development of a tenement scale geological model.
In addition to identifying potential exploration targets the survey has provided confidence for current engineering work to target areas that may host future infrastructure for Thackaringa operations. Encouragingly, an area broadly at a mid-point of the three known deposits and adjacent to the railway line, appears supportive of a potential footprint to support an ore/refined product pad and future refinery.
Pre-Feasibility Study (PFS) metallurgical testwork continues.
Thackaringa ore is essentially 20% pyrite (sulphide) mixed with 80% quartz/feldspar. The recent breakthrough (26 October 2017) in using simple and low-cost gravity separation techniques (concentrate) takes advantage of the difference in weight of sulphide (hosting the cobalt) versus quartz/feldspar.
The heavy sulphide separates easily. COB therefore only needs to process 20% of mined ore (sulphide) in a refinery. For laterite projects, such simple upgrading is not available and they need to process the entire ore mass through the refinery, an expensive operation consuming large quantities of acid and typically needing strong by-product credits from nickel to be profitable.
While open-pit mines will have similar mining costs per tonne of ore, Thackaringa has a clear advantage over its Australian laterite peers, because it can upgrade the low-grade ore into a concentrate, prior to incurring the high per tonne costs associated with refining. This is summarised in the following graph which compares ore grades from Australian explorers/developers. Most of the laterite deposits will need to refine the ore at 0.1-0.2%, whereas Thackaringa will be refining concentrate at 0.4-0.5% cobalt.
Our next update for metallurgical testwork is due early December, focussed on Calcine and Leach processing steps. Full process details are available on Cobalt Blue's website (
http://www.cobaltblueholdings.com
).
Thackaringa Project timetable
Results to date continue to justify proceeding further along the pathway towards commercial development of the Thackaringa Cobalt Project. The overall company timeline is shown below (see link below).
The Thackaringa Cobalt Project site and potential services are shown below (see link below). The site is situated close to Broken Hill, and is well connected to existing transport routes including the Barrier Highway and the Intercontinental Railway. Availability of water and power supplies further support positive project economics.
To view tables and figures, please visit:
http://abnnewswire.net/lnk/M7SR4WX3
About Cobalt Blue Holdings Limited

Cobalt Blue Holdings Ltd (ASX:COB) is an exploration and project development company focussed on green energy technology and strategic development to upgrade its mineral resource at the Thackaringa Cobalt Project in New South Wales from Inferred to Indicated status. This strategic metal is in strong demand for new generation batteries, particularly lithium-ion batteries now being widely used in clean energy systems.
COB is in a Joint Venture (70% interest) with Broken Hill Prospecting Limited (ASX:BPL) (30% interest) to develop the Thackaringa Cobalt Project.
Potential to extend the Mineral Resource at Pyrite Hill, Big Hill, Railway and the other prospects is high. Numerous other prospects within COB's tenement package are at an early stage and under-explored.
Joe Kaderavek
Chief Executive Officer
Cobalt Blue Holdings Limited
Ph: +61-2-9966-5629
Website: www.cobaltblueholdings.com
Email: info@cobaltblueholdings.com
Related CompaniesCobalt Blue Holdings Limited