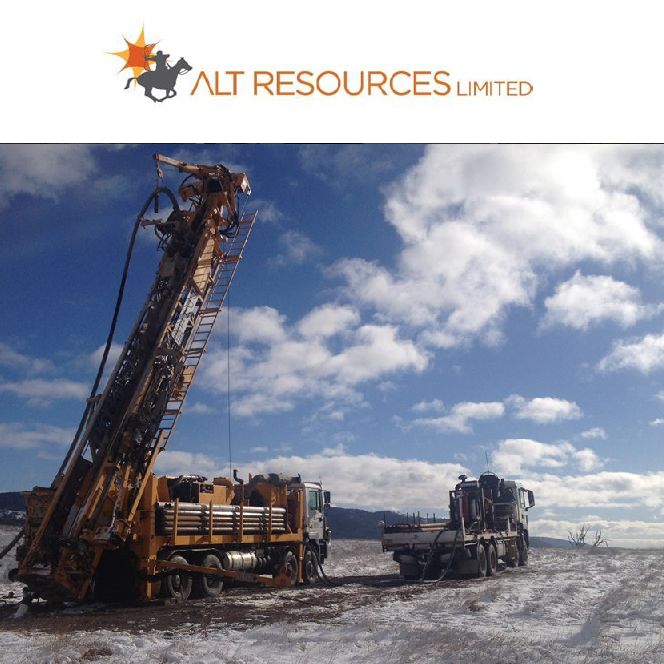 Cobalt Identified at Paupong
Canberra, Dec 1, 2017 AEST (ABN Newswire) - Alt Resources (

ASX:ARS
) (Alt, or 'the Company') is pleased to announce the results of a thorough review of the geochemistry of the Paupong Project. Cobalt has been identified as a key component of the Paupong mineralised system; grades up to 0.12% Co have been detected.
HIGHLIGHTS
- Cobalt mineralisation identified as part of the Paupong intrusion-related gold system
- Results from previous drilling at Kidman include:
o 2m @ 0.12 % Co, 1.56 % Cu, 1.06 g/t Au, 7.8 g/t Ag
o 2m @ 0.11 % Co, 1.29 % Cu, 0.79 g/t Au, 13 g/t Ag
o 1m @ 0.12 % Co, 2.8 g/t Ag,
o 1m @ 0.10 % Co, 0.42 % Cu, 0.21 g/t Au, 15 g/t Ag
The Paupong Project is located in the south-eastern Lachlan Orogen, in far southern New South Wales (see Figure 1 in link below). It is a polymetallic intrusion-related gold system, covering an area of 8 x 4 km, with up to 14 g/t Au and 451 g/t Ag in rock chips. Base metal and bismuth mineralisation is also locally developed, with Cu up to 3.8 %, Pb up to 4.1 %, Zn up to 1 % and Bi up to 1.4 % in surface and drillhole sampling.
CEO James Anderson commented "The cobalt mineralisation we've identified adds another dimension to the Paupong IRG system; one that we had not considered until the geochemical review was completed. Cobalt will continue to be in demand over time. with the EV market still expanding. We know Paupong represents a very large-scale system with plenty of opportunity for further discovery. We are also close to finishing a review of the detailed geophysical surveys we have for the area, and will advise the market about this in the coming weeks. With our strong scientific approach, our aim is to generate new targets for diamond drilling in 2018. We also plan to begin the process of finding a larger JV partner to come into this project as it does represent a terrific opportunity for a larger player looking for a big system".
Alt Resources recently conducted an extensive review of the Paupong system. The result of this review is the identification of elevated to moderate grade cobalt (up to 0.12% Co) in drillcore associated with polymetallic Au-Ag-Cu sulphide mineralisation (see Figure 2 in link below). Cobalt appears to be particularly elevated in the Kidman area which was drilled in 2015-2016. This region is in close proximity to a number of intrusives, including the Middle Creek granodiorite, and the younger Blind Gabbro Suite (see Figure 3 in link below). The Middle Creek granodiorite is considered by Alt technical staff to be one of a suite of potential source intrusions for precious and base metal mineralisation in the area (Degeling et al., 2017).
Co is likely hosted in pyrite (cobaltian pyrite), and as such is elevated in zones of concentrated sulphide mineralisation, along with Au, Ag and Cu.
Table 1 shows the significant Co intercepts from the 2015-2016 RC and DD drilling programs at the Kidman prospect. Mineralisation with elevated cobalt occurs in localised occurrences of massive sulphide (pyrite-dominated, plus chalcopyrite) associated with quartz veins (see Figure 2 and Figure 4 in link below).
To view figures, please visit:
http://abnnewswire.net/lnk/OMD30O5Z
About Alt Resources Ltd

Alt Resources Limited (ASX:ARS) is an Australian based mineral exploration company that aims to become a gold producer by exploiting historical and new gold prospects across quality assets and to build value for shareholders. The Company's portfolio of assets includes the newly acquired Bottle Creek gold mine located in the Mt Ida gold belt in South Central WA 95km north west of Menzies, the Paupong IRG Au-Cu-Ag mineral system in the Lachlan Orogen NSW, Myalla polymetallic Au-Cu-Zn project east of Dalgety in NSW and the Mt Roberts gold project located near the town of Leinster in WA.
Alt Resources, having acquired historical and under-explored tenements in the Mt Ida Gold Belt, aims to consolidate the historical resources, mines and new gold targets identified within the region. Potential at Mt Ida exists for a centralised production facility to service multiple mines and to grow the Mt Ida Gold Belt project to be a sustainable and profitable mining operation.
Alt Resources Ltd
T: 1300-66-00-01
M: +61-406-069-243
E: info@altresources.com.au
www.altresources.com.au
Related CompaniesAlt Resources Ltd