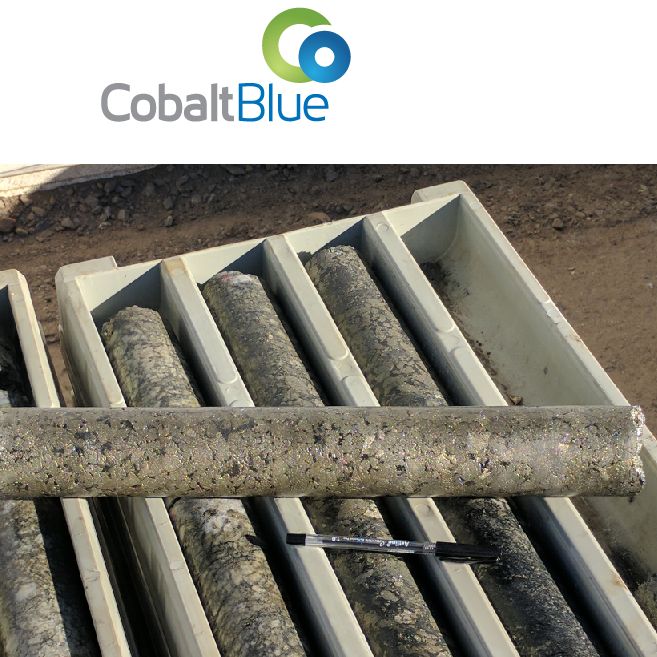 Railway Drilling Program Confirms Grade Continuity
Sydney, Dec 4, 2017 AEST (ABN Newswire) - Cobalt Blue Holdings (

ASX:COB
) is pleased to provide initial assays from its major 2H 2017 resource definition drilling program underway at the Thackaringa Cobalt Project NSW.
- The results demonstrate strong continuity of cobalt mineralisation along both strike and down dip of the previous drilling at Railway.
- The assays boost the potential for significant enhancement of Mineral Resource supporting the transition from an Inferred to an Indicated Resource, in line with COB's parallel Pre Feasibility Study (PFS).
- The 2017 drill results are currently being compiled into an upgraded resource estimate, which is scheduled for release in by 1 April 2018.
- The current announcement summarises the results for the first 18 reverse circulation (RC) holes (for 3,368 metres) at the Railway Deposit. Best intercepts include:
o Drillhole 17THR042 -- 72m at 1,115ppm Co, 10.1% S & 9.8% Fe from 15m;
o Drillhole 17THR045 -- 25m at 1,204ppm Co, 9.5% S & 10.6% Fe from 154m;
o Drillhole 17 THR047 -- 18m at 1,145ppm Co, 7.5% S & 7.5% Fe from 11m;
o Drillhole 17THR049 -- 67m at 906ppm Co, 9.5% S & 9.1% Fe from 64m;
o Drillhole 17THR052 -- 20m at 982ppm Co, 12.2% S & 11.4% Fe from 10m and
-- 113m at 830ppm Co, 7.3% S & 7.8% Fe from 104m.
o Drillhole 17THR055 - 41m at 1,096ppm Co, 10.4% S & 10.0% Fe from 61m
- The current drilling program totals 75 holes; 16 diamond drill (DD) holes and 59 reverse circulation (RC) drill holes for a total of 13,000 metres. The program is designed to upgrade to an Indicated Resource, expand the overall resource base, provide comprehensive geotechnical information and supply sample for additional metallurgical testing.
Cobalt Blue's Chairman, Rob Biancardi commented:
" The work continues to add substantially to our geological understanding of Thackaringa, with its significant combined strike length of 4.5 kilometres and widths varying from 25 to 100 metres. We look forward to the Indicated Resource upgrade to be released by 1 April 2018."
The 2H 2017 drilling program comprises a planned seventy-five (75) drill holes including sixteen (16) diamond (DD) holes and fifty-nine (59) RC holes, with 48 holes planned for the Railway deposit, 18 holes planned at Pyrite Hill and 9 holes planned for Big Hill. The program is 70% complete (9,200 metres drilled to date) and is expected to be finished by late December.
The drilling is designed to close the drill section spacing to 50 metres (or less in areas of structural complexity) and provide added confidence in grade continuity to allow a significant portion of the current Inferred Resource at each deposit to be upgraded to Indicated Resource. Many of the DD holes are designed to provide structural information for pit designs and further sample for additional metallurgical testing.
This announcement summarises the assays from the first eighteen (18) RC holes at Railway - completed for a total of 3,368 metres. As displayed on the accompanying diagrams the drilling has been successful in demonstrating good continuity of cobalt mineralisation both along strike and down dip of the previous drilling at Railway. A complete summary of significant intersections is provided below (see link below).
Following the completion of the current drilling program and receipt of final assays updated resource estimates will be undertaken for Railway, Pyrite Hill and Big Hill.
Pre-Feasibility Study (PFS) metallurgical testwork continues
PFS metallurgical testwork continues in parallel with Thackaringa site work and further detailed engineering/technical studies. Our process focus is upon a Mine to Battery supply chain ready product (see link below).
Our next update for metallurgical testwork is due shortly, centred upon Calcine and Leach processing steps. Fuller process details are available on Cobalt Blue's website
http://www.cobaltblueholdings.com
Thackaringa Project timetable
Results to date continue to justify proceeding further along the pathway towards commercial development of the Thackaringa Cobalt Project. The overall company timeline is shown in link below.
The Thackaringa Cobalt Project site and potential services are shown in link below. The site is situated close to Broken Hill, and is well connected to existing transport routes including the Barrier Highway and the Intercontinental Railway. Availability of water and power supplies further support positive project economics.
To view figures, please visit:
http://abnnewswire.net/lnk/5057S7JE
About Cobalt Blue Holdings Limited

Cobalt Blue Holdings Ltd (ASX:COB) is an exploration and project development company focussed on green energy technology and strategic development to upgrade its mineral resource at the Thackaringa Cobalt Project in New South Wales from Inferred to Indicated status. This strategic metal is in strong demand for new generation batteries, particularly lithium-ion batteries now being widely used in clean energy systems.
COB is in a Joint Venture (70% interest) with Broken Hill Prospecting Limited (ASX:BPL) (30% interest) to develop the Thackaringa Cobalt Project.
Potential to extend the Mineral Resource at Pyrite Hill, Big Hill, Railway and the other prospects is high. Numerous other prospects within COB's tenement package are at an early stage and under-explored.
Joe Kaderavek
Chief Executive Officer
Cobalt Blue Holdings Limited
Ph: +61-2-9966-5629
Website: www.cobaltblueholdings.com
Email: info@cobaltblueholdings.com
Related CompaniesCobalt Blue Holdings Limited