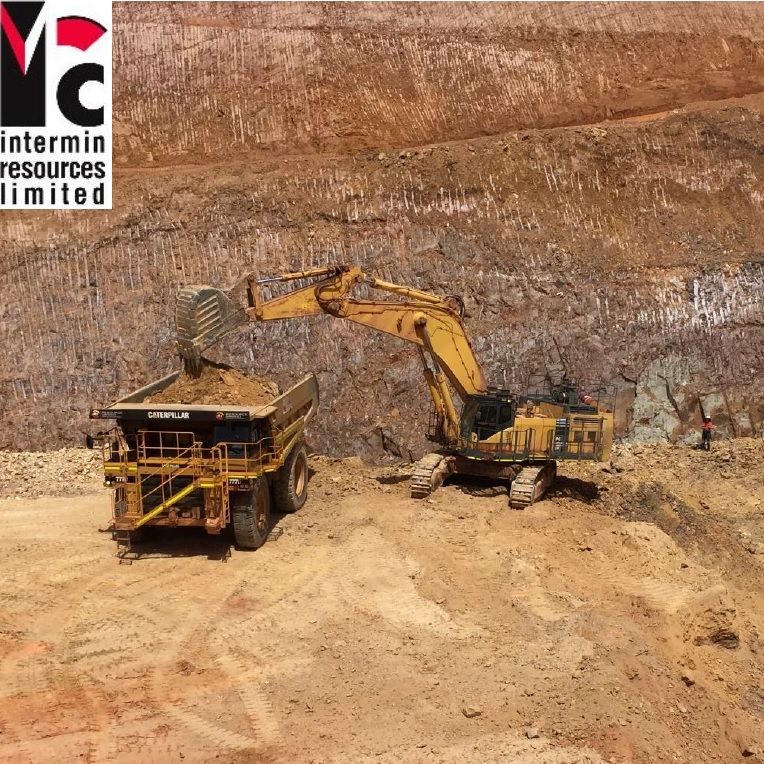 Teal Operations Update
Perth, Dec 6, 2017 AEST (ABN Newswire) - Intermin Resources Limited (

ASX:IRC
) ("Intermin" or the "Company") provides the following operational update from Intermin's 100% owned Teal Gold Mine, located 11km north west of Kalgoorlie-Boulder in Western Australia (see Figure 2 in link below).
HIGHLIGHTS
- Mining operations at Teal have focussed on pre-stripping waste in Stage 2 and the east wall cut back has been completed ahead of schedule
- Ore mining has now resumed and haulage has commenced
- Ore will be processed in campaigns at the nearby 1 Mtpa Lakewood toll milling facility on competitive commercial terms
- The first processing campaign will comprise an estimated 24,000t grading 4.1g/t Au and is scheduled to commence on 13 December 2017 (see Notes 1,2 below)
- Mining, haulage and processing of the remaining ore (approximately 75,000t grading 3.2g/t Au) is scheduled for completion in the March Quarter 2018 (see Notes 1,2 below)
- Intermin maintains guidance for both Teal Stages 1 and 2 totalling 18,000 - 20,000 ounces at All in Costs (AIC) of A$1,000 - $1,100 per ounce (see Note 1 below)
Commenting on the progress at Teal, Intermin's Managing Director Mr Jon Price said:
"It is extremely pleasing to see the completion of the pre-strip at Teal Stage 2 ahead of schedule which is a credit to the team and our mining alliance partner RM Contracting.
"Teal is continuing to deliver to forecast grade with recovery exceeding expectations and we look forward to further cash generation from this successful project during 2018 in what is a very healthy gold price environment."
Overview
During the December Quarter, mining has focussed on the removal of the waste overburden as part of the Teal Stage 2 cutback on the east wall. To date, 402,000 BCM of waste has been mined with first ore delivered to the ROM Pad ahead of schedule. Pit wall conditions remain under constant review with a radar monitoring system recently installed to ensure the safe and efficient completion of the pit.
Ore mining on a single shift basis is now underway at both Stage 1 and Stage 2 with completion expected in the March Quarter 2018.
Haulage of the first ore comprising approximately 24,000t with an average mine predicted grade of 4.1g/t Au has commenced1, 2. The ore will be processed on a campaign basis at the 1 Mtpa Lakewood Mill (Figure 2) on competitive commercial terms. Toll milling at Lakewood will enable reconciled final grades to be measured against mine predicted grades providing more timely feedback for the operation. In addition, the timing from gold production to receipt of net cash flow is approximately two weeks.
Ore grade from the mine has continued to be in line with Reserve model estimates at 3.2g/t Au with over 11,000 ounces mined and processed to date. Plant recovery has exceeded Feasibility Study estimates at 94% to date.
Intermin maintains guidance at the combined Teal open pit of 18,000 to 20,000 ounces recovered at an All In Cost (AIC) of A$1,000 to $1,100 per ounce. This generates an estimated A$8 to $9 million in net cash flow for the project by March 2018.
The Company is in a strong financial position to self-fund aggressive large scale exploration campaigns in 2018 and complete mining studies and approvals for the next mine development.
Notes:
1 As announced to the ASX on 6 July 2016, 25 July and 6 September 2017
2 See forward looking and cautionary statement on Page 5 (see link below)
To view figures, please visit:
http://abnnewswire.net/lnk/845AD69Y
About Intermin Resources Limited

Intermin Resources Limited (ASX:IRC) is a gold exploration and mining company focussed on the Kalgoorlie and Menzies areas of Western Australia which are host to some of Australia's richest gold deposits. The Company is developing a mining pipeline of projects to generate cash and self-fund aggressive exploration, mine developments and further acquisitions. The Teal gold mine has been recently completed.
Intermin is aiming to significantly grow its JORC-Compliant Mineral Resources, complete definitive feasibility studies on core high grade open cut and underground projects and build a sustainable development pipeline.
Intermin has a number of joint ventures in place across multiple commodities and regions of Australia providing exposure to Vanadium, Copper, PGE's, Gold and Nickel/Cobalt. Our quality joint venture partners are earning in to our project areas by spending over $20 million over 5 years enabling focus on the gold business while maintaining upside leverage.

Jon Price
Managing Director
Tel: +61-8-9386-9534
E: jon.price@intermin.com.au

Lorry Hughes
Director - Business Development
Tel: +61-8-9386-9534
E: lorry.hughes@intermin.com.au

Michael Vaughan
Media Relations - Fivemark Partners
Tel: +61-422-602-720
E: michael.vaughan@fivemark.com.au
Related CompaniesIntermin Resources Limited