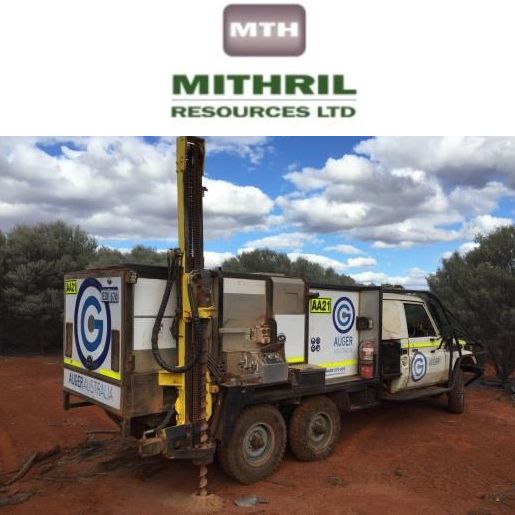 Exploration Update
Adelaide, Dec 8, 2017 AEST (ABN Newswire) - Mithril Resources Ltd (

ASX:MTH
) provides an update on its current exploration activities including the recent drilling programme at the Kombi and Fenceline prospects (located approximately 70 kms southeast of Meekatharra, WA - see Figure 1 in link below).
- Mithril's current exploration activities comprise RC drilling at the Kombi and Fenceline gold prospects, zinc target generation at Billy Hills and nickel-cobalt target generation at Kurnalpi
- RC drilling at Kombi intersects further gold adjacent to previously reported high-grade intercepts of 4m @ 12.76g/t gold and 1m @ 5.44g/t gold
Gold drilling - Prospective Gold Bearing Structures confirmed at Kombi and Fenceline
Eight Reverse Circulation holes (NRC17008 to NRC17015 - 498 metres) were drilled to further test previously reported gold mineralisation (4m @ 12.76g/t gold from 20 metres and 1m @ 5.44g/t gold from 20 metres - see ASX Announcement dated 6 November 2017) at Kombi. The latest holes returned 4m @ 0.95g/t gold from 28 metres (NRC17008) and 4m @ 0.29g/t gold from 52 metres (NRC17014) at the southern end of the prospect (see Figure 2 in link below) within a zone of quartz veins and shearing.
Seven Reverse Circulation holes (NRC17016 to NRC17022 - 357 metres) were drilled at Fenceline as an initial test of a zone of outcropping gold-mineralised quartz veins. Despite intersecting a zone of strong shearing and alteration (quartz-sericite-pyrite), only weakly anomalous gold was returned; 4 m @ 0.11g/t gold from 4 metres in NRC17016 and 4 m @ 0.17g/t gold from 20 metres in NRC17017.
The drilling confirms the presence of prospective gold-bearing structural zones at both prospects and Mithril is currently evaluating all drilling data to determine next steps for the project area.
At Kombi Mithril can earn a 60% interest from Intermin Resources Limited (

ASX:IRC
) by completing expenditure of $2M by 14 April 2019 (~ $1.24M spent to date) and an additional 15% by completing further expenditure of $2M over a further 2 years. Fenceline is 100% owned by Mithril.
Zinc target generation - Mithril Expands Tenement Position at Billy Hills
In conjunction with the gold review, Mithril is rapidly progressing target generation activities on its 100% - owned Billy Hills Zinc Project which adjoins the Pillara Zinc Mine (reported pre-mine resource of 18.05 million tonnes at 7.7% Zn and 2.4% Pb - see ASX Announcement dated 21 August 2017), 25 kms southeast of Fitzroy Crossing in the West Kimberley region of Western Australia (see Figure 3 in link below).
Mithril is systematically compiling historic geology, geophysical and drilling data, and on the back of which it has recently doubled the size of the project to over 175km2 with the application for a new tenement (E04/2503).
Target generation activities are now underway and the Company anticipates shortly updating the market regarding the result of these activities.
Nickel-cobalt target generation - Mithril positioned directly along strike from existing nickel-cobalt deposit
Mithril is also reviewing the nickel-cobalt potential of a 100%-owned tenement (EL28/2567) which is located at Kurnalpi, approximately 70 kms east of Kalgoorlie, WA (see Figure 4 in link below).
The tenement contains nickel-cobalt prospective high-MgO ultramafic rocks and lies 1 kilometre directly south along strike from the Grey Dam Nickel Cobalt Deposit where a (non-2012 JORC Code) Inferred Resource of 14.5Mt @ 0.70% nickel, 0.05% cobalt was estimated by Condor Nickel Ltd in 2009 (see ASX Announcement by Condor Nickel dated 6 April 2010).
Mithril is finalising its target generation activities at Kurnalpi and looks forward to updating the market regarding the results of this work.
To view tables and figures, please visit:
http://abnnewswire.net/lnk/8N8D539S
About Mithril Resources Limited

Mithril Resources Limited (ASX:MTH) is an Australian resources company whose objective is the creation of shareholder wealth through the discovery of mineral deposits.
The Company and its exploration partners are actively exploring throughout the Kalgoorlie, West Kimberley and Murchison Districts of Western Australia for economic nickel, copper, zinc, and vanadium deposits.
In the Kalgoorlie District, Mithril is exploring for nickel on the Kurnalpi, Lignum Dam and North Scotia Projects which lie along strike from, or adjacent to previously mined high-grade nickel at the Silver Swan and Scotia Nickel Deposits.
In the West Kimberley, Mithril is exploring for zinc on the Billy Hills Project which lies adjacent to the previously mined Pillara Zinc Deposit.
In the Murchison, Mithril is exploring for copper, nickel and zinc mineralisation on the Nanadie Well Project and for copper, silver, zinc and lead on the Bangemall Base Metal Project. Mithril's exploration partner – Monax Mining Ltd is also exploring for vanadium on the Limestone Well tenements.
Mithril Resources Ltd
David Hutton
Managing Director
E: admin@mithrilresources.com.au
T: +61-8-8132-8800
F: +61-8-8132-8899
www.mithrilresources.com.au
Related CompaniesMithril Resources Limited





Intermin Resources Limited