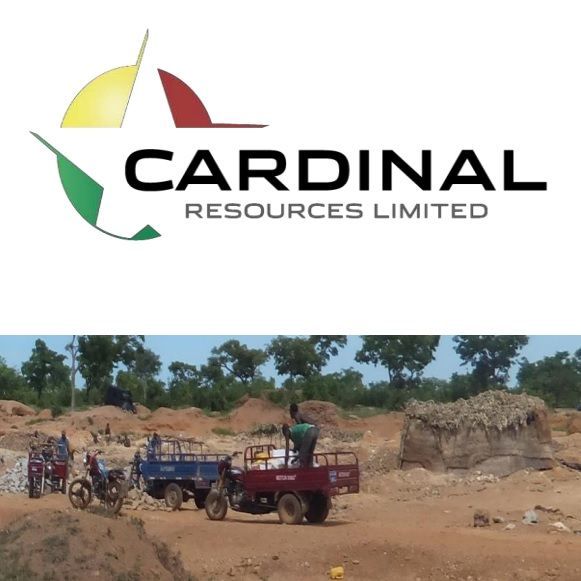 Grade Control Drill Results Returned
Perth, Dec 12, 2017 AEST (ABN Newswire) - Cardinal Resources Limited (

ASX:CDV
) (

TSE:CDV
) ("Cardinal" or "the Company") reports the completion of a close spaced drilling programme in a targeted starter pit area for its flagship Namdini project. This work constitutes an important phase for the Company's forthcoming PEA, as it supports the grades and tonnages the Company expects for the proposed starter pit area.
HIGHLIGHTS
- Excellent gold grades were returned in the upper benches of the targeted starter pit area
- Correlation of grades, ounces and tonnes between the Mineral Resource Model (September 2017) and the trial grade control model, has been completed with a very accurate reconciliation (see Table 1 and Figure 3 in link below)
Selected drill hole intersection results are as follows:
o 42m @ 5.6 g/t Au NMRC486
o 42m @ 4.85 g/t Au NMRC335
o 42m @ 4.8 g/t Au NMRC433
o 42m @ 4.5 g/t Au NMRC193
o 42m @ 3.9 g/t Au NMRC314
o 42m @ 3.7 g/t Au NMRC383
o 42m @ 3.4 g/t Au NMRC361
o 42m @ 3.0 g/t Au NMRC320
The selected intersections reported above are for the entire length of each drill hole (0 to 42m), at >0.5 g/t Au cut off with no more than 3m of consecutive internal dilution at <0.5 g/t Au.
Cardinal's Chief Executive Officer / Managing Director, Archie Koimtsidis said:
"The close spaced drill testing in this initial study area where Namdini gold mineralisation is exposed at surface, is located within our targeted starter pit area (see Figure 1 in link below).
"Today's results are consistent with the grades, ounces and tonnes of the Resource Model (see Table 1 and Figure 3 in link below). While this confirms the modelling methods and estimation techniques applied in the Mineral Resource Model estimation, these results are also a key element underpinning the production of a robust engineering study which will provide more informed views of the "ramp up" phase for the expected production scenario which will also be integrated into our Preliminary Economic Assessment expected to be completed in Q1 2018.
"An added benefit of this study is that these results will assist Cardinal with financing options for the Namdini Project".
Detailed results of the drill programme are included below and in the attached schedules.
STUDY RESULTS
Cardinal completed a 13,271m Reverse Circulation drilling programme at the northern end of the Namdini deposit for the purposes of a test grade control study which comprised 317 RC drill holes at a grid pattern of 10m (E) by 15m (N) and covering an area of 350m (E) by 200m (N) to approximately 40m vertical. They were drilled at -650 to the east in the Namdini local drilling grid, consistent with drilling undertaken for the resource models.
Grade control drilling targeted the near surface portion of the modelled mineralisation, as defined by the broad spaced resource definition drilling and subsequent Mineral Resource Model. The programme was designed to define the grade distribution of gold mineralisation at and near surface within the targeted starter pit area (see Figures 1 and 2 in link below).
A test block model was constructed for the study area utilising Conditional Simulation technique. Figure 3 (see link below) shows the grade control drilling relative to the Mineral Resource Model and Figure 4 (see link below) shows the grade control model blocks for a typical level. A comparison between the Mineral Resource Model (Announced in September 2017) and the constructed grade control model is tabulated in Table 1 (see link below).
This test area represents approximately 4% of the Indicated Resource ounces and the close spaced drill pattern demonstrates consistent mineralised zones at surface in this area. The results provide another layer of confidence that the spatial distribution and tenor of gold in this test area is in line with Namdini Mineral Resource expectations.
Please refer to www.sedar.com for Cardinal's prospectus and NI43-101 reports.
Meta Data for the significant intercepts are tabulated in Tables 2 and 3 (see link below) in Schedule 1.
To view tables and figures, please visit:
http://abnnewswire.net/lnk/7T2FDM6Z
About Cardinal Resources Ltd

Cardinal Resources Ltd (ASX:CDV) (TSE:CDV) (OTCMKTS:CRDNF) is a gold-focused exploration and development Company which holds interests in tenements within Ghana, West Africa.
The Company's Namdini Project has an Indicated Mineral Resource of 6.5Moz of gold contained in 180Mt at 1.1 g/t Au at a cut-off of 0.5g/t Au and an Inferred Mineral Resource of 0.5Moz of gold contained in 13Mt @ 1.2 g/t Au at a cut off of 0.5 g/t Au.
The Company is focused on the development of the Namdini Project through advancing its PFS studies as well as gold exploration on its tenements located within close proximity to the Namdini Project.

Archie Koimtsidis
CEO / MD
Cardinal Resources Limited
P: +61-8-6558-0573

Alec Rowlands
IR / Corp Dev
Cardinal Resources Limited
P: +1-647-256-1922
Related CompaniesCardinal Resources Ltd