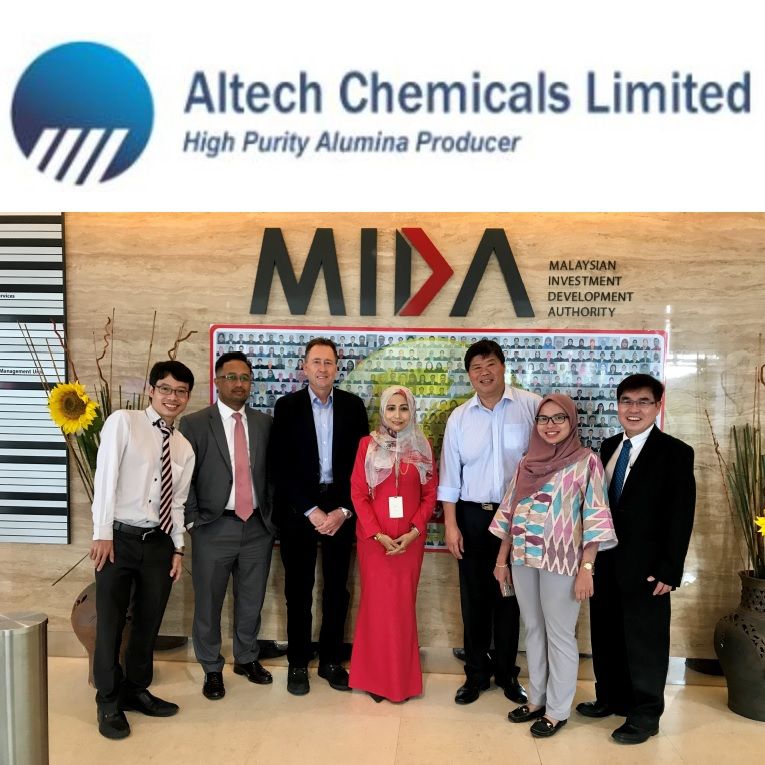 Malaysian Manufacturing Licence Application Lodged
Perth, Jan 9, 2018 AEST (ABN Newswire) - Altech Chemicals Limited (

ASX:ATC
) (

FRA:A3Y
) is pleased to announce that its wholly owned Malaysian subsidiary, Altech Chemicals Sdn Bhd has submitted a manufacturing licence application to the Malaysian Investment Development Authority (MIDA), for its proposed high purity alumina plant.
Highlights
- Manufacturing licence application submitted
- "Pioneer Status" investment incentive (5-year tax exemption)
- High technology manufacturing of advanced material
- 1.2 billion ringgit investment in Malaysia
Application has also been made to MIDA for the HPA project to be afforded "Pioneer Status" (High Technology) investment incentive classification. A project approved as Pioneer Status (High Technology) will benefit from income tax exemption of 100% of its statutory income for a period of 5 years from the commencement of commercial production. In addition, any accumulated losses and unabsorbed capital allowance (depreciation) during the Pioneer Status period can be carried forward and deducted from post Pioneer Status period income.
Altech has been liaising with MIDA about its proposed HPA project since 2015 and recently met with MIDA representatives in Kuala Lumpur, Malaysia to finalise the applications. Altech was not previously in a position to submit the manufacturing licence and Pioneer Status applications as the project capital cost and engineering, procurement and construction (EPC) contract had not been finalised.
Altech's proposed HPA project represents an investment of approximately 1.2 billion ringgit in Malaysia. The advanced manufacturing technology that will be employed in Altech's HPA plant and the strategic nature of the finished product is consistent with the type of high technology manufacturing projects that Malaysia is promoting via MIDA and its various investment incentives. The project has been previously presented to the Minister of International Trade and Industry, Dato' Sri Mustapa bin Mohamed and Chairman of MIDA, Tan Sri Amirsham Abdul Aziz.
To view figures, please visit:
http://abnnewswire.net/lnk/U65BGI6L
About Altech Chemicals Ltd

Altech Chemicals Limited (ASX:ATC) (FRA:A3Y) is aiming to become one of the world's leading suppliers of 99.99% (4N) high purity alumina (HPA) (Al2O3).
HPA is a high-value, high margin and highly demanded product as it is the critical ingredient required for the production of synthetic sapphire. Synthetic sapphire is used in the manufacture of substrates for LED lights, semiconductor wafers used in the electronics industry, and scratch-resistant sapphire glass used for wristwatch faces, optical windows and smartphone components. There is no substitute for HPA in the manufacture of synthetic sapphire.
Global HPA demand is approximately 25,315tpa (2016) and demand is growing at a compound annual growth rate (CAGR) of 16.7% (2016-2024), primarily driven by the growth in worldwide adoption of LEDs. As an energy efficient, longer lasting and lower operating cost form of lighting, LED lighting is replacing the traditional incandescent bulbs.
Iggy Tan
Managing Director
Altech Chemicals Limited
Tel: +61-8-6168-1555
Email: info@altechchemicals.com

Shane Volk
Company Secretary
Altech Chemicals Limited
Tel: +61-8-6168-1555
Email: info@altechchemicals.com

Investor Relations (Europe)
Kai Hoffmann
Soar Financial Partners
Tel: +49-69-175-548320
Email: hoffmann@soarfinancial.com
Related CompaniesAltech Chemicals Ltd