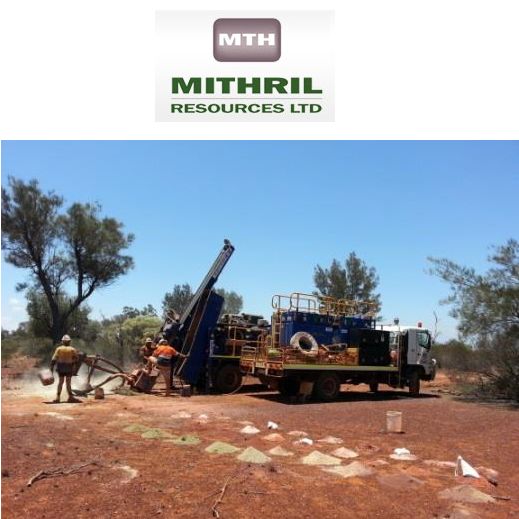 Kurnalpi nickel-cobalt exploration update
Adelaide, Jan 11, 2018 AEST (ABN Newswire) - Mithril Resources Ltd (

ASX:MTH
) is pleased to advise that follow-up exploration activities at its 100%-owned high-grade nickel-cobalt Kurnalpi target (located approximately 70 kms east of Kalgoorlie, WA - see Figure 1 in link below) will commence next week.
- EM geophysical surveying of the high-grade nickel-cobalt target to commence next week with drilling to follow.
EM geophysical surveying will be undertaken initially with drilling (for which statutory approvals have been received) to follow once all geophysical results have been received.
At Kurnalpi, historic drilling has intersected strong nickel-cobalt intercepts over an area 250 metres wide by 600 metres strike within weathered ultramafic rocks, including (ASX Announcement dated 12/12/17 and Figures 2 - 3 in link below);
- 42m @ 1.25% nickel, 0.07% cobalt from 24 metres in KURC22 including 6m @ 1.78% nickel, 0.20% cobalt from 28 metres,
- 10m @ 0.70% nickel, 0.11% cobalt from 30 metres in KURA38 including 3m @ 0.92% nickel, 0.21% cobalt from 34 metres,
- 8m @ 0.58% nickel, 0.20% cobalt from 24 metres in KURA400,
- 12m @ 0.76% nickel, 0.10% cobalt from 36 metres in KURA406, and
- 19m @ 1.08% nickel, 0.07% cobalt from 33 metres in KURA42 including 6m @ 1.17% nickel, 0.11% cobalt from 35 metres.
Maximum values from any one single sample are 2.04% nickel (2 metre composite sample in KURC22), 0.33% cobalt (4 metre composite sample in KURA400) and 0.28% copper (2 metre composite sample in KURC42).
The presence of elevated copper may be indicative of nickel sulphide mineralisation within the target area.
Mithril looks forward to providing further updates as the work progresses.
To view figures, please visit:
http://abnnewswire.net/lnk/PVTXY47U
About Mithril Resources Limited

Mithril Resources Limited (ASX:MTH) is an Australian resources company whose objective is the creation of shareholder wealth through the discovery of mineral deposits.
The Company and its exploration partners are actively exploring throughout the Kalgoorlie, West Kimberley and Murchison Districts of Western Australia for economic nickel, copper, zinc, and vanadium deposits.
In the Kalgoorlie District, Mithril is exploring for nickel on the Kurnalpi, Lignum Dam and North Scotia Projects which lie along strike from, or adjacent to previously mined high-grade nickel at the Silver Swan and Scotia Nickel Deposits.
In the West Kimberley, Mithril is exploring for zinc on the Billy Hills Project which lies adjacent to the previously mined Pillara Zinc Deposit.
In the Murchison, Mithril is exploring for copper, nickel and zinc mineralisation on the Nanadie Well Project and for copper, silver, zinc and lead on the Bangemall Base Metal Project. Mithril's exploration partner – Monax Mining Ltd is also exploring for vanadium on the Limestone Well tenements.
Mithril Resources Ltd
David Hutton
Managing Director
E: admin@mithrilresources.com.au
T: +61-8-8132-8800
F: +61-8-8132-8899
www.mithrilresources.com.au
Related CompaniesMithril Resources Limited