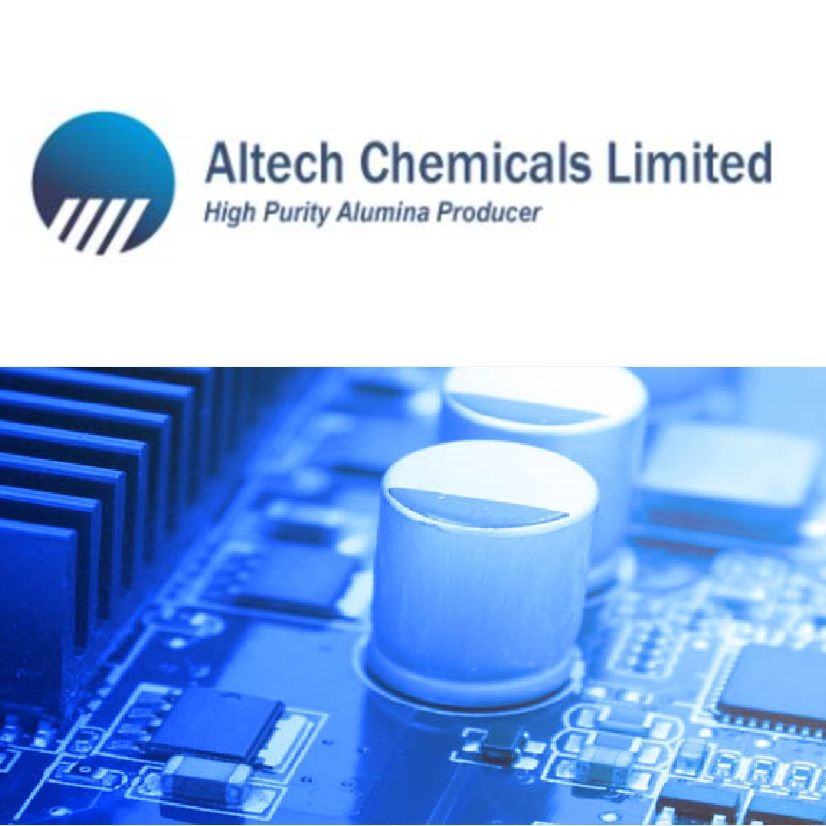 Quarterly Activities Report
Perth, Jan 31, 2018 AEST (ABN Newswire) - Altech Chemicals Ltd (

ASX:ATC
) provides the Company's Quarterly Activities and Cashflow Report for the period ending 31 December, 2017.
HIGHLIGHTS
German export credit cover decision positive with debt package increased to US$190m
- German project finance export credit cover application approved on 15 December 2017
- Project finance debt package increased to US$190m (from US$185m)
- German government export credit finance cover (ECA) portion of the debt package increased to US$170m (was US$165m)
- ECA covered loan is at long tenure and on highly attractive terms
- US$20m balance of loan at customary lending terms
- Credit approval received from lender KfW IPEX-Bank
A$17m share placement successfully completed
- A$17m share placement to support the next phase of project development
- US$4m (A$5.3m) participation from German EPC contractor SMS group
- A$3m participation from Melewar Group and associates
US$15m of equity support pledged by German EPC contractor SMS group
- SMS commits to total equity support of US$15m
o US$4m (A$5.3m) participation in the A$17m share placement
o US$11m of additional equity support at close of project financing
- Demonstrates confidence and commitment to Altech and its HPA project
Malaysian manufacturing licence lodged
- Manufacturing licence application submitted to Malaysian Investment Development Authority (MIDA)
- Eligible for investment incentive under "Pioneer Status" (5-year tax exemption)
- High technology manufacturing of advanced material
- HPA project represents a RM1.2 billion investment in Malaysia
Positive Final Investment Decision Study (FIDS)
- FIDS well received (announced 23 Oct 2017)
- Based on a proposed 4,500tpa HPA project, positive results included:
- Pre-tax NPV7.5 US$505m
o IRR 22%
o Payback (full rate) 3.9 years
o EBITDA US$76m p.a.
o Capital cost US$298m
To view the full report, please visit:
http://abnnewswire.net/lnk/M3637767
About Altech Chemicals Ltd

Altech Chemicals Limited (ASX:ATC) (FRA:A3Y) is aiming to become one of the world's leading suppliers of 99.99% (4N) high purity alumina (HPA) (Al2O3).
HPA is a high-value, high margin and highly demanded product as it is the critical ingredient required for the production of synthetic sapphire. Synthetic sapphire is used in the manufacture of substrates for LED lights, semiconductor wafers used in the electronics industry, and scratch-resistant sapphire glass used for wristwatch faces, optical windows and smartphone components. There is no substitute for HPA in the manufacture of synthetic sapphire.
Global HPA demand is approximately 25,315tpa (2016) and demand is growing at a compound annual growth rate (CAGR) of 16.7% (2016-2024), primarily driven by the growth in worldwide adoption of LEDs. As an energy efficient, longer lasting and lower operating cost form of lighting, LED lighting is replacing the traditional incandescent bulbs.
Altech Chemicals Ltd
Iggy Tan, Managing Director
T: +61-8-6168-1555
E: info@altechchemicals.com
WWW: www.altechchemicals.com

Related CompaniesAltech Chemicals Ltd