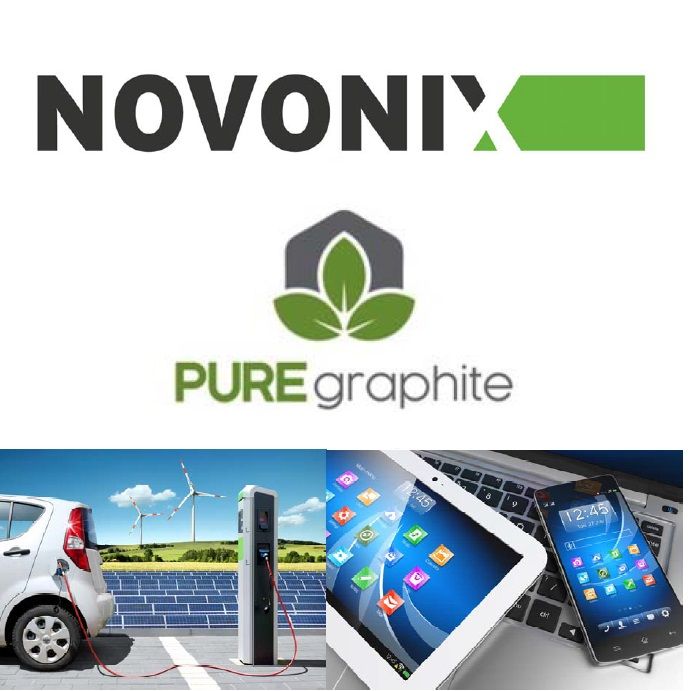 Quarterly Activities Report
Brisbane, Jan 31, 2018 AEST (ABN Newswire) - NOVONIX Limited (

ASX:NVX
) (

FRA:GC3
) ("NOVONIX" or "the Company") is pleased to provide the following Quarterly Activities Report for the December 2017 Quarter.
HIGHLIGHTS
- PUREgraphite pilot plant installed in Tennessee, USA
- Strong international sales of NOVONIX battery testing equipment and services
- Future appointment of Andrew N. Liveris A.O. to the Board announced
- $1 million investment/placement to Mr Liveris and Admiral Natter
- $4 million investment/placement to institutional and sophisticated investors
- 100% early conversion of convertible notes by investors
Background
PUREgraphite is an exclusive joint venture between NOVONIX and COULOMETRICS formed in April 2017 to commercialize high-performance anode materials for lithium-ion batteries based on intellectual property developed by Dr Edward Buiel (founder of COULOMETRICS).
The December 2017 Quarter
This quarter was focused on continued refinement of product and production process, design, procurement and installation of a pilot processing facility in Tennessee, and preparation for higher commercial tonnage trials.
The product development work verified and expanded on the intellectual property acquired from Coulometrics and provides PUREgraphite with compelling hard performance data when engaging the market.
PUREgraphite is manufacturing anode materials that demonstrate extremely high levels of electrochemical efficiency, consistently above "best in class" reference EV cells commercially available in the market today and in line with our expectations.
Our PUREgraphite team based in Chattanooga Tennessee USA currently includes our CEO, Dr Edward Buiel, five engineers, five technicians, and part-time support staff.
During the December Quarter, our facility in Chattanooga was upgraded to accommodate the pilot plant including a significant electrical upgrade to run furnaces and milling equipment, along with a security upgrade to better protect the facility and our intellectual property.
Pre-shipment inspection and testing was undertaken on critical pilot plant equipment with manufacturers to ensure it met our requirements before dispatch to Tennessee.
The pilot plant equipment was shipped, received and installed during the quarter. The pilot plant enables the business to manufacture its anode material products (including all process steps under one roof) in sufficient quantities to support comprehensive customer qualification programs going forward. End-to-end capability at Tennessee now includes capability to crush, mill, shape and blend precursor materials, perform thermal purification, undertake multiple particle coatings and heat treatments, manufacture high quality electrodes and battery cells and perform comprehensive battery cell testing and benchmarking.
Our pilot plant will be used to manufacture and customize product samples for customer qualification programs (up to 50 kg per day) while also accelerating our internal product development programs.
Testing of suppliers and service providers was another active work stream during the quarter and this continues through the next two quarters.
We maintain our target of establishing a 1,000 tpa production capability by 30 June 2018 that will incorporate a combination of internal production and some outsourced components.
We are also making good progress in assessing options, developing plans, assessing sites and service providers to rapidly scale the business up to 100 ktpa of anode material production.
To view the full report, please visit:
http://abnnewswire.net/lnk/HZWDLVI2
About NOVONIX Ltd

NOVONIX Ltd (ASX:NVX) (FRA:GC3) is an integrated developer and supplier of high performance materials, equipment and services for the global lithium-ion battery industry with operations in the USA and Canada and sales in 14 countries.
NOVONIX is majority-owner of the PUREgraphite battery anode material Joint Venture, headquartered in Chattanooga, Tennessee, USA.
NOVONIX's mission is to accelerate the adoption of batteries for a cleaner energy future.

Philip St Baker
Managing Director
Phone: +61 438 173 330
Email: phil@novonixgroup.com
Website: www.novonixgroup.com
Related CompaniesNOVONIX Ltd