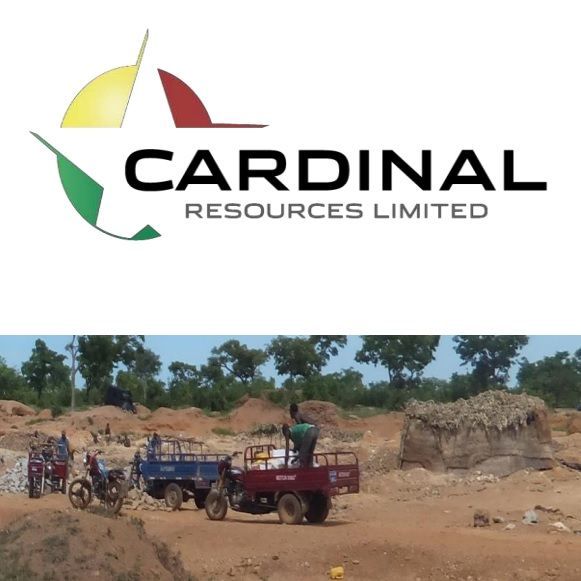 Namdini Gold Project Preliminary Economic Assessment
Perth, Feb 5, 2018 AEST (ABN Newswire) - Cardinal Resources Limited (

ASX:CDV
) (

TSE:CDV
) (

OTCMKTS:CRDNF
) ("Cardinal" or "the Company") is pleased to announce results of its Preliminary Economic Assessment ("PEA", NI 43-101) / Scoping Study ("SS", JORC 2012) for the Namdini Gold Project ("Namdini") in Ghana, West Africa.
HIGHLIGHTS
- The PEA confirms Namdini to be a technically and financially robust low-cost mining opportunity, with potential to generate strong positive cashflows
- Development is based upon a large, single, open pit with a phase 1 smaller and higher-grade starter pit of circa 1 Moz produced through a conventional SAG mill, Flotation and CIL circuit
- The PEA evaluated three production throughput rates, 4.5, 7.0 and 9.5Mpta; all resulted in strong returns. The preferred scale of development is to be selected following completion of Feasibility Studies. In addition, consideration is being given to a phased approach to the development of Namdini, commencing with a 4.5mtpa throughput that would be designed for expansion to a higher throughput
- Dependent upon the eventual production scenario chosen;
o Average annual gold production ranges from 159,000 ozpa up to 330,000 ozpa
o All-in sustaining costs range from US$ 701/oz to US$ 794/oz
o Development capital costs range from US$ 275M to US$ 426M
o Strip ratio for all scenarios at 1.2:1 waste to ore
o Potential life of mine for 9.5 Mtpa option of 14 years, 7.0 Mtpa of 19 years and 4.5 Mtpa of 27 years
- Resource drilling has continued; updated Mineral Resource estimate expected in Q1 2018
- A 15-year renewable Mining Licence has been granted and has been transferred to Cardinal Namdini Mining Limited, a wholly owned subsidiary of Cardinal
- Value enhancement opportunities have been identified and will be considered by the technical team as part of the Pre-Feasibility Study that has now commenced. These include:
o Detailed metallurgical drilling of large diameter core (PQ size) to obtain specific metallurgical samples of oxide, transition and fresh zones within the proposed open pit
o Definition of a shallow and higher-grade, potential starter open pit
o Update detailed design and costings of the proposed processing plant
o Update detailed mining and processing costs based on the new metallurgical data
Key Study Outputs Include:
- Dependent upon the eventual production scenario chosen;
o Average annual gold production ranges from 159,000 ozpa at 4.5 Mtpa up to 330,000 ozpa at 9.5 Mtpa
o NPV ranges from US$ 706M up to US$ 1,036M pre-tax and US$ 445M up to US$ 649M post-tax
o IRR ranges from 42% to 62% pre-tax and 31% to 44% post-tax
o Payback ranges from 4.0 to 3.3 years and
o All-in sustaining costs range from US$ 701/oz to US$ 794/oz
- The target Life of Mine pit includes 91Mt @ 1.1 g/t for 3.3 M oz (81%) of Indicated Mineral Resource and 22 Mt @ 1.1 g/t for 0.8 M oz (19%) of Inferred Mineral Resources at a 0.5 g/t cut off using the September 2017 Mineral Resource Estimate data
- Identification of a higher-grade starter pit yielding >1 Moz gold with a <0.9 strip ratio for which further optimisation will be performed in the next study phase
- Mineral Resource categories of 81% Indicated and only 19% Inferred within the LOM pit
- A new conventional gold plant inclusive of flotation and regrind - CIL of the flotation concentrate
Given that the PEA results in a strongly positive cashflow outcome for all three throughput scenarios considered, further evaluation and trade-offs for improved economies of scale, mine scheduling, plant design and costings which are anticipated to further enhance project economics will be performed under the Pre-Feasibility Study ("PFS") which has commenced.
Comments from Archie Koimtsidis, Managing Director and Chief Executive Officer:
"Given the scope of detailed investigations that have been performed leading up to the preparation of the Preliminary Economic Assessment, the outcomes present a strong case on both technical and economic grounds for proceeding to the development of our Namdini Project in Ghana.
"Highly accredited global firms including Golder Associates, Lycopodium, Knight Piesold and Oreway Mineral Consultants were engaged to perform engineering and cost estimation for this study. They are all well-positioned to assist Cardinal through the next study and development phases of the Namdini Project given their past and recent experience in consulting on successful project developments in West Africa.
"The Namdini gold deposit has been extensively drilled and the Mineral Resource estimate has been confirmed by various international independent geological and mining engineering consultants.
"We are continuing with a comprehensive metallurgical programme at ALS in Perth, who are an internationally recognised laboratory, with the intent of optimising the metallurgical process and design criteria for the next phase of studies.
"We now have a compelling business case to move into the Pre-Feasibility and Definitive Feasibility Study phases. These studies will form the basis for the development of our Namdini Project in Ghana.
"We have engaged with the local community for over 20 years; they are fully supportive of this project and the development of Namdini. They appreciate the opportunity that Namdini presents to all stakeholders and its importance to the economic development of Northern Ghana."
FORWARD PLANS AND VALUE ENHANCEMENT OPPORTUNITIES
From the robust PEA results, the company is continuing to investigate potential improvements in metallurgical recovery, further resource increases concomitant with conversion of Inferred Resources to Indicated Resources and to completion of geotechnical and Tailings Storage Facility studies.
The company is now at the regrind phase of metallurgical test work following successful grinding and flotation test work which has confirmed earlier testing. The regrind of the concentrates is being conducted at various sizes with the intention of determining the trade- off between recovery and operating requirements. It is anticipated that metallurgical results should become available through the next quarter leading up to the completion of the PFS.
Company news flow expected for H1 2018 includes:
- Namdini resource infill drilling results leading to a Mineral Resource update
- Namdini metallurgical optimisation results
- Regional exploration and drilling campaign results
INVESTMENT METRICS
Based upon Life of Mine production and cost parameters, the key investment metrics of the post-tax Net Present Value cashflow forecasts are presented in Table 3 (see link below). For indicative purposes only, the mid-range throughput of 7.0 Mtpa is presented.
NAMDINI GLOBAL MINERAL RESOURCES
Independent mining industry consultant, MPR Geological Consultants Pty Ltd ("MPR") was commissioned by Cardinal to estimate the Mineral Resources of the Namdini deposit. The Mineral Resource estimate was reported in accordance with the 2012 Australian Code for Reporting of Mineral Resources and Ore Reserves (JORC Code) (Refer to Appendix 1 - JORC Table 1 in link below). The Mineral Resource estimate, summarized in the following table (see Table 4 in link below), reports the Resources by category and weathering profile above a 0.5 g/t gold cut-off grade. The classification categories of Inferred and Indicated Resources under the JORC Code (2012) are equivalent to the CIM categories of the same name (CIM, 2014).
Since the release of the previous Mineral Resource estimate in September 2017, a further 15,600 metres of drilling have been completed. Once all assay data is received for this subsequent drilling, a new Mineral Resource update will be provided, which is expected to be released in Q1 2018.
Geology
The Namdini gold deposit is a large, structurally controlled, orogenic gold deposit with numerous features similar to deposits found elsewhere in late Proterozoic Birimian terranes of West Africa. The Namdini gold deposit has so far been delineated over a strike length of 1,150m by 300 m wide and 650m deep and is situated within the Nangodi Greenstone Belt.
In 2016, geological consultants from Orefind Pty Ltd conducted an on-site structural study and developed a structural framework with controls on, and geometry of, gold mineralization comprising the Namdini deposit.
Orefind concluded that the rock types comprising the Namdini Project included a steeply west dipping Birimian sequence of interbedded, foliated, metasedimentary and metavolcanic units which have been intruded by a medium-grained granitoid and diorite. The southern part of the Project is covered by flat lying Voltaian Basin clastic sedimentary rocks that have been deposited unconformably on the Birimian sequence and postdate mineralization and the host sequence.
Underneath the weathering profile, the Birimian units include metasedimentary, metavolcanic, granitoid (tonalite) and diorite. The metasedimentary and volcaniclastic lithologies have been intensely altered with a resulting pyrite-carbonate-muscovite-chlorite-quartz assemblage. Alteration is most prevalent in the volcaniclastic units. Similarly, the tonalite is extensively altered and has been overprinted by silica-sericite-carbonate assemblages.
In all rock types, the mineralization is accompanied by visible disseminated sulphides of pyrite and very minor arsenopyrite in both the veins and wall rocks. In diamond drill core, the mineralized zones are visually distinctive due to the presence of millimetre to centimetre wide quartz-carbonate veins that are commonly folded and possess yellow-brown sericite-carbonate selvages. Rare visible gold occurs in strongly altered granite and is associated with sub-millimetre wide silica-sericite shears.
Drilling Techniques
The input dataset used for the Namdini Mineral Resource estimate comprises a total of 110 HQ diamond core holes and 165 RC drill holes totalling 69,291 m.
Reverse circulation drilling (5 1/4 inch diameter) was usually 200 m or less in depth. All reverse circulation holes were downhole surveyed at 30 m intervals.
Diamond drilling was HQ in both weathered and fresh rock. All diamond holes were downhole surveyed at 30 m intervals. All core was orientated.
Sampling
All reverse circulation samples were collected at the drill site over 1 m intervals and split using a multi-stage riffle splitter.
Diamond core was generally sawn in half; with half sent for assaying, and half retained in core trays for future reference. One metre samples were taken and submitted to an independent laboratory for assaying. At the laboratory, both core and reverse circulation samples followed a standard procedure of drying, crushing and grinding. The pulverised samples were thoroughly mixed on a rolling mat ("carpet roll") and then 200 g of subsample was collected. Internal laboratory checks required at least 90% of the pulp passing 75 microns. A 50 g charge was produced for subsequent fire assay analysis.
Cardinal observed very good recovery of both core and reverse circulation samples and considers the samples to be representative of the mineralization defined by the drilling.
Sample Analytical Methods
Cardinal uses two laboratories for its sample submissions, SGS Ouagadougou Laboratory in Burkina Faso and SGS Tarkwa Laboratory in Ghana. The independent SGS commercial geochemical analytical laboratories are officially recognized by the South African National Accreditation System (SANAS) for meeting the requirements of the ISO/IEC 17025 standard for specific registered tests for the Minerals Industry.
As part of the Cardinal QA/QC, a suite of internationally accredited and certified reference material (standards) and locally sourced blanks were included in the sample submission sequence. The standards cover gold grade ranges expected at Namdini. Interlaboratory umpire analyses were also conducted.
Certified reference material (blanks and standards) were submitted into the sample stream at a rate of 1 in 22 samples. Duplicate samples of reverse circulation chips were taken at a rate of 1 in 22.
No employee, officer, director, or associate of Cardinal carried out any sample preparation on samples from the Namdini Project exploration programme. Drill core was transported from the drill site by a Cardinal vehicle to the secure core yard facility at the Bolgatanga Field Exploration Office only.
All samples collected for assaying are retained in a locked, secure storage facility until they are collected and transported by the SGS laboratory personnel. Retained drill core is securely stored in the core storage facility and pulps and coarse rejects returned from the laboratories are securely stored in the exploration core logging area and at a nearby secure location in Bolgatanga, Ghana.
Geological and structural modelling
Logging, interpretation and modelling were undertaken by Cardinal Resources' technical staff using Maxwell Geoservices (Perth) "Logchief" software and specialist structural consultants Orefind Pty Ltd, (Davis and Cowan, 2016-2017) resulting in a three-dimensional model of key lithologies, structures and weathering zones.
Mining Methods and Parameters
Trial open pit optimisations were run in Whittle 4X(C) at a US$1,300/oz gold price to define the base of potentially economic material. Four push-back pits were then selected and full mine designs applied.
The material reported in the Preliminary Economic Assessment is a sub-set of the Mineral Resource which can be extracted from the mine and processed with an economically acceptable outcome.
No Ore Reserves have yet been declared for the Namdini Project. The Company expects to be in a position to provide a maiden Reserve estimate once it has completed a Pre-Feasibility Study on the Namdini Project.
PROCESS PLANT
Annual nominal throughput processing options of 4.5, 7.0 and 9.5 Mtpa were investigated as part of the PEA. An assessment of the comminution circuit identified upper and lower throughput limits as follows:
- 4.5 Mtpa as the largest throughput that could be accommodated by a jaw crusher
- 7.0 Mtpa throughput that could be accommodated with dual pinion mill drives
- 9.5 Mtpa as the largest throughput that could be achieved with dual pinion mill drives
Flowsheet
The treatment plant design incorporates the following unit processes:
- Primary crushing to produce a coarse crushed product
- Coarse crushed ore storage and reclaim to feed the milling circuit
- A SABC milling circuit comprising a SAG mill in closed circuit with a pebble crusher and a ball mill in closed circuit with hydro cyclones to produce a grind size of 80% passing 106 microns
- Gravity concentration and treatment of gravity concentrate by intensive cyanidation and electrowinning
- Flotation of the milled slurry to recover the majority of gold to a low mass (<10%) sulphide flotation concentrate and producing 'throw away' flotation tailings
- Separate thickening of the flotation concentrate and flotation tailings to recover cyanide-free flotation water and to thicken the streams prior to downstream processing
- Regrind of the flotation concentrate prior to feeding the CIL circuit
- A CIL cyanidation circuit to leach and adsorb gold values from the reground flotation concentrate onto activated carbon
- A split AARL elution circuit, electrowinning and gold smelting to recover gold from the loaded carbon to produce gold doré bars
- A SO2 / oxygen cyanide destruction circuit to reduce the CIL tailings cyanide concentration to below the maximum International Cyanide Management Code (ICMC) weak acid dissociable cyanide (CNWAD) limits for containment
- Parallel pumping of the cyanide destruction discharge and the thickened flotation tailings to the separate cyanide and non-cyanide tailings storage facilities (TSF)
FUNDING
Cardinal will utilize a staged funding approach for the ongoing development of the Namdini project.
Cardinal has budgeted for the Pre-Feasibility Study out of its existing cash balance.
The Board believes that there are strong "reasonable grounds" to assume that future funding will be available to fund Cardinal's pre-production capital for the development of Namdini as envisaged in this announcement, on the following basis;
(a) Cardinal's Board has a financial track record and experience in developing projects.
Non-Executive Charmain Kevin Tomlinson, possesses over 30 years' experience in Mining and Finance within Toronto, Australian and London Stock markets. Mr Tomlinson has extensive experience in development and financing of mining projects internationally.
Non-Executive Director Jacques McMullen has had a distinguished 35-year career in the mining industry of which the last 17 years were with Barrick Gold Corporation where he held the positions of Senior VP Special Projects and Technical Services. In his role as Senior VP of Barrick, Jacques was instrumental in the development of many mines including Goldstrike, Veladero, Lagunas Norte, Cowal and Bulyanhulu. His experience includes all phases of development including feasibility, construction, commissioning, ramp-up and operation's optimization.
(b) Cardinal is confident there is a strong possibility that it will continue to increase mineral resources at the project to extend the mine life beyond what is currently assumed in the PEA.
(c) The gold price is currently trading at approximately US$1,350/oz which compares favourably to the project's base case assumption of US$1,300/oz. The recent improvement in market conditions and an encouraging outlook for the gold market enhances the Company's view of the ability to finance the Namdini project.
(d) The strong production and economic outcomes delivered in the Namdini PEA are considered by the Cardinal Board to be sufficiently robust to provide confidence in the Company's ability to fund its preproduction capital through conventional debt and equity financing.
Cardinal is in early stage discussions with a number of banks and substantial mining investment funds with a view to fund Namdini in stages to production. These financiers have extensive track records of funding similar stage companies through the PFS and DFS stages, construction financing and into commercial production.
To view the full release with tables and figures, please visit:
http://abnnewswire.net/lnk/0SD27PV4
About Cardinal Resources Ltd

Cardinal Resources Ltd (ASX:CDV) (TSE:CDV) (OTCMKTS:CRDNF) is a West African gold-focused exploration and development Company that holds interests in tenements within Ghana, West Africa.
The Company is focused on the development of the Namdini Project with a Maiden Ore Reserve of 4.76Moz and is now advancing the feasibility study.
Exploration programmes are also underway at the Company's Bolgatanga (Northern Ghana) and Subranum (Southern Ghana) Projects.

Archie Koimtsidis
CEO / MD
Cardinal Resources Limited
P: +61-8-6558-0573

Alec Rowlands
IR / Corp Dev
Cardinal Resources Limited
P: +1-647-256-1922
Related CompaniesCardinal Resources Ltd