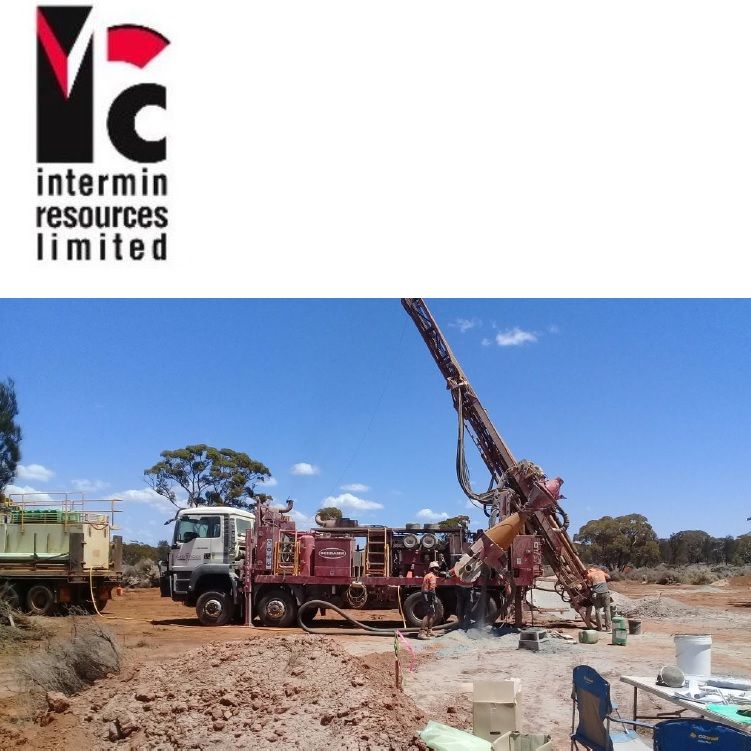 Excellent First Pass Drilling Results from Blister Dam
Perth, Feb 6, 2018 AEST (ABN Newswire) - Intermin Resources Limited (

ASX:IRC
) ("Intermin" or the "Company") is pleased to announce first pass drilling results from Intermin's 100% owned Blister Dam gold project, located on the Zuleika and Kunanalling shear zones, 54km north west of Kalgoorlie-Boulder in Western Australia (see Figures 1 and 2 in link below).
HIGHLIGHTS
- First pass drill program completed at the 100% owned Blister Dam gold project, 54km northwest of Kalgoorlie-Boulder in the Western Australian goldfields
- Drilling comprised 46 holes for 4,180m to an average depth of 90m at nine of the 21 high priority targets identified in 2017
- Five new prospects generated in the project area: Argo, Seven Seas, Syledis, Atlantic and Tasman on the prolific Zuleika shear zone (see Figure 1 in link below)
- Significant high grade RC downhole intercepts included (see Note below):
o 5m @ 4.12g/t Au from 46m (BDRC17050 - Argo)
o 1m @ 19.90g/t Au from 24m (BDRC17006 - Argo)
o 1m @ 36.00g/t Au from 35m (BDRC17025 - Seven Seas)
o 4m @ 3.33g/t Au from 43m (BDRC17046 - Seven Seas)
o 2m @ 1.31g/t Au from 67m (BDRC17056 - Syledis)
o 8m @ 0.53g/t Au from 30m (BDRC17016 - Tasman)
- Initial drilling confirms two distinct gold mineralisation styles: strongly developed high grade quartz veins and broader lower grade shear hosted gold mineralisation
- Large scale new discovery and follow up drilling program planned for the first half of 2018
Commenting on the Blister Dam drilling results, Intermin Managing Director Mr Jon Price said:
"With these excellent first pass results, Blister Dam has certainly staked its claim as one of the most exciting assets within our portfolio to deliver a significant new discovery. We now look forward to the large scale follow up program commencing shortly in an area on the Zuleika shear zone that has had very little modern exploration and remains virtually untested at depth."
Overview
The program was designed after compilation and review of the large geological data base comprising geochemical, geophysical and historic drilling datasets in order to prioritise targets for ranking and drill testing. An Induced Polarisation ("IP") survey, geological mapping and rock chip sampling were also completed by Intermin to refine and test multiple priority targets.
Of the 21 targets identified at Blister Dam, nine of these were subject to first pass drilling. The program was completed in December 2017 with 46 Reverse Circulation ("RC") holes drilled for 4,120m to an average depth of 90m (see Note below).
Several targets occur on the highly prospective Zuleika Shear (see Figure 1 in link below), where historic drill holes have intersected two distinct gold mineralisation styles: thin high grade quartz veins and shear zones hosting broad widths (>40m) of disseminated lower grade gold mineralisation.
The drilling intersected mineralisation in the majority of drill holes and confirmed the dominance of ultramafic and sedimentary rock types with quartz and pyrite regularly logged. The successful campaign identified a number of new prospects including Argo, Seven Seas, Syledis, Tasman and Atlantic.
At Argo, drilling tested an area along strike from an historic RC hole which returned 1m at 4.64g/t Au and 4m at 4.82g/t Au. Significant mineralisation included 5m at 4.12g/t Au from 46m, 1m at 19.90g/t Au from 24m, 10m at 1.02g/t Au from 20m and 2m at 1.28g/t Au from 35m. Results in holes BDRC17050 and 17009 appear to be unrelated to the historic hole and could form part of a new untested gold structure. Follow up drilling in this area has been prioritised.
At Seven Seas, drilling intersected both oxide mineralisation and mineralisation on the contact of a graphitic black shale unit. Significant results included 1m at 36.00g/t Au from 35m, 4m at 3.33g/t Au from 43m, 3m at 1.39g/t Au from 15m, 11m at 0.90g/t Au from 13m and 4m at 1.38g/t Au from 30m.
Hole BDRC17025 intersected a narrow, high grade quartz vein at 35m and drilling directly beneath this returned 1m @ 4.24g/t Au from 85m (BDRC17044). Given the coarse, spotty gold observed from panning, this result is highly encouraging. One of the primary exploration targets at the Blister Dam project is to locate narrow ("Kundana style"), high grade veins as observed in BDRC17025. Follow up RC holes targeting this vein at >150m vertical depth has been scheduled this year.
At Syledis, two RC holes were located behind the historic hole BDA169 (4m @ 0.75g/t Au from 35m). Holes BDRC17028 and BDRC17056 recorded 1m @ 0.91g/t Au and 2m @ 1.31g/t Au down dip of BDA169. Drilling identified a 20m unit of barren, tertiary lake clays on the surface, typically these clays can overlie a depletion zone which varies from 5 - 20m wide. The Syledis mineralisation is associated with poorly developed quartz veins. Intermin intends to follow this up and drill these veins to test the potential for grade improvement at depth.
At Atlantic, historic drilling highlighted a broad sequence of low grade gold zones developed in a sedimentary/ultramafic succession (PDRC004 - 46m @ 0.66g/t Au from 85m) and strongly developed quartz veins (BDA153 - 14m @ 2.90g/t Au from 62m). Significant intercepts included 4m at 3.13g/t Au from 80m, 22m at 0.92g/t Au from 55m and 3m at 1.45g/t Au from 65m as part of the 2016 program. BDRC17035 (1m @ 0.91 ppm Au) and BDRC17038 (3m @ 0.3 ppm Au) were drilled about 900m from Atlantic with both holes returning anomalous results.
Next steps
The next phase of drilling at Blister Dam has now been designed after review of all results and further detailed geological assessment. As part of the $4 million, 50 - 60,000m new discovery and resource growth program planned for 2018, over 7,000m has been allocated at Blister Dam in H1 2018 with up to an additional 7,000m as required in H2 2018.
This will comprise 2,400m of drilling to test the remaining 12 targets outlined in the 2017 program and 3,600m to follow up the latest results at all five prospects including Seven Seas (see Figure 4 in link below). The drilling will test for mineralisation both along strike and at depth where little to no drilling has been completed.
In addition, 1,000m of drilling will be completed to test four IP targets after the Company was awarded $60,000 in Exploration Incentive Scheme ("EIS") co-funding from the Western Australian Government.
Note: See Table 1 on Page 5, Competent Persons Statements on Page 6, Forward Looking Statement on Page 7 and JORC Tables on Page 8 (see link below)
To view tables and figures, please visit:
http://abnnewswire.net/lnk/DFBYJ8P7
About Intermin Resources Limited

Intermin Resources Limited (ASX:IRC) is a gold exploration and mining company focussed on the Kalgoorlie and Menzies areas of Western Australia which are host to some of Australia's richest gold deposits. The Company is developing a mining pipeline of projects to generate cash and self-fund aggressive exploration, mine developments and further acquisitions. The Teal gold mine has been recently completed.
Intermin is aiming to significantly grow its JORC-Compliant Mineral Resources, complete definitive feasibility studies on core high grade open cut and underground projects and build a sustainable development pipeline.
Intermin has a number of joint ventures in place across multiple commodities and regions of Australia providing exposure to Vanadium, Copper, PGE's, Gold and Nickel/Cobalt. Our quality joint venture partners are earning in to our project areas by spending over $20 million over 5 years enabling focus on the gold business while maintaining upside leverage.

Jon Price
Managing Director
Tel: +61-8-9386-9534
E: jon.price@intermin.com.au

Michael Vaughan
Media Relations - Fivemark Partners
Tel: +61-422-602-720
E: michael.vaughan@fivemark.com.au
Related CompaniesIntermin Resources Limited