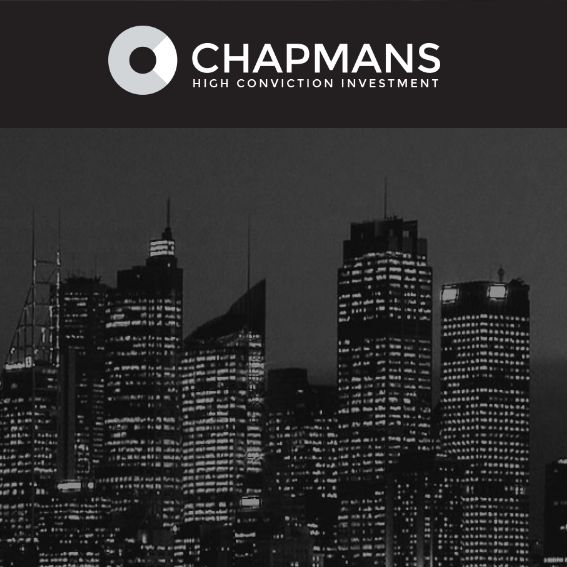 Secures US$4M in Blockchain Platform - Securrency Inc
Sydney, Feb 12, 2018 AEST (ABN Newswire) - Diversified investment company Chapmans Limited (

ASX:CHP
) ("Chapmans" or "the Company") is pleased to announced that it has entered a binding a term sheet with leading blockchain finance and trading platform Securrency, Inc ("Securrency").
Highlights
- Chapmans has entered into a binding term sheet to invest US$4 million in US-based Securrency, Inc.
- Securrency is a leading regulatory and compliance-based asset tokenisation and trading platform
- Capital risk and regulatory compliance have become the key focus of the blockchain and cryptocurrency sector worldwide
- Securrency addresses these issues by offering a unique combination of patent-pending RegTech and FinTech asset trading and compliance-based features paving the way for institutional participation in trading and exchange based activities
- Chapmans investment is based on Securrency's pre-money valuation of US$50 million
- Chapmans has access to additional investment and performance-related rights to achieve an equity holding of up to approximately 10% in Securrency
- Securrency is exploring a listing on the TSX Venture Exchange through an RTO within the next 120 days at a significantly higher valuation
- Securrency's team is highly experienced and qualified in capital markets, private equity investments, structured finance, commodities and securities trading, artificial intelligence, cybersecurity and anti-money laundering.
Chapmans has entered into a binding term sheet to invest US$4 million in Securrency based on Securrency's effective pre-money price of US$50 million. The valuation is based on revenue projections from ongoing contracted work. Further, a previous investment round in 2017 raised money on a $20M valuation. Chapmans is contributing $4M as part of a $10M round and all other participations are investing on the same valuation basis.
Chapmans has advanced US$500,000 on a refundable note basis (repayable in 60 days in the event the investment does not proceed and attracting interest at 1.68% p.a.), with another payment of US$1.5 million on completion and a final payment of US$2 million 30 days after completion. Chapmans has conducted preliminary technical, financial, legal and taxation due diligence customary for investment of this nature. The deal is subject to further satisfactory due diligence being completed which Chapmans is currently undertaking.
Chapmans will fund the investment via a combination of existing investment capital, the disposal of existing investments and/or via a convertible note and an additional equity raise. In addition to its initial investment, Chapmans has access to additional investment and performance-related rights to achieve an equity holding of up to 10% in Securrency. Chapmans can obtain additional equity in consideration for contributing to the development of Securrency by achieving certain milestones (to be agreed by the parties) such as introducing Securrency to key participants in selected desirable markets (i.e, in the Asia-Pacific region). The specifics of the milestones/performance rights are yet to be agreed and the milestones will be announced to the market once agreed.
Securrency was founded in November 2015. Since that time, Securrency has developed a technologically advanced and unique exchange platform on which assets may be tokenised and traded by institutional and retail investors. The platform integrates patent pending RegTech and FinTech asset trading and compliance-based features. The platform is currently in its 'pre-release' phase. At present it is undergoing Payment Card Industry Data Security Standards (PCI DSS) compliance certification. The platform has been trading an internally issued asset backed (microlending) portfolio since July 2016. Elements of the platform are being released starting February 2018 with a full release of the platform in August 2018. Securrency has contracted a number of institutional customers with diverse asset portfolios including a large private equity firm, Venture360. Under the contract with the Venture360 (which has over US$5Bn in assets under management) Securrency is engaged to tokenize their private equity assets. Securrency will tokenize new offerings in 2018 and will move to tokenize all assets in 2019.
Securrency also owns a stake in the recently launched London Football Exchange (LFE), which has customised Securrency's platform with the intent of bringing more than one billion global football fans into the blockchain space. The LFE is expected to provide participating clubs with the opportunity to raise low-cost capital with tokenised equity offers and to achieve significant merchant cost savings with token payments replacing credit card charges. It will also give fans the ability to purchase tickets, memberships, merchandise and unique fan engagement experiences through exchange tradable tokens.
The proliferation of unregulated Initial Coin Offerings (ICOs), cyberattacks on large cryptocurrency exchanges, and purported scams has led to compliance and multi-jurisdictional regulatory protection becoming the primary focus for the large-scale institutional adoption of blockchain solutions. Securrency's platform addresses the need for compliance streamlining the ability to bring liquidity to illiquid assets on a blockchain-based trading platform.
Currently, the blockchain sector is plagued by a lack of compliance and verifiable security practices. Many of the recent Initial Coin Offerings (ICOs) are not sufficiently vetted and no easy way exists to ensure compliance with regulatory requirements. This limits the blockchain sector's market capitalisation as institutional money cannot participate in unregulated offerings.
Securrency solves this problem by layering world-class security and jurisdictionally-relevant compliance over blockchain networks. Using Securrency's patent pending RegTeX software, the Securrency platform provides Know Your Client (KYC) global identity verification, artificial intelligence financial fraud monitoring, and automated tax, regulatory, and bank secrecy act reporting.
Founder & CEO of Securrency Dan Doney was the former Chief Innovation Officer at the US Defense Intelligence Agency and has over 20 years' experience in emerging technology development and finance across government and private sectors. He leads a team of highly credentialed executives who have extensive expertise in blockchain, information technology, compliance, and regulatory frameworks. The company's board, executive and advisory team members have a wealth of experience in military and enterprise level technology development and implementation including capital markets, private equity investments, structured finance, commodities and futures trading, administration and regulation, virtual currency, mobile payment processing, and anti-money laundering compliance.
The investment in Securrency has strong potential for short-term upside for Chapmans with Securrency exploring a listing on the TSX Venture Exchange (TSXV) through a Reverse Takeover (RTO) in the next 120 days. As Securrency continues to grow its business, the TSXV listing valuation is expected by management to be significantly higher than the valuation represented by Chapmans' investment. As of the date of this release, Securrency has not committed to an RTO transaction.
Chapmans Executive Director and Chief Investment Officer Anthony Dunlop: "We are very pleased to have entered into an agreement to invest US$4 million in Securrency. We see Securrency as a unique and currently undervalued opportunity that will bring much-needed regulation to the blockchain sector. The investment is also in keeping with our interest in blockchain and our high-conviction investment philosophy of seeking out emerging technologies with global scale."
Securrency Founder and CEO Dan Doney: "Chapmans is an ideal strategic partner for Securrency. They have access to markets and asset classes ideally suited to the Securrency platform. As partners, we're developing plans to bring liquidity to a range of previously illiquid asset classes including real estate and private equity. Chapmans' global reach opens new markets for Securrency, especially in Asia and the Pacific."
About Securrency Inc
Securrency is a combined FinTech/RegTech platform that enables the free trading of previously illiquid asset classes. Securrency makes financial services more secure, transparent, efficient, and accessible by integrating legacy financial services with recent advances in distributed ledger technologies, payment gateways, and security frameworks.
To learn more please visit: www.securrency.com
To view the presentation, please visit:
http://abnnewswire.net/lnk/IY26F3PT
About Chapmans Limited

Chapmans Limited (ASX:CHP) is an ASX-listed diversified investment company engaged in special situation investments across a diverse range of industries, with a focus and expertise in the mobile and advanced industrial technology sectors. The Company seeks to be an active strategic investor in high growth areas of the market and to identify and work with emerging high growth companies. Chapmans' investment philosophy and approach are based on a unique mix of high conviction and special situation features, characterised by advisory and equity investments structured around specific events and assets for both public and large private corporates.
The Company made its first strategic investment into blockchain in 2017 and established the Blockchain Industry Advisory Board to identify and assess compelling blockchain investment opportunities. Chapmans' investment in blockchain technology aligns with its growth plans and commitment to investing in early stage technologies with reach into key international markets.
To learn more please visit: http://www.chapmansltd.com

Peter Dykes
Executive Chairman
Chapmans Limited
E: peter.dykes@chapmansltd.com
T: +61-2-9300-3605

Anthony Dunlop
Executive Director
Chapmans Limited
E: anthony.dunlop@chapmansltd.com
T: +61-2-9300-3605

Media and Investor Enquiries
The Capital Network
Julia Maguire, Director
E: julia@thecapitalnetwork.com.au
T: +61-419-815-386
Related CompaniesChapmans Limited