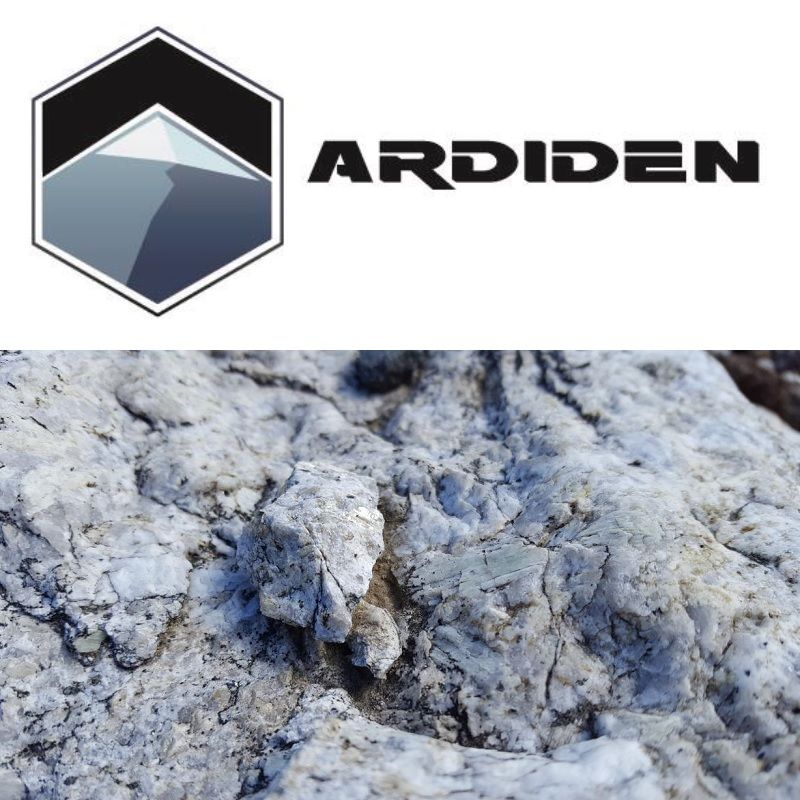 High Purity Battery Grade Lithium Carbonate Produced from Seymour Lake Concentrate
Perth, Feb 12, 2018 AEST (ABN Newswire) - Lithium developer Ardiden Limited ("ADV" or "the Company") (

ASX:ADV
) has produced battery-grade lithium carbonate from preliminary metallurgical test work using concentrate sourced from its 100%-owned advanced Seymour Lake Lithium Project in Ontario, Canada.
HIGHLIGHTS:
- Battery grade Lithium Carbonate at 99.52% Li2CO3 produced from initial downstream processing testwork by leading producer Shandong Ruifu Lithium Co. Ltd
- Tests confirm the high purity Li2CO3 can be made from the spodumene concentrate obtained from the Seymour Lake Lithium Project bulk sample, and demonstrate robust conversion and recovery rates
- Strategic development partner Yantai continues to complete extensive metallurgical testwork programs on the spodumene bulk samples
The test-work showed that battery grade lithium carbonate of 99.5% Li2CO3 could be made from the Dense Media Separation (DMS) lithium concentrate that was produced by strategic development partner, Yantai Jinyuan Mining Machinery Co. Ltd, and sourced from Seymour Lake's North Aubry deposit.
The aim of this initial testing program was to test the spodumene concentrate suitability for commercial downstream Lithium Carbonate (Li2CO3) production. The initial tests found the beta lithium converting rate produced a satisfactory 90%, however further testing will determine if the rate can be improved further.
Brad Boyle, Ardiden CEO, commented: "These are highly encouraging results. To be able to produce battery grade lithium carbonate of such high quality from early testing highlights the exceptional high quality of the Seymour Lake spodumene concentrate. We maintain a high level of confidence that the Seymour Lake project is well placed to potentially become a strategic supplier to the lithium sectors in both America and Asia."
TESTWORK DETAILS
The testwork was conducted by leading lithium carbonate and hydroxide producer Shandong Ruifu Lithium Co. Ltd. ("Ruifu").
As previously announced (15 November 2017), Ardiden's Chinese strategic partner Yantai Jinyuan Mining Machinery Co., Ltd. had undertaken the metallurgical test work on a bulk sample which demonstrated that the Seymour Lake ore can be processed by Dense Media Separation producing very high-grade lithium concentrate of >6.0% Lithium Oxide (Li2O) concentrate.
Ruifu testwork report stated "After cross checking with the battery level lithium carbonate standards in China, we are confident to confirm that battery level Li2CO3 can be produced from the concentrate produced from Ardiden Limited samples..."
Further, the Ruifu report concluded: "With the feature of low viscosity and impurities of the concentrate after calcination and high efficiency in acidification, Ruifu thinks the concentrate can be fed into Ruifu's operating facilities to produce high quality battery level Li2CO3 and it should be a premium product if it can come into the market in the future."
COMMERICAL PRODUCTION POTENTIAL
These latest downstream processing testwork results obtained from Ruifu once again confirm that the North Aubry spodumene quality is world-class and appears to contain only trace amounts of deleterious minerals (announced 12 April 2017). High purity lithium carbonate with excellent convertible rates can also be achieved.
The Company anticipates the development of a robust commercial process flowsheet from the bulk sample testwork program currently being completed by Yantai.
CONCLUSION
Ardiden considers these preliminary testwork results from Ruifu to be extremely encouraging. The Company looks forward to advancing the development of an optimal process flowsheet to produce a commercial grade lithium concentrate which is ideally suited for the lithium end users such as Ruifu.
Ardiden confirms that as these are still only preliminary test-work results and further work is underway.
The Company looks forward to providing further updates as they come to hand.
To view tables and figures, please visit:
http://abnnewswire.net/lnk/1S9990AF
About Ardiden Ltd

Ardiden Limited (ASX:ADV) is an emerging international diversified exploration and development company possessing a mature multi-element asset portfolio, with a near term development pipeline, focused quality projects located in the established mining jurisdiction of Ontario, Canada.

Investors:
Brad Boyle
Ardiden Ltd
Tel: +61-8-6555-2950

Media:
Michael Weir / Cameron Gilenko
Citadel-Magnus
Tel: +61-8-6160-4900
Related CompaniesArdiden Ltd